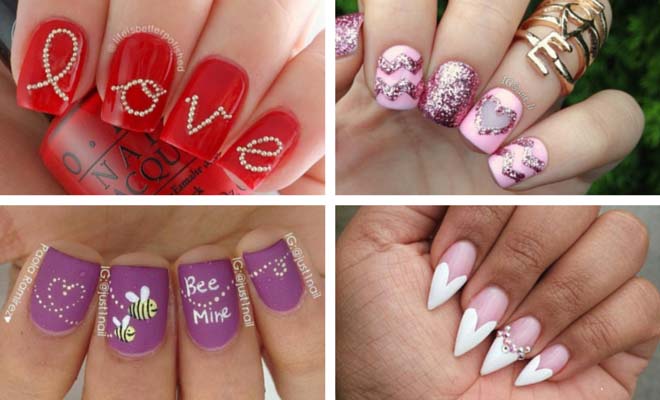 30 Lovely Valentine's Day Nails
Still haven't fell in love? Well, you definitely will soon… but with your nails! Nails are the easiest way to spice up your look for February 14, regardless of you relationship status.
We found 30 nail ideas ideal for Valentine's Day. You have to admit that this holiday is perfect time for some nail art. Spread the love with your beautiful nails!
1. Pink Heart Nails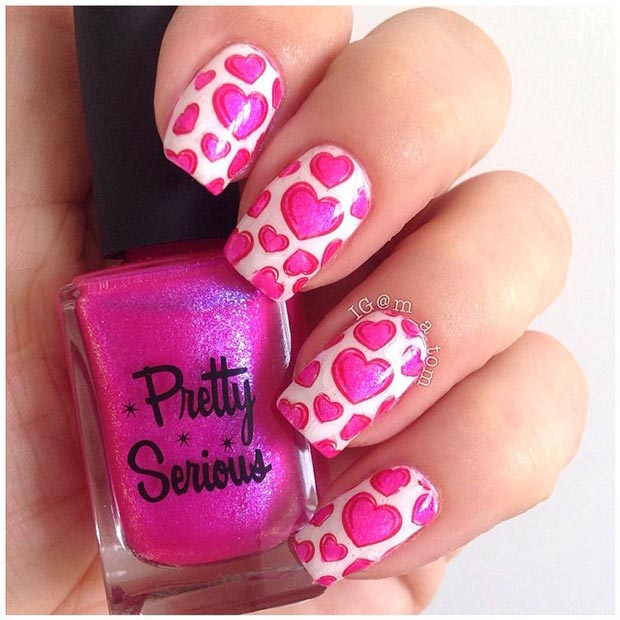 Cherish the love with this cute nail design. This mani will score you many compliments!
2. Polka Dot + Heart Nails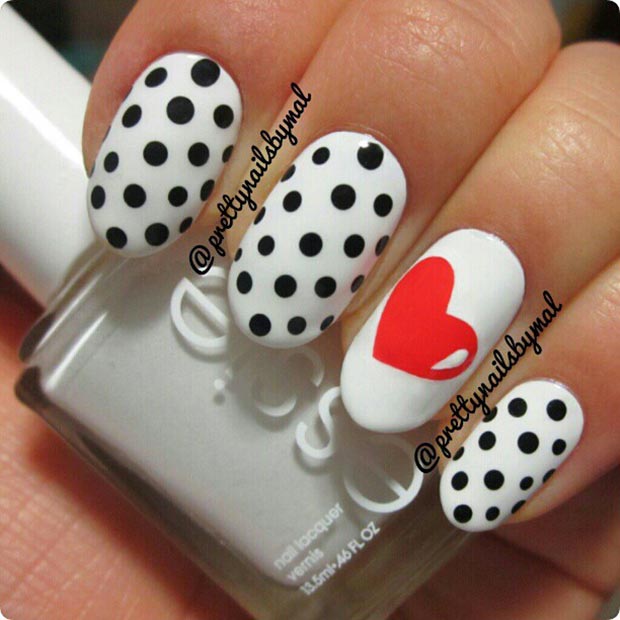 Polka dot nails are one of the easiest (and cutest) looks. You can't go wrong with a classic black and white look. Add a big red heart on you accent nail and your Valentine's Day nails are ready!
3. Simple Heart on Accent Nail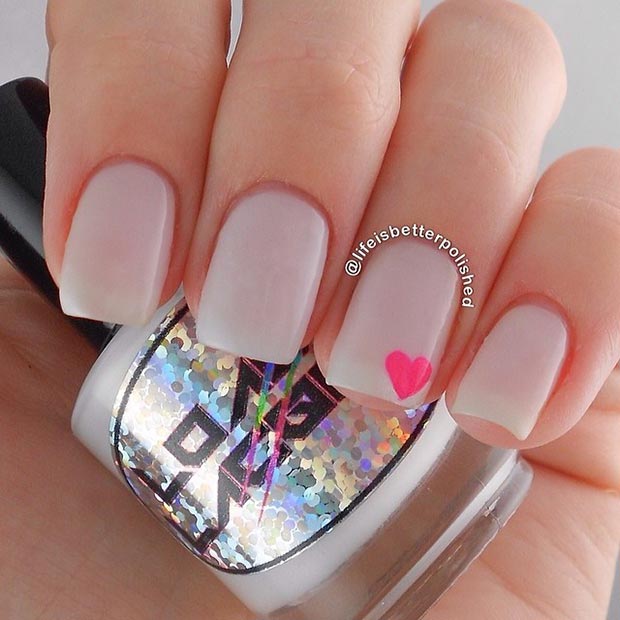 What a simple way to rock a Valentine's Day nails. That pink neon heart is electrifying.
4. Pink Nails with Glitter Hearts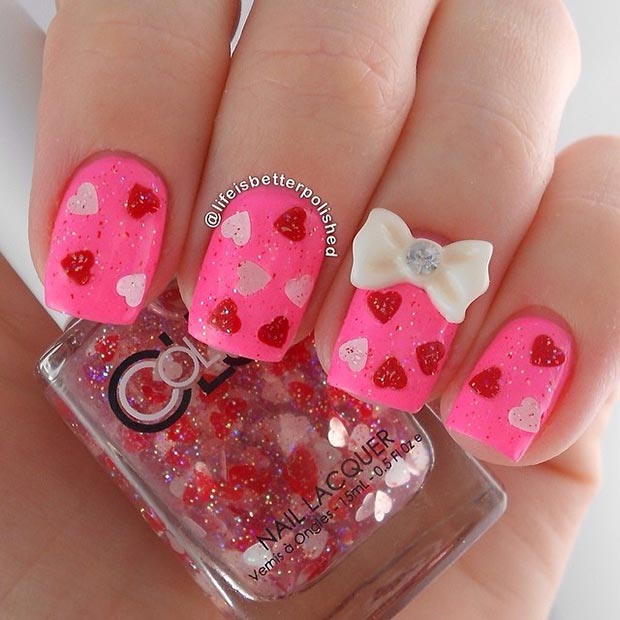 Love is in the air (and on the nails)!
5. Red 'Love' Nails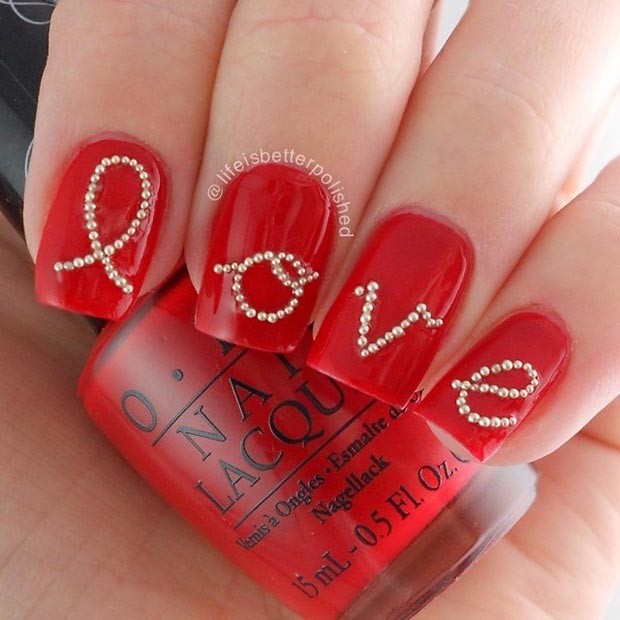 This look is the perfect example how to make a classic red nail more interesting.
6. Pink + Silver Nails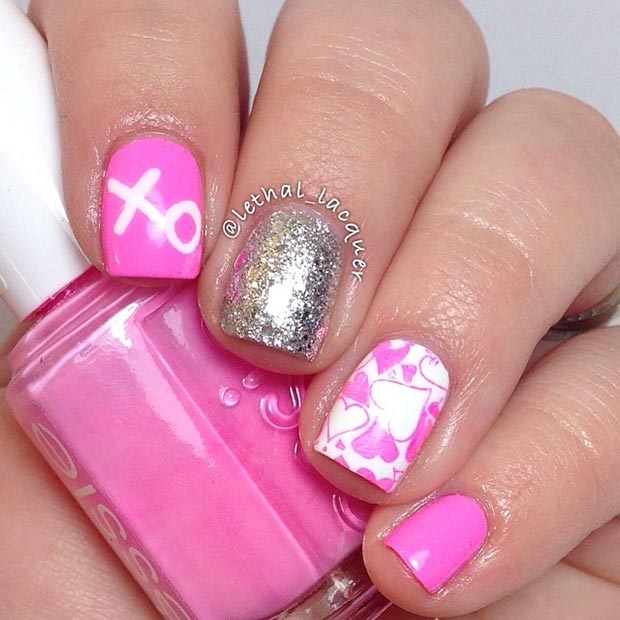 Give a different style to each finger to make your mani stand out. This pink and silver nail design will give you a modern and unique look.
7. 'I Love You' Red Nails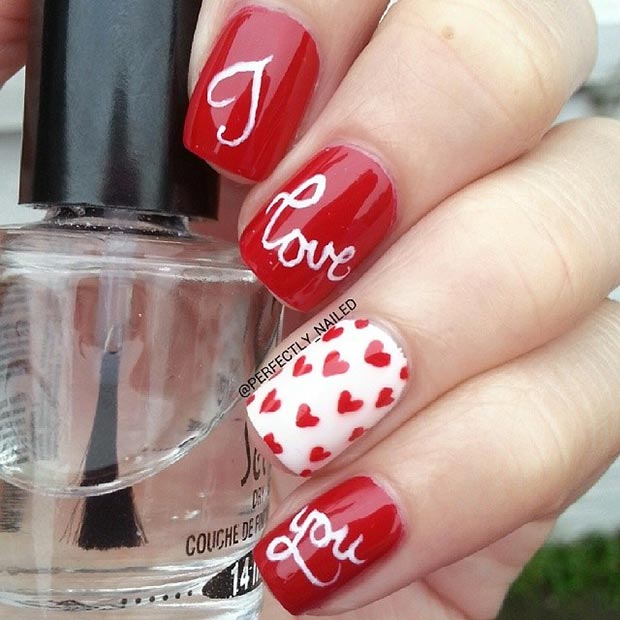 This look will immediately get you into the spirit of love! Also, these nails can't be unnoticed.
8. Love Letters Nails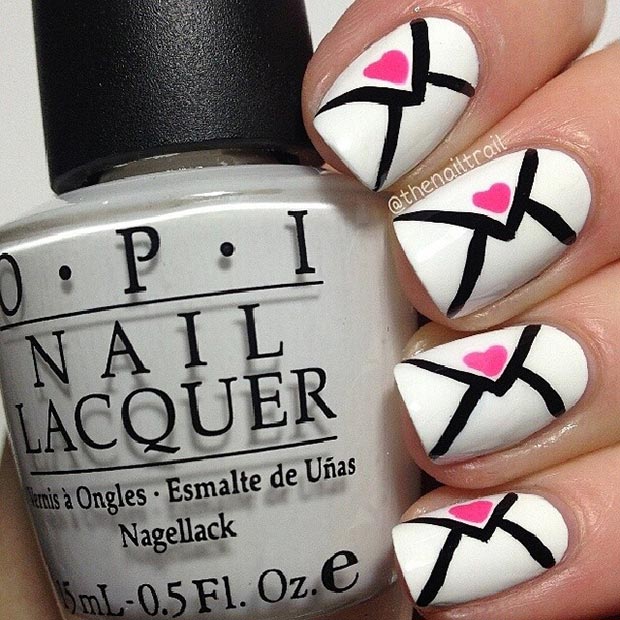 Turn your nails into love letters with a bit of white, black and pink color. Easy and unique nail design for the festival.
9. Cute 'Bee Mine' Nails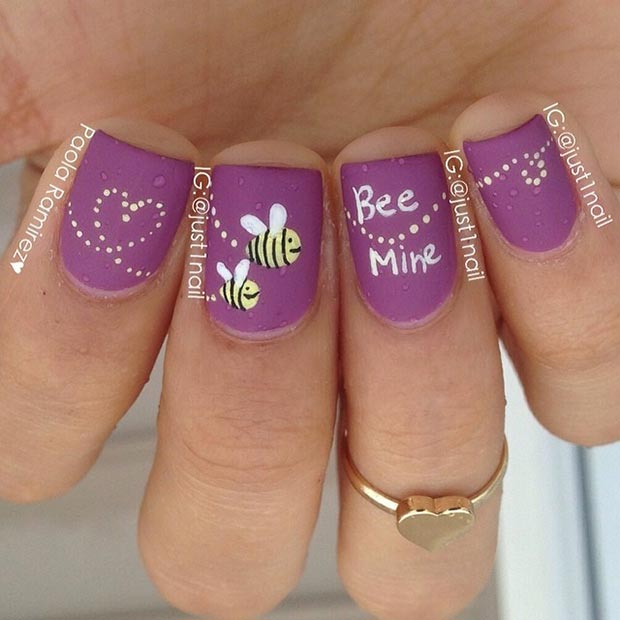 Perfect mani to celebrate the love without going overboard. Nails can symbolize love without using red or pink polishes.
10. Red Hearts Nails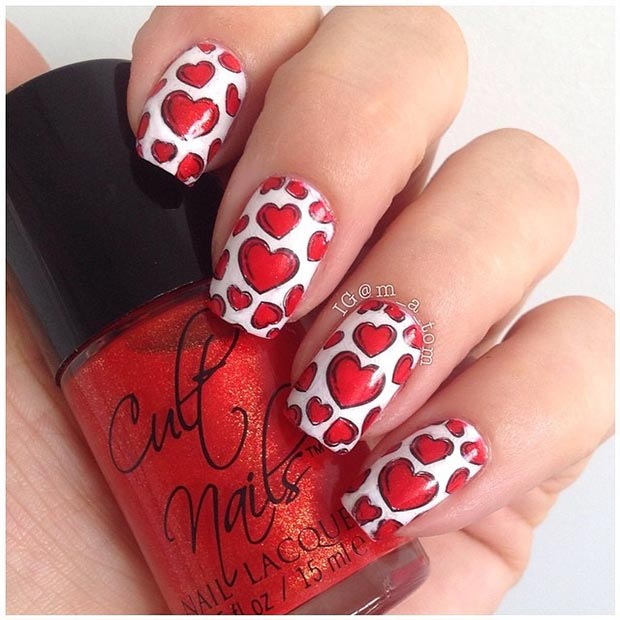 Play it safe with this red and white heart nail design.
11. Gold Nails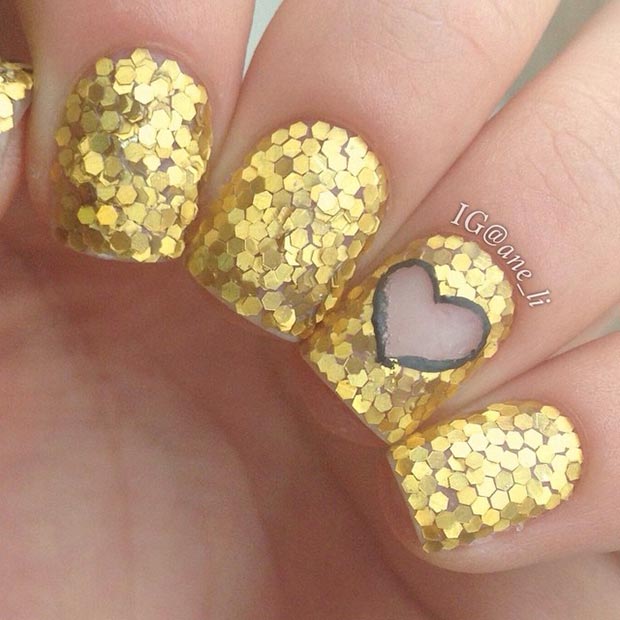 Put aside your red nail polish and dress up your nails with some gold glitter!
12. Pastel Candy Nails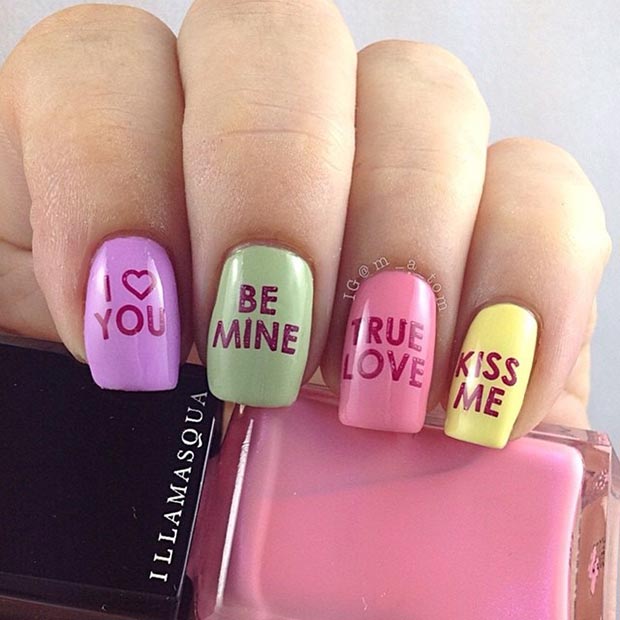 These candy-inspired nails are perfect chic and festive nail design. There is no more delicious nail design than this one. You almost can mistake them for a real candy. Yummy!
13. Pink Glitter Nail Design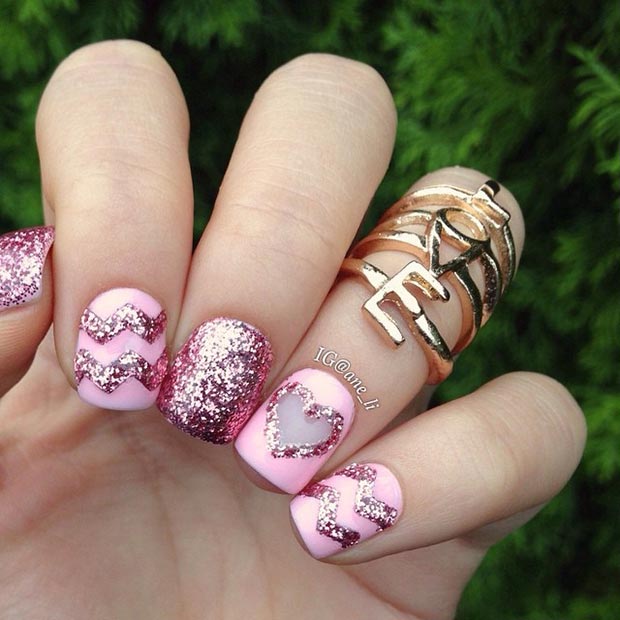 This pink and sparkly nail design is a little bit challenging.
14. Pink + Black Nails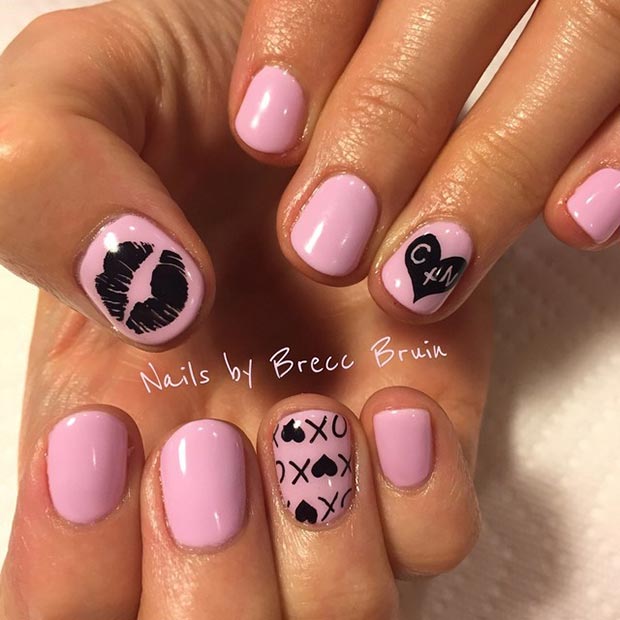 This mani seems like such a simple idea. Super cute!
15. White Hearts Nails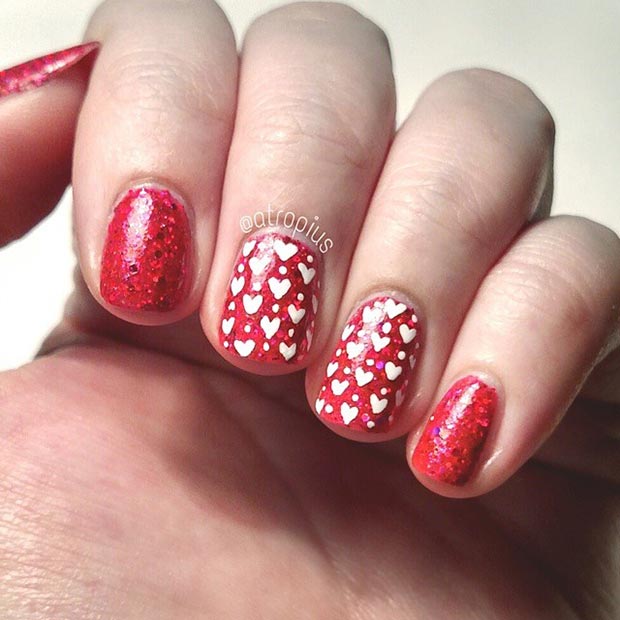 Make your Valentine's Day festive and fun by designing your nails with sparkly red nail polish and white hearts.
16. Key & Padlock Nails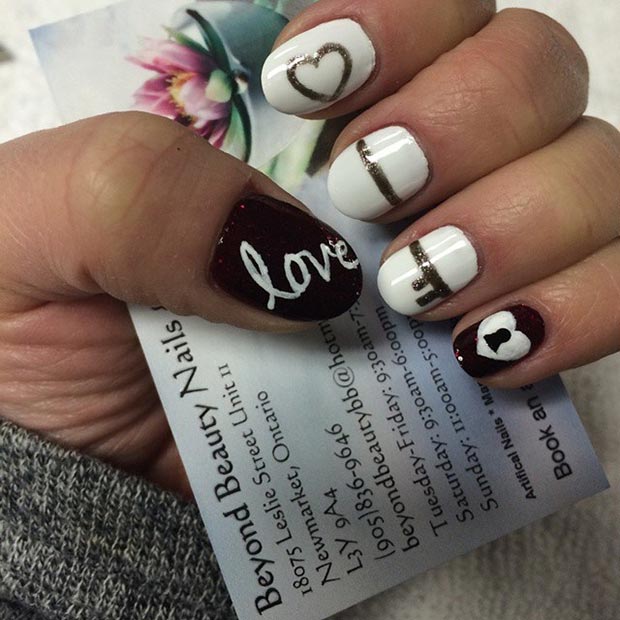 You can never go wrong with kisses, hearts and keys. They are popular symbols for V-day.
17. Simple Design for Short Nails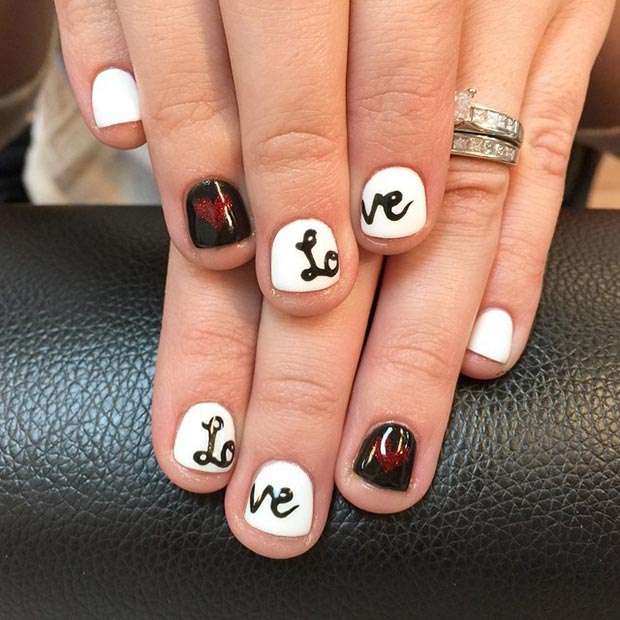 Give your mani a bit of edge with a black accent nails.
18. White Heart Tip Stiletto Nails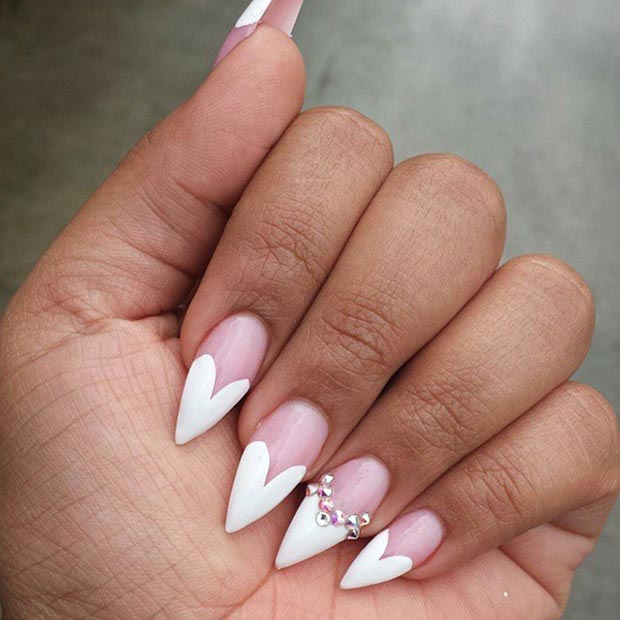 You can have Valentine's Day nails without the pink and red.
19. Red Heart Accent Nail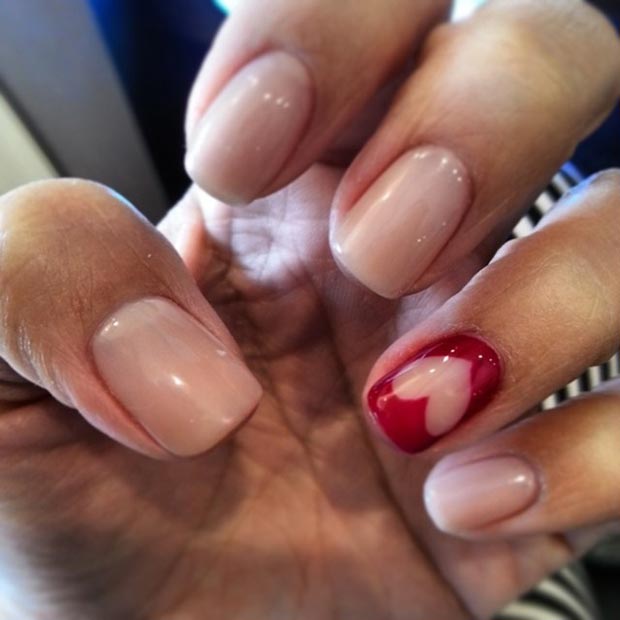 For a simple Valentine's Day look, color you accent nail in red with negative space heart. Cutouts and negative space nail designs are this season's must-haves.
20. Black + Red + White Nails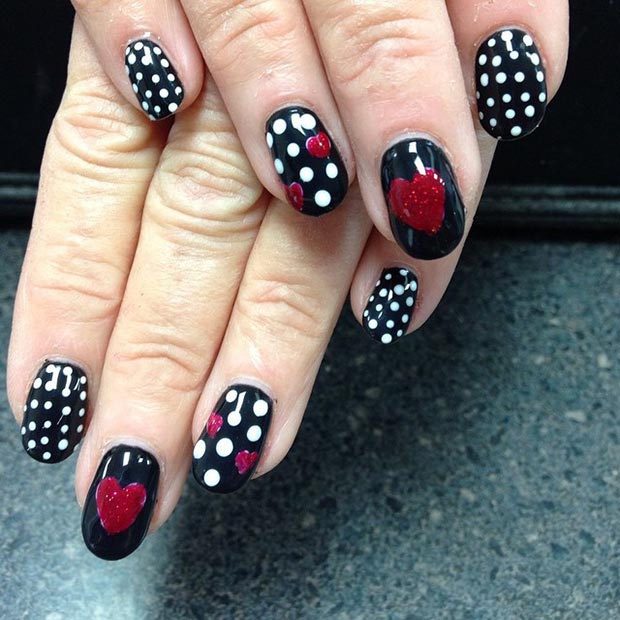 Even if you use base coat in black, your nails can still be romantic.
21. Red and White Nail Design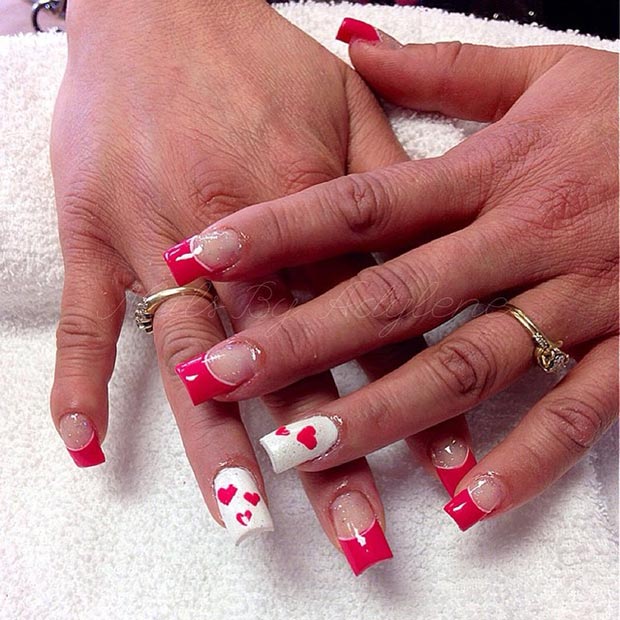 White and red French mani with hearts is the perfect design to jazz up your nails.
22. Silver + Heart Accent Nail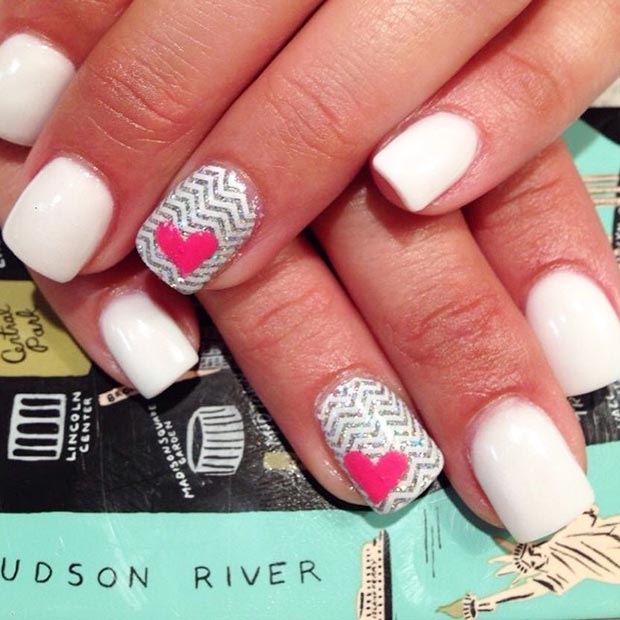 Go with a more simple look with a sparkly accent nail and small heart in pink or red color.
23. Red Heart Tip + Rhinestones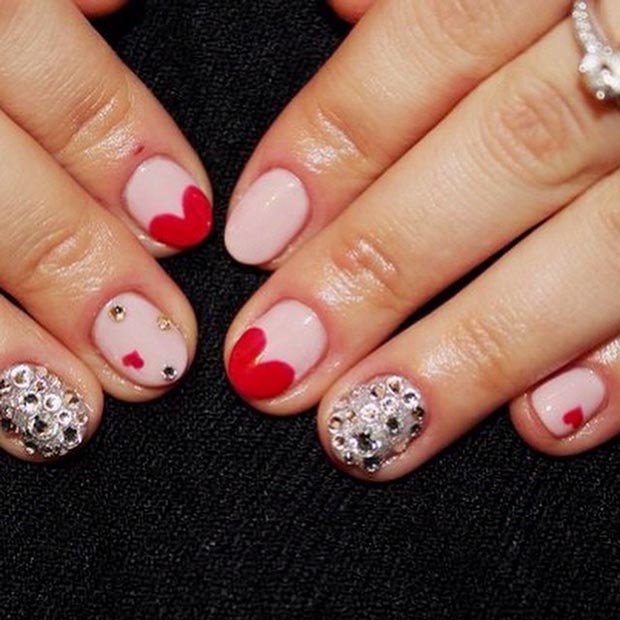 Give your Valentine's Day nails some bling with these sparkly rhinestones. They definitely make them stand out.
24. White & Glitter Heart Nails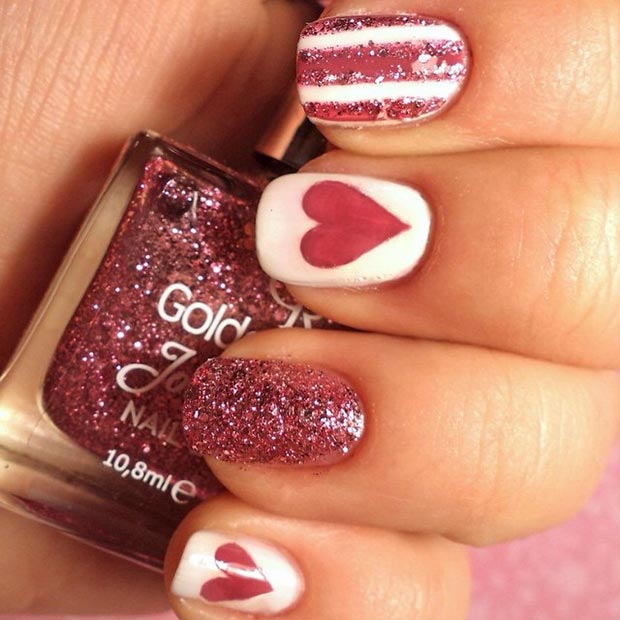 Perfect look for a Valentine's party or dinner date. He will love it!
25. Red & Gold Glitter Nails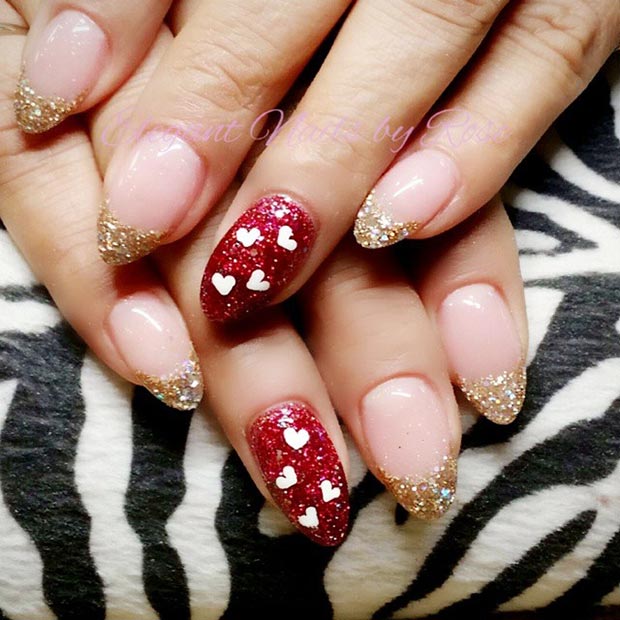 We love the combo of gold and red glitter together.
26. Pink + Silver Nails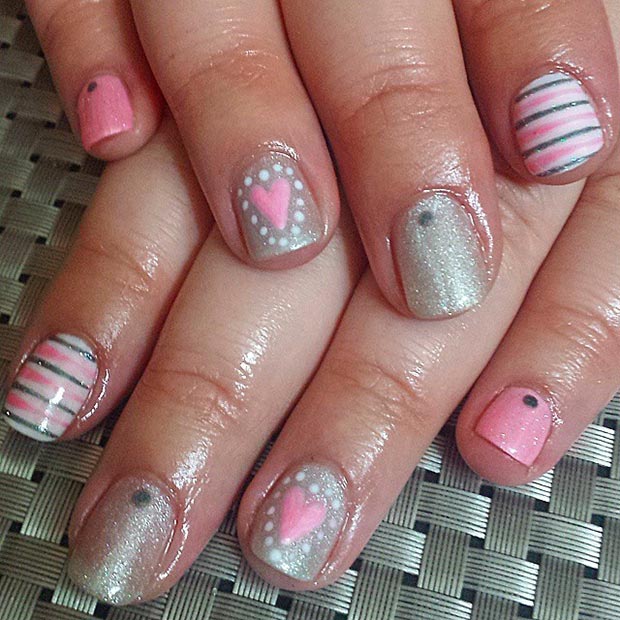 For this special day, we also recommend this cute mani.
27. Red Heart Tip Stiletto Nails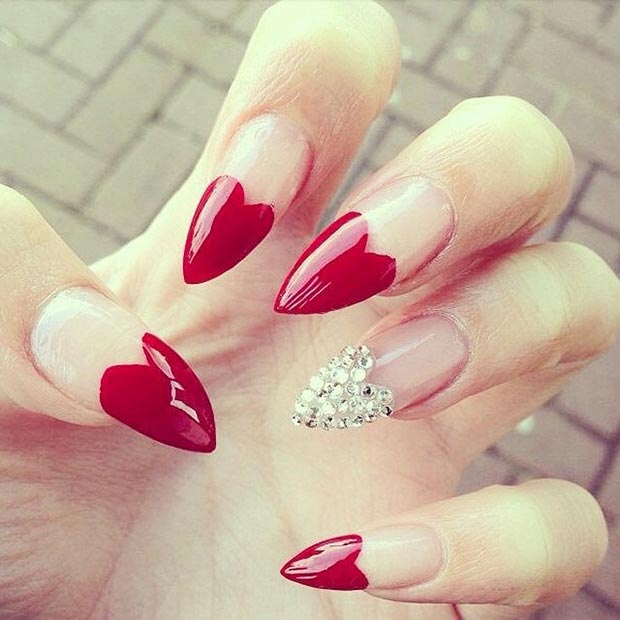 Simple yet impactful nail design. Sparkle up your accent nail with rhinestones.
28. Nude + Red Nails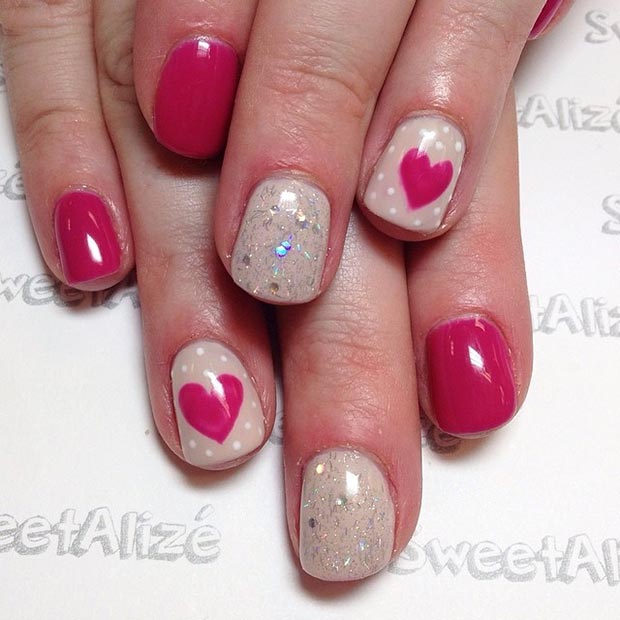 Add a heart to your accent nail for a simple yet cute Valentine's Day look. So girly!
29. Love Letter Nails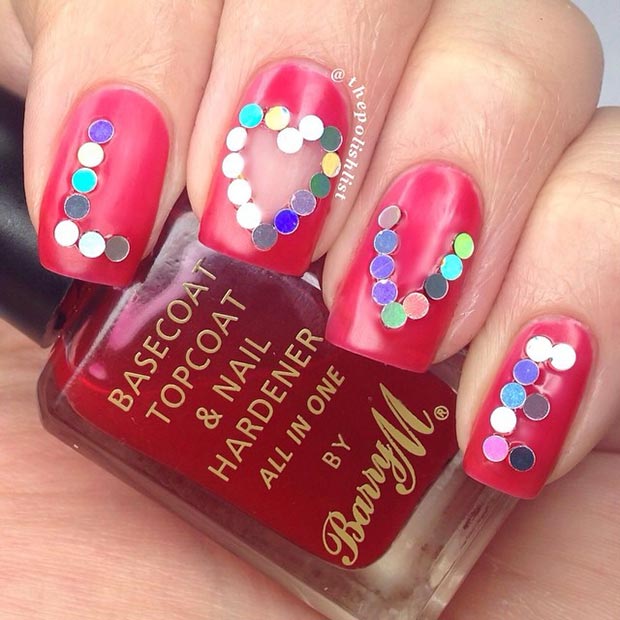 Why not spell it out with holo glitters? To achieve negative space heart, apply heart-shaped sticker to your nail before painting it red. Let it dry and remove it.
30. Pink Polka Dot Nails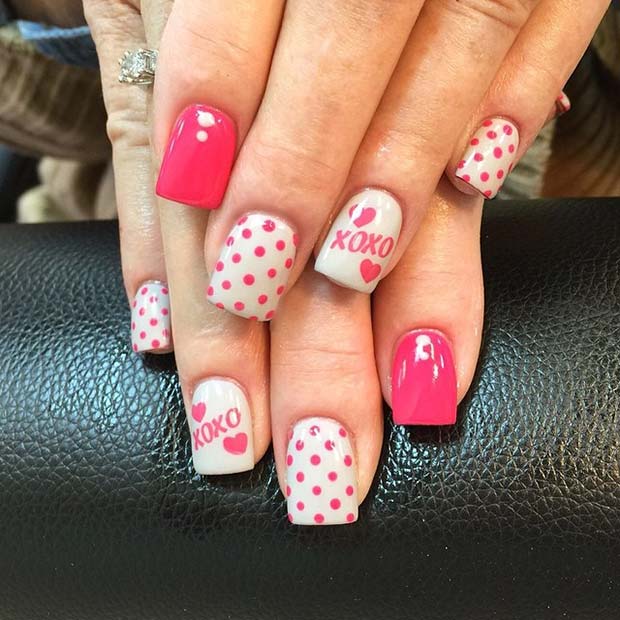 If you're looking for a not-so-complicated nail design, this mani might be your perfect choice.