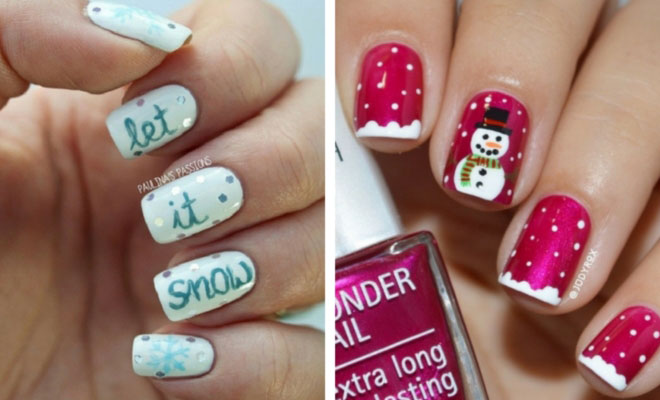 Instagram
Beauty
31 Cute Winter-Inspired Nail Art Designs
By
|
21. White & Blue Snowman Nails
Even shorter nails can use a bit of a festive makeover and this white and blue snowman design shows you how to do just that. Just make the snowy white tips a little shorter to keep everything in proportion and you can achieve the same looks as longer nails. Also, you'll notice only the snowman's head is used rather than the entire body.
22. Simple & Elegant Manicure
Why bother making things overly complicated when you could go effortlessly simple and stylish like this white elegant design. Add embellishments to just one nail and keep everything else muted and simple. It's sophisticated festivity!
23. North Pole Manicure
These are actually pretty simple considering how complicated they look. Keep the background nude, add some white tips and add a bit of silver glitter. The trees and penguins are only roughly drawn on so it doesn't matter if they all look a little different. If you don't like what you've done, you can always whip it off and start again. The background has been left nude remember!
24. Winter Night Nails
Who said all your nails had to match? Use each one to depict another favorite thing you love about winter. The glistening snowflakes, snowmen, christmas trees… The overload of glitter is of course, optional!
25. Snowflake + Polka Dots
Polka dots aren't generally seen as festive but when you add them to some glitter and a snowflake, festive they become! It just goes to show that you don't always have to go festive or winter-mad in order to achieve the perfect nail design.
26. Sparkly Red Manicure
Red nails are a staple for winter, especially the closer it gets to Christmas, and if you've forgotten to get your nails done, this look is an easy one to achieve at home. If you have glitter and red polish, mix them together. If you have white, add your wintery additions. Add a top coat over the top and you're almost ready to go.
But here's a trick if you want to dry your nails super fast in a hurry… Soak them for a couple of minutes in cool water once they're past the tacky stage and they'll harden in a jiffy!
27. Cool Snowman Design
If your snowman nail art has gone wrong, don't despair! Just create a melted snowman instead! What a genius idea, and a great cheat for when you do your nails in a rush and fluff them all up. We've all done that, right girls?
28. Winter Sweater Inspired Manicure
We told you nude nails made winter sweaters classier and it's a point proven once again with these beautiful nails. Make them all the same or different, each of these classic designs are both wintery, festive and brilliant. Super simple too!
29. Simple Snowman Accent Nail
If you're only playing around with nail art for the first time, or are looking for something super simple you can do from the comfort of your own home, make life easier on yourself and just paint a snowman or something else equally festive over the top of your exiting manicure. It sure beats taking old polish off, putting new polish on and then waiting for it to dry. Instead, touch it up, add your winter embellishment and you're ready to go. That's a great time-saving tip for you. It doesn't need to be red, gold, glittery or anything else to be wintery.
30. Sparkly Holiday Manicure
This look is both unique and stunning and you can achieve these simple winter nails easily with the help of some gold polish, a few extra gold sparkles, and plenty of top coat. You'll need to do this in two parts if you want it to look super fabulous. Paint your nails gold and add top coat. Allow to dry before adding a layer of glitter and then top coat. Add another layer of glitter and top coat once that has dried, and maybe one more too. The layering helps to create a more 3D effect with your glitter and the added layers of top coat will make the black snowflakes on top 'pop' like you can see here.
31. Colorful Snowflakes
It looks great doesn't it? These winter nails are very easy to achieve too once you have the knowhow. Paint your snowflakes on with contrasting colors and then grab a tooth pick or something equally pointy and pokey to create a small 'ball' of polish at the end of each snowflake. It helps to give that 3D, raised effect but you do need to remember to let this look dry thoroughly before you attempt to do anything else. Remember the ball of paint will take longer to dry.
How many of these super cute winter nail designs would you be willing to try now you know how easy they are to achieve? Hopefully you've been given a burst of festive inspiration to help get things underway. Why not share your festive designs with us over on your Facebook page? We'd love to see what you come up with!