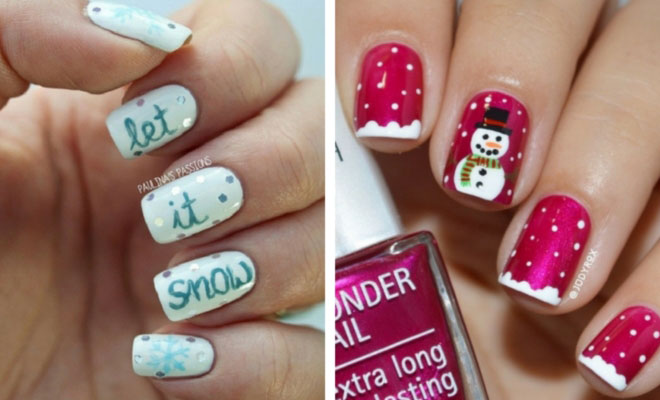 31 Cute Winter-Inspired Nail Art Designs
We're almost at that time of year again. It's getting colder, the days are getting shorter, the nights are getting longer and it's time to start thinking about the festive period. Winter is coming. In fact, it's upon us. It's time to start thinking about getting yourself ready for winter and to be more precise, all those Christmas parties!
If you need a little inspiration to get festive, check out these 31 cute winter-inspired nail art designs:
1. Red Nails with a Snowman
You can't go wrong with a snowman for winter and this red and white snowman design is perfect! Red is always a very festive color and everyone loves a bit of snow. By only painting the snowman on one nail rather than all of them, you're making your own life a lot easier. It's quicker and it doesn't matter if you can't get them all to match!
2. Snowflake Accent Nail
Snowflakes go hand in hand with snowmen and with the "Frozen" frenzy that hit the world, you really can't go wrong with this blue, silver and white design, complete with all things sparkly. Add some glitter, throw on some gems, and mix and match them up a bit – it's the season to get jolly after all!
3. Penguin Accent Nail
Pastels and penguins aren't two things you would normally associate in the same festive nail, especially when it's pastel pink rather than baby blue. However these super cute nails show you how to do just that. The baby pink works great as the neutral background, add some blue and see-through sparkles and get creative with your penguin and you're onto a winner.
4. Elegant Snowflake Nails
If you want something more elegant than novelty for winter, check out these stunning designs. Having the glitter and snowflakes at the base of the nail rather than the tip helps to keep things modern and the snowy-white and blue ' extras add a little something special to the mix. The good thing about all of these nails is that it doesn't matter if you fluff them up a bit. They don't all need to look the same.
5. Sweater-Inspired Nails
If you're wearing the sweater you may as well get your nails to match! Let's face it, we've learned to love those awful festive designs and wear them with pride rather than hide them in the back of the closet so it makes sense to add the patterns to your nails too. Doesn't it make you feel like you have your life together when everything matches?
6. Cute Pink Nails
Another pastel pink beauty but this time, we're adding snowmen! Paint one nail or all of them – it doesn't matter. Get creative and see where that nail brush takes you. You never know what crazy designs you might come up with!
7. Sparkly Manicure
It doesn't matter what color you've chosen for your base, glitter adds an instant re-vamp. We love this silver and off-white / almost grey look with or without the snowman! It would just just as festive either way.
8. Gold Glittery Accent Nail
Glitter can be a little too much for some people so by choosing the one nail and making that one your focus nail, you're achieving that festive glittery look without worrying about it looking too much or too tacky. The festive season is all about going over the top and 'tacky' at times but that doesn't mean your nails need to follow the trend.
9. Gingerbread Man Nails
We loved these gingerbread men nails – another common character you normally associate with Christmas. Again, you'll see the focus on just one nail, keeping the rest relatively neutral, so why not follow the same trend?
10. Let it snow!
Why not get your nail artist to write festive words on your nails? 'Let it snow' is one of the most iconic phrases of the festive period so why not keep things simple and have festive sayings written on a neutral background. Add some sparkles and you have super-simple, unique nails that everyone will love.
Last modified on October 16, 2018