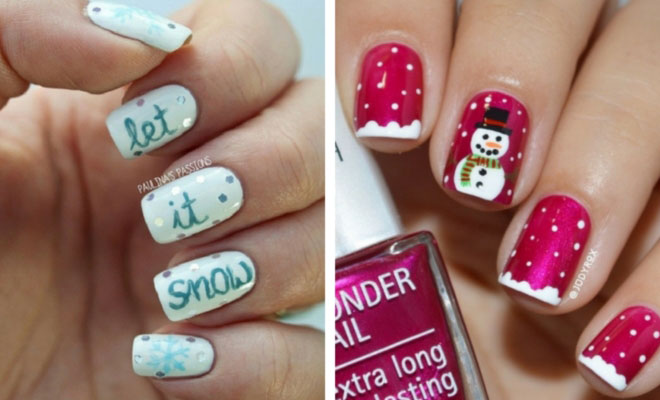 Instagram
Beauty
31 Cute Winter-Inspired Nail Art Designs
By
|
11. White & Blue Snowflakes
We don't know whether it's the Frozen thing or if it's always been the case, but blue, white and silver are now considered to be some of the 'classiest' colors you can pick this year. A simple blue background with white snowflakes is just as effective as some of the more complicated styles you may have seen, and the slight addition of discreet glitter just adds to the snowy appeal.
12. Cute Snowman Nails
Such a simple look and yet so effective! Simple paint your nails white, paint on a little scarf and some eyes, an orange carrot nose and what do you have – the best, simplest festive nails! Sometimes it pays to go back to basics. You could even get your kids to give you a hand with these!
13. Reindeer Accent Nail
Another classic example of making one nail the focus nail, we love this cheeky Rudolph poking out from the tip. When did festive nails get so serious anyway?
14. White & Pink Manicure with a Pop of Gold
The dotted effect on the white nail here is so effective, you'd be forgiven for wanting it on EVERY nail! Using an old hair grip or something with a round tip, dip into the color and then onto your nails, placed in such a way it could almost look like a Christmas tree. Throw some contrasting colored glitter over the top and it'll look like someone's turned the Christmas tree lights on.
15. Christmas Sweater Inspired Manicure
The Christmas sweater nails are back and they're going to keep coming back too! These nails are so band on trend right now and with the help of a clean brush and some white on a contrasting background, are great for a last minute festive addition. Add a top coat over the top and away you go!
16. Penguin Nails
We're bringing sparkly back with these bold penguin nails. Winter is the perfect time to set that glitter free so why not go all-out with a sparkly base? It makes the perfect backdrop for a cute penguin!
17. White Nails with a Snowman
It's like a french manicure but with extra winter thrown in for good measure. Add some extra white-tips and include a few dots to make it look like snow, and throw on a snowman to really add to the festivities. Who said baby pink couldn't be Christmassy?
18. Winter Trees Nail Art
It's such a great look and also a very simple design. If you have white polish and pink polish, use an extra small bowl to mix a little of the two colors together to give you the in-between shade of these trees. You have the pink background, pink mixed with white for the trees, and white on it's own for the tips. All you need to do is add some (optional) glitter and top coat over the top and it's another look that you can do at home in a few minutes.
19. Winter Design for Long Nails
Long nails give you the opportunity to play around a bit more with the designs you have on your winter nails. You can add a bit more detail to the nail, just like you can see with this cute snowman. Why not make the most of it and go bold and bright like this beautiful blue?
20. Holiday Sweater Manicure
It's Christmas sweater with a hint of class. There's something abut nude nails that looks simply beautiful and it helps to tone the look down a little bit. Notice how there is a clever line of gold glitter around the edge of the red nail? It's a look that is fast becoming very popular and is definitely one you should try this winter if you want to be on trend.