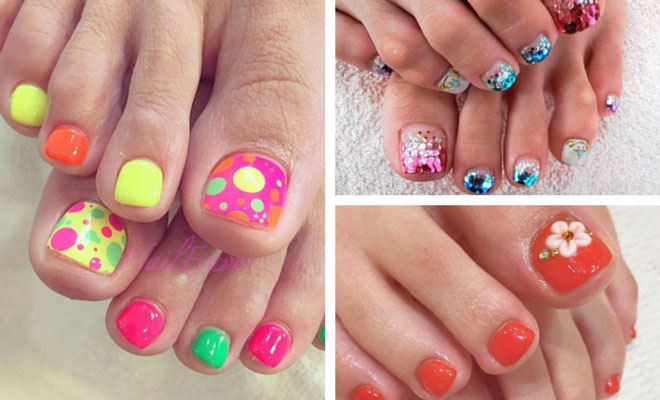 Instagram
Beauty
51 Adorable Toe Nail Designs For This Summer
By
|
Looking for ways to amp up your toes this summer?  If you're always in search for some cute and creative nail designs for your nails, you're at the right place. Sandal season is near so there's no reason not to do some nail art on your toes, right?
From easy and simple to fun and colorful, we've collected 51 stunning nail designs for your toes. Take your inspiration from our list and cancel your next appointment to your favorite nail salon. You won't need their services any more.
1. Pink and Blue Glitter Design
Add a little sparkle to your look with some pink and blue glitter on your toes. In just one stroke, a glitter nail polish will turn every toenail into a master piece. The only bad thing about it? It's a real pain to remove.
2. Nude Ombre Design
This simple and elegant toe nail design is perfect for special occasions. Gold details look amazing against the nude ombre background. If you don't have gold nail jewelry in your nail design kit, you can opt for simple and clean rhinestones.
3. Neon Polka Dots Design
Summer calls for bright, vibrant and fun nail designs as on the fingers and on the toes. A pedicure traditionally means the same color (or nail polish) on each toenail, but that trend slowly becomes boring. Polka dot design is one of the easiest and simplest ways to adorn your toes.
4. White Daisy Design
White daises with gold studs create a cute and trendy toe nail design against nude background. All white nails make the design pop even more. Make sure to try to re-create this look because daises are going to be everywhere this season.
5. Pink Floral Design
Not a fan of daises? Then you're gonna love this girly flower design. The pink flowers can be done freehand for a casual look or with a dotting tool for a more clean look. Either way, both ways look absolutely stunning.
6. Pink and Orange Design
Pink and orange are probably not your ordinary color combination, but unexpectedly they work really well together, right? Amazing! This toe nail design can be done in a variety of ways. Be creative!
7. Cute Pastel Design
How beautiful are these pastel colors? We're obsessed! Nail accessories like beads, studs and rhinestones will make your toe nails really pop, but don't get carried away.
8. Pink and Purple Design
Pair a hot pink with a gorgeous purple for an ultimate girly design. This color combination will never go out of style! If you really want your toe nails to get noticed, this design is for you.
9. Beach Palms Design
What is summer without palm trees on our nails, right? Beautiful beach designs on the big toes look like a piece of art. Other toenails should be simple and clean so the design can really pop and make some heads turn.
10. Blue and Yellow Design
Colors like blue and yellow are just meant to be worn together. It's time to forget about boring color combinations and designs! Treat your feet like a canvas and use them to express your creativity.
11. Pink Nails + Pearls
Pearl nail jewelry will give your feet some certain elegance. This toe nail design isn't time-consuming since you only have to paint your toenails into two different colors (pink and white) and adorn them with pearl nail jewelry.
12. Orange Nails + Rhinestones
Having nice nails without professional help may seem nearly impossible… but it's actually possible. You can have a nice pedicure using just one nail polish color and some rhinestones. Simply paint your toenails with an orange nail polish (or any other desired color), let it dry and finish the look by applying few rhinestones on each big toe. There it is, your glamorous pedicure is ready for some peep toe heels or sandals!
13. Red Hearts + Negative Space Design
Yes, you can rock heart nail design even if it's summer time and Valentine's day was long time ago. This design would look great in some other colors as well. Negative space makes the heart design even more compelling.
14. Colorful Mermaid Design
Who doesn't love bright and eye-catching colors after a cold and dark winter? It's time to bring out colorful nail polishes from the bottom of a drawer.
15. Red & White Cherry Design
Invest in some nail wraps and you'll have no problems re-creating this super cute design. What could be easier than that? Most nail wraps can last up to a month on toes, especially if you finish the look with a gel top coat.
16. Pink & Yellow Flower Design
Flowers and pastel colors are universal sign of spring. White flowers can be easily created using a small dotting tool. If you don't have gold studs on hand, you can use yellow or gold polish. This pink and yellow color combination will make your toenails look like candies!
17. Orange Nails + White Flower Design
As you can see, adding a single flower can really make a huge difference. Flowers and rhinestones are always a good choice for nail decoration. Easy and good-looking – can't beat that, right?
18. Sea and Sand Design
Don't let summer pass without trying this beach-inspired toe nail design! The gradient effect on the big toe can be easily done using a sponge. Silver seashell and star studs make this beach nail design even more interesting.
19. Pink and White Stripes Design
This lovely striped toe nail design is very simple to create. You just need a light pink and white nail polish, and some tape. Striped nail art is quick, easy and looks jaw-dropping. Everyone can do it!
20. Neon Nails + Gold Details
If you're a sucker for bright colors, this lovely design is for you. Get creative with how you use your gold details on your toenails. You can put them on each toenail or just on the big toes. Whatever design suits you the best.
21. Blue & Gold Design
When in doubt what color combination to use for your pedicure, always opt for blue, white and gold combo. White and gold nails will stand out against a bronzed complexion.
22. Pink & Orange Nails + Gold Details
Add a touch of glam to your pedicure with gold sequins and rhinestones. Go for this summery look if you want to stand out from the crowd.
23. Purple Glitter Design
It's important to always have tidy and pretty nails so the nail design can truly stand out. This nail design is perfect for beginners. Will you give it a try?
24. Simple Turquoise Nails + Silver Glitter
Looking for an easy-to-create nail design for your toes? We got your back. Use a vibrant polish color and simply apply just one stroke of a silver glitter nail polish on your big toes. Voila here's your easy but eye-catching toe nail design.
25. White & Gold Borderline Design
For days when you bolder than others, we recommend this borderline toe nail design. Be different and unique!
26. Pink Nails + Colorful Rhinestones Design
Colorful rhinestones are one of the easiest ways to add some bling bling to your toenails. Summer is just around the corner so it's time get your toes ready!
27. Pastel Beach Design
For those who love pastel colors, here's another cute toe nail design. These colors are a very stylish way to decorate your nails, especially if you match them with some gold studs, rhinestones and sequins.
28. Gold Seashell Design
This nail design is perfect for our ladies who don't have time to visit a nail salon. The design is super simple and easy to do. Think about all that time and money you'll be saving if you decide to do your nails alone.
29. Pink, Orange and Gold Design
It's seems that this season is all about the pink and orange color combination. Recently, we've seen it everywhere from runways to red carpets. Either way, you must admit that this color combo is absolutely stunning. Gold details are an easy way to accent the colors.
30. Colorful Glitter Design
Don't have rhinestones at hand but you want to add some bling bling to your nails? No worries, glitter nail polish can give you desired bling in just one stroke.
31. Pink and Blue Tribal Design
We are used to see tribal nail designs in fierce and bold colors but this design proves that you can rock wild patterns in pastel colors, too.
32. Blue Matte and Glitter
Next, we have a bold blue design to show you. Most of the nails are painted matte blue except for one accent nail which is covered in glitter. The blue color is so stylish and the glitter really glams up the design. Nails like these would be perfect for a special occasion! You can recreate something similar with glossy blue too.
33. Summery Watermelon Nails
Looking for a summery nail design? Then this is perfect for you. Here we have super cute watermelon nails! All of the nails are painted in a vibrant pink shade and there is one accent nail too. The accent nail features a stylish watermelon design. Recreate this look or you can try different watermelon art. There are tutorials online to help you with simple melon designs.
34. Black and White Toe Nail Design
If you need glam nails for a special occasion then consider a design like this. Most of the nails are painted in glossy black and there is one accent nail. The accent design features white, black and glitter art. Nails like these will look amazing with your sandals or open shoe toes. You can create similar nail art with nail tape. Just create a design like this with tape and paint each section separately.
35. Elegant Pink Nails
Our next nail idea is so stylish. All of the nails are painted in a stunning bright pink color with one accent design. The accent design features two beautiful rows of opal crystals. Opal gems look gorgeous and they will give your nails a touch of elegance. You can buy crystals like these online and the flat back gems can be stuck on with nail glue. Recreate the pink look or use any nail color.
36. Glam Zebra Nail Design
Next, we have another glam nail idea. This one features light pink nail color, silver glitter and a stylish zebra design. The pink and silver are chic and the zebra print gives the toe nails a trendy and unique look. You can recreate zebra art with a nail stencil. Try this design or you can use zebra print with any colors.
37. Zesty Toe Nails
The summer season is the perfect time to try fun and vibrant nail designs just like this one. Some of the nails are painted in a soft, pastel green shade and there are two accent nails. One accent design features white stripes and the other one has cute lemon and lime art. You can hand-paint the zesty pattern or use nail stickers. Stripes can be created with nail tape too.
38. Stripes and Polka Dots
Polka dots and stripes is such a cute combination. Don't just take our word for it, check out this next look. The nails have a pink and white color palette. Some nails are either white or pink and the rest have a stripe or polka dot design. It is such a stylish look and the candy stripes are perfect for the summer. You can create stripes with nail tape or stencils and dots can easily be created with a nail dotting tool which can be bought online.
39. Neon Pink Nails with Sparkling Crystals
Brighten up your look with neon pink nails like these! All of the nails are painted in vibrant pink shade and one of the toe nails has a stunning crystal accent design. Neon pink is a must-have for the spring and summer so with a color like this, you will always look stylish. Recreate the sparkly neon look or try just the color without the gems.
40. Colorful Toe Nail Design
Looking for a unique nail idea that will make you stand out from the crowd? If, so this is perfect for you. For this look, each toe nail has a different vibrant design and the art is like mosaic or stained glass. It is such a creative idea that will suit everyone. Recreate this or you can use your own color palette. You can hand-paint the design or use nail tape.
41. Neon Orange Nails with Trendy Accent Nail
Another cool color you can try on your toe nails is neon orange. Here is how to wear orange in style. Most of the nails are painted in a glossy orange polish and there is one accent design. The accent nail is a light nude shade with an orange tip and cuticle design. It is a gorgeous idea and it has a vintage vibe.
42. Rainbow Toe Nail Design
Next, we have a fun and vibrant look to show you. These toe nails have a rainbow stripe design. There is also a little sparkle too. A design like this will be perfect for the spring and summer. You can buy stripe stencils to help you recreate the look or you can use nail tape. Try the rainbow colors or choose your own bold color combination.
43. Cute Kiwi and Watermelon Nails
Earlier in the post we featured a cute watermelon design. If you loved that idea, then you will like this one too. Here we have another watermelon look but a kiwi fruit design has been added too! This is a unique and fun nail idea that will look amazing for a vacation to a tropical beach, or just for a stylish summer day.
44. Pastel Orange and Glitter
Our next idea is another orange look. This nail design features a beautiful pastel orange shade and there are two sparkly accent nails too. It is a chic and easy to wear idea that will suit any occasion. Recreate the orange and glitter look or for a simple set of nails then wear just the orange.
45. Mint Blue Nails with a Stylish Accent Nail
If you love to wear unique and trendy nail art, then this look is for you. These nails are painted in a stunning mint blue shade with one accent nail. The accent nail has a funky blue, white and glitter design that has an art deco vibe. Art like this will take time and patience. It can be created with nail tape and the end result will be worth it!
46. Simple White and Pink Nails
Look pretty in pink with this nail idea. Most of the nails are painted in a gorgeous, light pink color and there is one accent nail. The accent nail is white with a subtle pink cuticle design. It is a beautiful and chic look. You can recreate the cuticle design with nail tape or a stencil. To make your life a little easier, you can also just have pink nails with one accent nail without the cuticle art.
47. Floral Toe Nail Art
The next nail idea we have to show you is so stylish and elegant. These nails are painted in a light color with one accent design. We love the accent art because it features beautiful flowers. You can create a gorgeous look like this with any flowers. Either hand-paint the flowers, or use a stencil or stickers.
48. Chic Grey and Mint Nails
Next, we have more chic nail art to show you. Two nails are painted mint, two are grey and there is also an accent design that features both colors. Silver glitter has been added too! Recreate this look or use any color palette. Neon colors would look amazing with stripe nail art like this.
49. Glam Toe Nail Design with Rhinestones
Love your nails to look glam and sparkly? If so, this idea is for you. For this design, most of the nails are painted in a light nude shade. There is one accent nail that is covered in sparkly rhinestones. The crystals jazz up the plain color and it is simple to recreate too. Just buy rhinestones in different sizes, paint your nails, glue on the gems with nail glue and that is it! These nails are easy to wear and they will look fabulous for a special occasion.
50. Summer Toe Nail Design
The summer is fast approaching which means festivals are too. These nails will be perfect for both! All of the nails are painted silver but one of the nails has a boho vibe with a feather like design. There is also a row of crystals on the nail too. It just a trendy, fun and vibrant look that will suit everyone.
51. Matte Neon Pink and Crystals
Instead of just wearing one shade of pink, why not wear two? You could try a stylish design like this. Most of the nails are hot pink and there are two accent nails. One accent nail is a light pink shade and the other is covered in crystals. As you can see, the two pink colors compliment each other perfectly. Recreate this or try without the rhinestones.
We hope you found a toe nail design to rock this summer. We know we did!