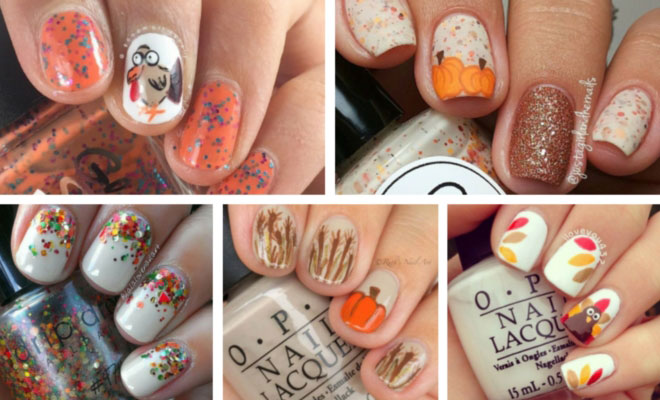 21 Amazing Thanksgiving Nail Art Ideas
When people think Thanksgiving, they think family, celebration, turkey…us? We think seasonal nail art. Pretty, festive nail designs are our favorite way to get into the holiday spirit.
There are so many beautiful and festive ways to do your nails for Thanksgiving. We've searched Instagram for the best nail art ideas so you don't have to, and found 21 amazing looks that will help you get in the mood for one of the most popular holidays of the year.
1. Pink Nails + Colorful Turkey
Looking for a cute and girly Thanksgiving manicure? This super-adorable Turkey-inspired nail design is sure to brighten up your day.
Products used: OPI "Pink Friday", Essie "Blanc", and Wet'n'Wild "Hallucinate".
2. Pumpkins + Glitter
Add a little sparkle to your holiday nails by painting one nail with gold glitter. A sparkly accent nail will instantly transform your simple manicure to a snazzy one.
Products used: L'Oreal "I Like it Chunky", OPI "Matte Top Coat" and Noodles Nail Polish "Pumpkin Spice".
3. Turkey Accent Nail
We absolutely love when women get festive with their nails, especially when they create one of the cutest turkey nail arts we've ever seen. The design is perfect for beginners in the nail art world. The white nail polish is OPI "Alpine Snow".
4. Turkey Tutorial
Turkeys and feathers are one of the most popular Thanksgiving motifs, and with the help of this simple nail tutorial, you can easily have them painted on your nails. Painting a turkey on your nails doesn't seem difficult anymore, right?
5. Candy Corn Ombre Design
This candy corn ombré design can last you from Halloween all the way to Thanksgiving. The best part about this festive look? It has zero calories.
Products used: Zoya "Snow White", "Beatrix" and "Solange".
6. Falling Leaves
While definitely not suited for a nail art newbie, this design is sure to bring you compliments at the Thanksgiving table. The design is perfect for those who aren't into turkeys, feathers, and pumpkins.
Products used: OPI "I Just Can't Copa-cabana", "Where Did Suzi's Man go", "Cajun Shrimp", "Big Apple Red" and "Bubble Bath".
7. Ombré Sequin Fade
You're bound to have the prettiest nails at the table with this cute and sparkly design. This sequin nail polish by Drip Drop Nail Paint is like autumn in a bottle. Agree?
8. Cute Pumpkins
Bring cuteness to Thanksgiving with this lovely design! We love that the base color is nude because it makes the orange pumpkins really pop. We think a matte top coat would finish the look off perfectly.
Products used: OPI "Chromatic Orange", "Is Mai Tai Crooked" and "Be There is a Prosecco".
9. Black & Gold Design
Whenever you pair black and gold together, you know that you'll end up with a fabulous manicure. This black and gold glitter design with a floral accent nail is the perfect match for a pretty cocktail dress. Give it a try!
Products used: OPI "Black Onyx", Painted Polish by Lexi "#PSL", and acrylic paint.
10. Gold Leaves + Studs
How could you not love this simple yet gorgeous fall manicure? It's the perfect choice for those looking for a different, non-traditional take on holiday nail art. Dark purple is the perfect base for these gold falling leaves and studs.
Products used: OPI "O Suzi Mio" and Essie "Good as Gold".