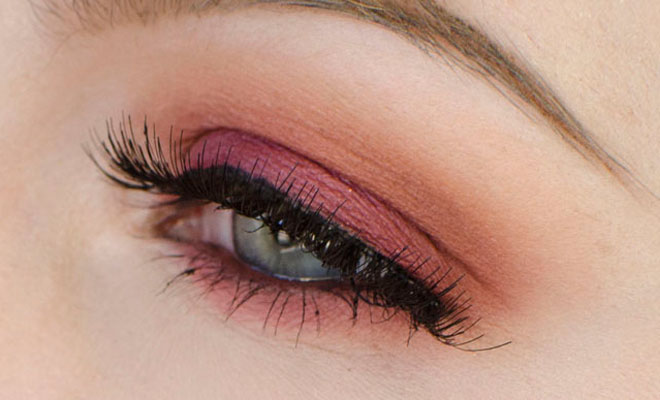 15 Gorgeous Makeup Looks for Blue Eyes
If you are one of those lucky women who were born with blue eyes, you're gonna love this article. We've searched for the best makeup looks for blue-eyed women and complied them into 15 easy step-by-step tutorials. These makeup looks will make your blue eyes shine and sparkle, no matter what shade they are.
Get inspiration for your new daily or night out makeup. There's makeup look for every occasion.
1. Burgundy Makeup Look

Burgundy makeup look will open your beautiful eyes and make them pop. This color is super flattering on blue eyes. If you want to catch everyone's attention, this look is for you.
Step 1: Prime your eyes and apply a base, matte shadow that's close to your skin tone. Apply light yellow/orange shadow to the crease and blend. There shouldn't be any harsh lines. To the outer half of the crease apply a touch of warm brown shadow.
Step 2: Apply burgundy shade and using a clean blending brush, blend all the shadows together. Everything should look blended and effortless.
Step 3: Blend both colors on your lower lash line using a pencil brush. This step will make your eyes look bigger.
Step 4: Highlight the brow bone and the inner corner of your eye. Use off white, shimmer shade. Add mascara and brown liner to the lower waterline. Finish the look with false lashes.
2. Purple Smokey Eye

Purple smokey eye will help accentuate your blue eyes. This look combines peachy and purple eye shadows to create a bold look that'll last all day. Follow the steps below and easily recreate this stunning look.
Step 1: Begin by applying an eye shadow primer. Pick an eye shadow in matte, light peach shade and apply it all over your eye with big blending brush. Make sure it's flawless. Apply a black eyeliner that's easy to smudge out. You will smudge it out so it doesn't need to be perfect.
Step 2: Dip your smaller brush into a dark brown shadow and smudge out the eyeliner until you get a softer look.  This step may take a while but the ending result will be worth it.
Step 3: Apply a dark purple shadow with matte finish all over your entire lid.  Using a clean blending brush, gently blend out the eye shadow.
Step 4: Don't forget to define your lower lash line. Your lower lash line should be connected with the shadow on your lid. Finish the look by applying a frosted taupe shadow  on your crease, apply mascara and false lashes and you're ready to go!
3. Rose Gold Makeup Look

Everybody loves a good shimmer. Pinks, golds, coppers, and rich browns all work well with blue eyes. This look is perfect choice for special occasions.
Step 1: To make your eye shadow last longer, apply eye shadow primer. With big blending brush, apply a neutral eye shadow all over your lid. On top of it, apply  white eye shadow as a base shade and blend it out with a brush or finger.
Step 2: In the center of the lid, apply rose gold eye shadow.
Step 3: Pick dark brown eye shadow and apply it in the outer and inner corner of the eye with a pencil brush. Blend everything out with a clean and fluffy brush. Make sure the color stays concentrated in the outer and inner corners. Don't extend it too far.
Step 4: Apply brown eye shadow on your lower lash line, too. Apply winged liner, mascara and false lashes (optional). Done!
4. Gold Makeup Look

This mix of gold, brown and purple will make a great contrast with any shade of blue eyes.
Step 1: Good makeup look starts with a good eye primer. Make sure to apply it all over your lid, followed by a base shadow. Blend a soft taupe color into the crease of your eye to create an appearance of a more pronounced, deeper crease.
Step 2: Smoothly apply your chosen gold eyeshadow.
Step 3: Build up the color with your finger. It doesn't need to be super clean since you will blend everything out. Try no to touch the center of the product.
Step 4: With a pencil brush, apply a dark brown shadow in the outer corner and blend it into the crease. For your lower lash line choose red or purple shadow and blend it out. A strong, liquid line with this look is a must-have. Finish the look with false lashes.
5. Black Matte Smokey Eye

The key for a perfect smokey eye is – blending, blending, blending! Your smokey eye should be softly blended at the edges, without any harsh lines. Forget about cheap eyeshadow applicators and invest in few good brushes. They'll do the whole work for you. Pair your smokey eye with a nude color lipstick for balance.
Step 1: Begin by applying a primer and base shadow. Apply a matte, grey shadow on your eye lid and blend it. With a pencil brush, add matte, black eye shadow to your lash line.
Step 2: Blend! Add a touch of color on the lower lash line and blend it out. Take a look at your eyes and make sure everything is blended. If not, grab that brush and start to blend!
Step 3: Highlight the inner corner of the eye and brow bone. Line your water line with black pencil.
Step 4: Curl your lashes, add mascara and finish the look with long, wispy false lashes.
6. Basic Eyeshadow Look

Simple brown look will certainly bring out all of the blueness in your eyes. To achieve this easy everyday look, follow the steps below.
Step 1: This look uses only three shades. Start out by priming your eye. Apply the medium brown eye shadow, as shown on the picture.
Step 2: Blend out the eye shadow but try not to get too much of the color onto your lid.
Step 3: To add some definition to the eye, apply dark brown shade on the outer corner.
Step 4: Blend the colors together with a cream shade. Add black eyeliner and mascara.
7. Cut Crease

Cut crease eye makeup requires the instruction of a professional. That's way we opted for this simple step-by-step guide by a make-up artist Samantha R.
Step 1: To achieve the look, start with eye primer. Apply it to the entire lid. Next, apply base shadow and white highlight.
Step 2: With a black eyeliner, sketch in a crease liner. Make sure your sketches match.
Step 3: Gently and slowly blend the liner out with a shading brush. Apply and blend a purple eye shadow (or any other) over the line.
Step 4: Add eye shadow underneath the lower lash line and wing out your eyeliner. Finish the look with mascara, false lashes and some white highlight in the inner corner of the eye.
8. Simple Everyday Look

Sometimes you just need a simple and quick makeup look to look awake and well rested. These four steps will help you get gorgeous fast.
Step 1: Apply your eye primer and base shadow all over the lid. The base shadow will make blending easier.
Step 2: Enhance your eye by highlighting the inner corner of the eye, the center of the lid and under the brow with your lightest shadow. This is the easiest trick to make your eyes more open and awake.
Step 3: With a smaller, denser brush recreate the shape from picture #3. Use your darkest brown shade.
Step 4: It's time to blend that shade out! Use large, fluffy blending brush to create a soft look. Add a bit of the darkest color underneath the lower lash line, too. As usual, finish the look with mascara and lashes.