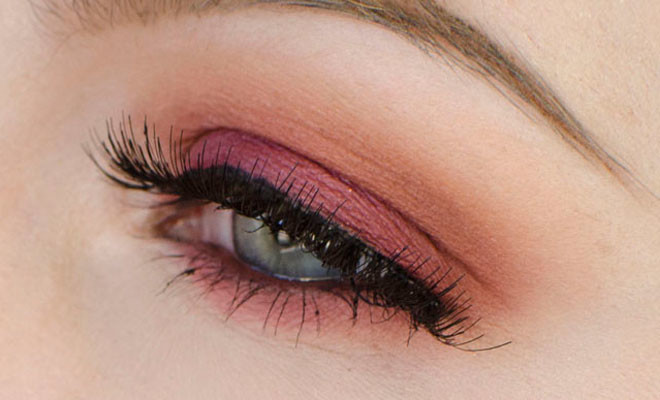 www.rebeccashoresmua.com
Beauty
15 Gorgeous Makeup Looks for Blue Eyes
By
|
9. Easy Smokey Eye

Master your everyday smokey eye by following these easy steps:
Step 1: Start by priming your eyes. Apply gold, shimmery shadow on your entire lid and above the crease.
Step 2: Use your favorite eye pencil in black color. Make sure it's easy to smudge. Line the upper lash line with the pencil. The line doesn't have to be perfect.
Step 3: Smudge the line with a brush. Do it fast, before it dries out.
Step 4: Apply a matte, dark brown shade over your eyelid and additionally smudge the pencil with it. Dip the tip of the brush into a black eye shadow and carefully pat  it over the eyeliner. This step will help you to get that smokey effect. Finish the look with two coats of your favorite mascara.
10. Simple Everyday Gold Look

When you need a quick, glam makeup look, you follow the steps below. The combination of gold shadow and black eyeliner will make your blue eyes pop.
Step 1: Apply shimmery gold eye shadow. Choose your base eye shadow and apply it to your lid.
Step 2: Apply the gold shadow directly on top of the base color.
Step 3: With a fluffy brush, add a warm, medium brown shadow to the crease. Make sure the color works well with this look. Blend the colors.
Step 4: Apply liquid eyeliner and mascara.
11. Grunge Makeup Look

This dramatic, grunge look is perfect for a night out. We love black and orange together, it's so different and unique! Makeup looks with black eye shadow are easy to do, just make sure to layer few shadows and blend them well.
Step 1: Prime your eyes and add a matte base shadow. Blend warm caramel/orange shadow to your crease.
Step 2: Before applying the black eyeshadow, it's recommended to apply matte, brown shadow to make the blending easier. Grab your favorite black eyeshadow and put it on the top of the brown shadow. Blend it!
Step 3: Line your lower waterline with a black eyeliner. Apply the lid colors on the lower lash line and blend them.
Step 4: Highlight the inner corner of your eye, as well as the brow. Curl your eyelashes, add mascara and falsies. You're done!
12. Warm Makeup Look

Layering your lids with warm colored eyeshadows is the easiest way to draw attention to eyes.
Step 1: Always start your eyeshadow looks by applying primer. This step will keep your shadow in place all day long. Using a large, blending brush apply peach eyeshadow in and above your crease. The shadow will help colors blend together more seamlessly.
Step 2: With a flat eyeshadow brush, apply medium brown shadow on your lid.
Step 3: Dip your pencil brush into a dark brown shadow and create a "V" shape.
Step 4: Time to soften the shape with a blending brush! Highlight the inner corner of the eye with a off-white shadow or pencil.
13. Metallic + Gold Look

For a stunning night out makeup, make sure to recreate this metallic and gold look.
Step 1: Apply primer and base shadow. Apply metallic shade to the inner corner brow bone, along the outer corner of the eye and under the lash line. Blend everything nicely.
Step 2: Apply gold eyeshadow to the center of the lid and slightly upward. For a more intense color, wet your brush with a setting spray.
Step 3: Lower lash line needs some color, too! Apply the color with a pencil brush.
Step 4: Highlight the brow bone and the inner corner of the eye with a shimmery shadow. Add a bit of black matte eyeshadow to the outer corner. Finish the look with a thin bit of liner, mascara and false lashes.
14. Brown Smokey Eye with a Pop of Color

To enhance your eyes, opt for this gorgeous brown smokey eye look. Brown color really brings blue eyes to life. As you already know, smokey eye requires lots and lots of blending. Make sure to have few blending brushes near you since you will surely need them.
Step 1: Prime the lids and apply a base shadow. With a blending brush, apply matte, dark brown shadow and blend it from the crease up.
Step 2: Using a shader brush, apply chocolate brown shadow all over the lid. Start blending!
Step 3: Apply and blend brown shadows on the lower lash line, as well. Highlight your brow bone and  inner corner with a off white shadow. Apply a nude liner to the water line.
Step 4: Spice the look with a gold highlight in the inner corner. Mascara and false lashes will finish this look perfectly.
15. Metallic Silver Makeup Look

For a special nigh out, opt for silver look.  No matter what the season, sexy, metallic eyes are always in fashion.
Step 1: Start this look by priming your eyes. With a large blending brush, apply matte peach shadow. Make sure to apply it in and above your crease.
Step 2: Pat the silver metallic eyeshadow on your lid. Patting it on will help reduce fall out and make the shadow more intense.
Step 3: Apply dark brown eyeshadow to the inner and outer corners of your eye. Blend through your crease to connect them. Deep the color by patting dark purple shadow in the same areas where you applied dark brown shadow.
Step 4: Apply black eyeliner to your lower lash line and smudge it out with a brush. Add mascara and finish the look with false lashes.