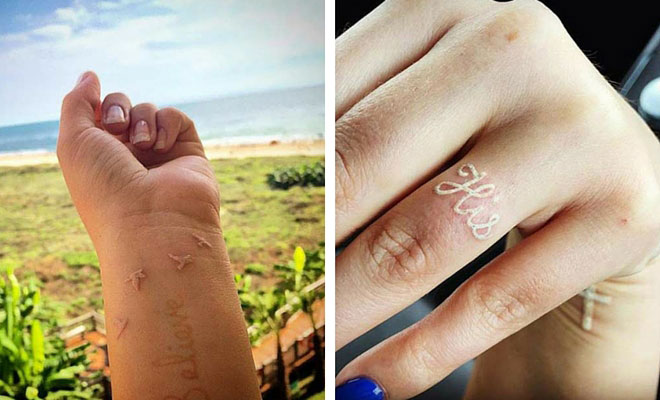 Instagram
Lifestyle
51 White Ink Tattoos That Will Inspire You to Get Inked
By
|
31. Small Cross Tattoo
To get a cross white ink tattoo, doesn't instantly make you a religious person. Even though the cross is associated with Christianity, nowadays, it has different meanings for different people. It can be anything to do with love, faith, death and spirituality. What's the message behind your cross?
32. White Ink Music Tattoo
Do you love music? A white ink music note will show off your love and passion for music. You may be always listening to music, learning to play an instrument or just love the music note symbol. Whatever the reason, it looks stunning as a white ink tattoo!
33. Love Wrist Tattoo
Many girls opt for a small, delicate tattoos on their wrists and tend to go for meaningful words. This love white ink tattoo is super cute and shows your loving side. The font sets the word off and we absolutely adore this.
34. Infinity Wrist Tattoo
The symbol for infinity looks great in white ink. The word infinity can relate to love, new beginnings, birth, relationships, limitless, family, faith and many more. The infinity sign is a never-ending figure of eight. It symbolises an eternal feeling, never ending possibilities and opportunities. This is so simple yet the message behind it is endless!
35. Together Forever.
This is too cute for words. Together Forever white ink tattoos. You could even have 'together' on one of your wrists and 'forever' on your partners wrist. This would look amazing!
36. Everyday is Like Sunday – Morrissey Lyrics
If you live for the weekend, everyday is like Sunday would be a great tattoo to have. On the contrary, if you're a Morrissey fan and 'Everyday is like Sunday' song is your favourite, then this is ideal.
37. Lace Tattoo
Lace is classed as delicate and girly and this tattoo is just that! Lace is always in fashion and tends to be white so you have an amazing white ink tattoo! Lace shows off the intricate details on the white ink tattoo that you wouldn't see as clear on a black or colourful tattoo.
38. Inverse Matching Tattoo
Inverse tattoos are becoming more popular. This is a great example of an inverse tattoo. One arm has a white ink tattoo and the other has gone for the much bolder black outline. One has the triangle point facing upwards, and the other facing in the opposite direction.
39. Thankful.
Having gratitude in your life will make you and everyone around you, happy. Word 'thankful' in white ink on your wrist tells a story on its own. There's no need to have any fancy art design around it. Simple.
40. Sun & Moon
Not many people know the true meaning of the sun and moon tattoos and what they represent. Sure, many tattoo artist use them in their designs and sometimes even as a base. The sun and moon are complete opposites so they represent a get-together of such happenings. It's like Ying and Yang and perfect if you and your partner are the opposite ends of the spectrum.