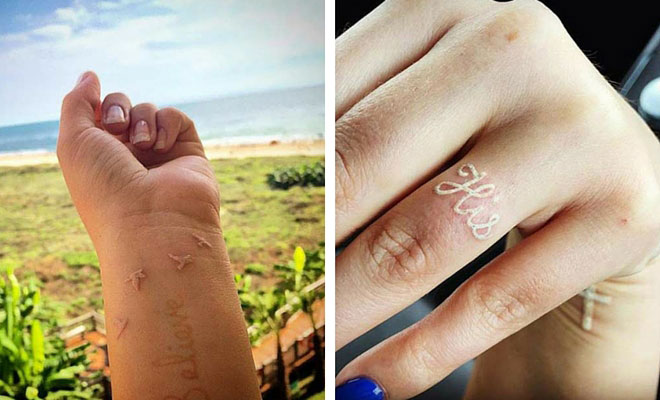 Instagram
Lifestyle
51 White Ink Tattoos That Will Inspire You to Get Inked
By
|
11. Cute Initial Tattoos for Couples
They say don't get a tattoo with your other halves name but what about their initial? Having someone's initial in white ink doesn't stand out too much and is so cute. This is simple and the font looks great. Are you willing to make that leap?
12. White Ink Infinity Tattoo
Mixing infinity and an anchor symbol makes an interesting and unique design. You have the strength and stability of the anchor meaning and the meanings for the infinity part, which are endless, no limits and goes on forever. This is a conversation started. You can tell your story about your white ink tattoo.
13. Roman Numeral Wrist Tattoo
Having a white ink tattoo alone is obviously something that means a great deal to you. You don't necessary want to have it in bold but want to keep in close to you forever. By choosing to have a white ink tattoo date in Roman numeral is adding to the emotion. Only you knows what this means.
14. You are enough.
Learning to love and trust yourself is a huge step in life. Many people are going through difficult times in their lives and need to get back their self-worth. If you've overcome a difficult patch and want to always have a mantra with you, go for "you are enough" in white ink. This will boost your confidence and make you feel so much better on your off days. This font shows how delicate the meaning is.
15. White Triangle Tattoo
A white triangle tattoo in white ink is very spiritual. Triangles have three angles and this tends to be linked to Christianity. A triangle that points directly upwards symbolises masculinity. If you choose to have a triangle, research which way you want your triangle facing because they all have a different meaning. If you love the design of the actual triangle and aren't worried about the meanings, then go for it. Not everyone has meanings before their tattoos. People often go for what they like rather than the meanings behind them. This is good but it's always good to know the meanings in case you find out too late and hate the idea of it.
16. Red Ink + White Ink Tattoo
Nobody said you have to stick with the white ink to have a white ink tattoo. You can team it with any ink colour you wish. Take this Believe tattoo. The B is in red and is a cross between a B and a heart shape, the rest of the letters are in white. This is down to you and your personal taste. If you want it to stand out, follow this idea.
17. Feather Tattoo
Coloured feather tattoos are beautiful but white ink feathers are also stunning. A feather alone needs nothing more. This can symbolise wisdom, versatility and faith and if you love the art of the feather, you might just got a white ink tattoo on your arm.
18. Believe Tattoo
Believe, as a tattoo is very popular. To believe in yourself or to believe in something, is what we can all relate to. This is a cute and gorgeous "believe" wording white ink tattoo that is finished in a lovely font with a girly underline.
19. Love Life Wrist Tattoo
Love Life for some people may fall underneath the same category as believe. Wordings that are meaningful to everyone are great to have. It's best to relate to people rather than to alienate you. If you meet someone for the first time, you can always show him or her your stunning love life tattoo and I'm sure you could talk for hours about it. We are loving the font for this white ink Love Life tattoo.
20. Infinity + Arrow Tattoo
Many people like to tattoo their body with meaningful readings. Many choose to design their own tattoos and this can be simple if you know what you want. This is an infinity design with an arrow in white ink. Having a tattoo in an unobtrusive area, especially in white ink, shows you want to know it's there for yourself and nobody else.