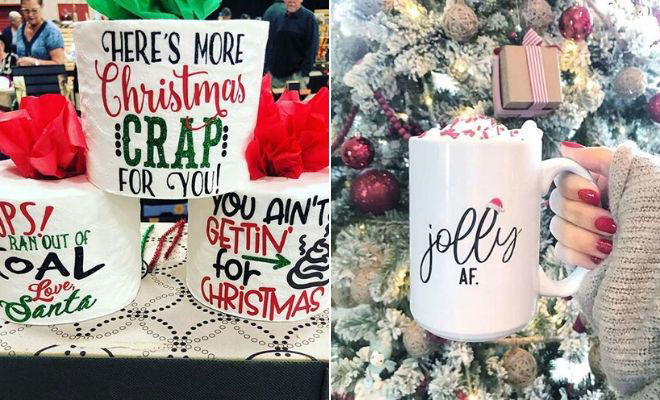 Instagram
Lifestyle
23 Cool and Funny White Elephant Gift Ideas
By
|
11. Llama Mug
Know someone who loves Llamas or know someone who doesn't so the gift will be funny and confusing? If so, this could be perfect. Here we have a cup with a Llama on it and there is a message above. The message reads "spit happens". There is also a message inside that reads "no drama, Llama". This is a fun gift that will either delight someone or baffle them because it is so random.
12. Home Alone Bauble
Home Alone is one of the most iconic Christmas movies and this next gift is inspired by one of the funniest lines. Here we have a bauble with "Look what you did you little jerk" wrote on it. A gift like this will get everyone laughing and it will be a random and fun gift even if they haven't seen the movie. This decoration can be bought on the page below.
13. Santa Wine Holder
Alcohol is the perfect party gift but this next idea shows how to give it that funny and unique white elephant twist. This gift has two wine bottles that are inside a knitted pair of Santa trousers. It is a one of a kind gift that people will love! You can, of course, put any alcohol in the bag and the trousers are available on the Instagram page featured.
14. Naughty Gnome Christmas Decoration
This is another one of our favorites gifts. It is such a random and one of a kind idea. Here we have a Christmas decoration called the Naughty Gnome. It is a gnome wearing a suit and it is swearing too. This is a tacky, fun and totally unique decoration that people will either love or hate. So, it is perfect for white elephant.
15. White Elephant Gift for Co-Worker
Next, we have another white elephant gift for co-workers. Here we have a small framed picture that reads "you must be exhausted from watching me do everything". This is perfect for the office as you might know someone where this is true. You may even be the one that watches the busy work too, so it will make everyone laugh. This picture is available on the page below.
16. Quirky and Vintage Tissue Holder
Vintage items are perfect for white elephant. This is for many reasons but mainly because vintage items are often fun, confusing and make you wonder why it was made. The next gift idea is just that. Here we have a vintage tissue box cover! It is just so wonderfully random and it actually looks kind of cool too. You can buy this tissue box by clicking the link below and they have some other amazing vintage gifts.
17. Wine Cork Trees
This next gift idea is so fun and unusual. These are wine cork trees. So, recycled corks are painted and are stuck together to create a Christmas tree shape. It is a cute and creative idea. These are great for those who love unique gifts, like recycling and for those who enjoy a glass of wine too. That should cover quite a few people! You could even try making some of these yourself.
18. Socks Inspired By Alcohol
Next, we have another white elephant gift idea with an alcohol theme. This time we have socks and each one reads "bring me a or bring me a glass of" with a picture of an alcoholic drink underneath. We love this idea because it will give people a laugh and socks can be a controversial Christmas gift. We are sure these will be remembered! You can buy these socks on the page below.
19. Unique Pig Gift
So, if you really want your gift to be remembered, then this is for you. Here we have a pig ornament and underneath there is a sign that talks about how this gift will make an impression. It certainly will because it is so unique and random. You will be able to find other items like this one in thrift stores so get looking around for some one of a kind ornaments. It doesn't have to a be a pig but we think that a pig will be a hilarious choice.
20. Fight Club Soap
Novelty gifts are perfect for white elephant. Next, we have a novelty soap idea that is great! This is a bar of soap that is made to look like the one from the movie Fight Club. It is perfect for movie buffs and most people will instantly recognize what it is. This is a gift that will make you look cool and it won't be forgotten! The soap is available on the page below.
21. Santa Cup Cozy
If you are just looking for something cute, festive and small, then this is for you. Here we have a Santa theme cup cozy. This is just a fun gift that everyone will enjoy using during the holiday season. You can choose a Santa one like this or choose a cup cozy with a different design. Maybe even include a reusable cup with the gift too.
22. Firefighter Calendar
This next idea is another one of our favorites! Everyone needs a calendar for the new year so why not choose a firefighter calendar?! Each month there is a different firefighter holding an adorable puppy. This will make everyone laugh and not only that, but when you buy a calendar it helps dogs in need too. It is fun gift that helps.
23. Funny Mug
The last white elephant gift idea features a funny mug. This one talks about how someone is run on caffeine and sarcasm. Everyone will know someone like that! It is a fun and easy to give gift that people will laugh at and enjoy. These mugs are available on the page below.
We hope you have been inspired by these white elephant gift ideas!