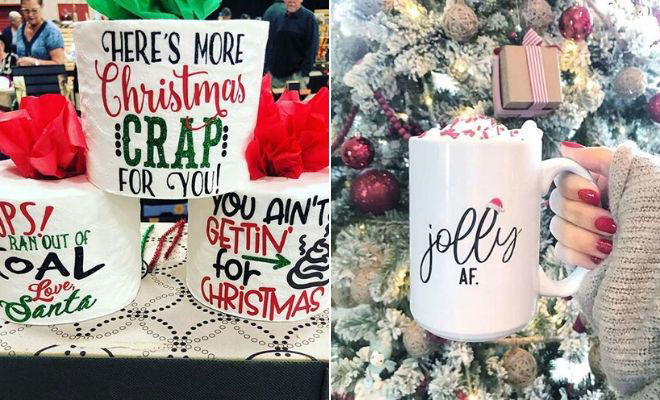 Instagram
Lifestyle
23 Cool and Funny White Elephant Gift Ideas
By
|
White elephant is a gift exchanging game. During the game, gifts will be given to the players and most of the time these are funny, random or unique items. So, the aim of the game is to entertain everyone. This can be with something that is one of a kind or hilarious. You can, of course, give people nice gifts that are useful. It is just a fun game that brings people together at Christmas. You can find out the rules and how to play online. We are here to help with the actual gift. Today, we have 23 white elephant gift ideas that will wow, baffle and give people a laugh. Take a look as there is something for everyone.
1. Lump of Coal Soap
The first gift idea is unique and funny. Here we have a small sack with lump of coal wrote on it. Inside the sack you will find small lumps of coal soap! It is such a fun gift idea and it is perfect for anyone whether they be a friend, co-worker or family member. This soap will be available on the page below and you can find other versions online too.
2. Jar of Nothing
This next idea is one of our favorites! It is a quirky gag gift that is perfect for those who say they don't want anything or for those who are just impossible to buy for. Here we have a jar of nothing. It is literally an empty jar with a label. You can buy this jar at daisychainonlinegiftshop who sell other gag gifts or just make one yourself.
3. Funny Grammar Mug
We all have one of those co-workers or friends who always correct grammar. So, this mug is the perfect white elephant gift! It is a simple but useful mug with "I'm silently correcting your grammar" wrote on it. This will get a laugh by whoever receives and it would be great for an office. You can buy this mug on the page below.
4. Festive Toilet Paper
Next, we have a funny gift that is perfect for white elephant. Here we have festive toilet paper rolls. Each one is decorated with Christmassy colors and they have a hilarious message wrote on them too. Our favorite is "Here's more Christmas crap for you". This will be a one of a kind gift that will be remembered. Toilet papers like these are available online. If you wanted to be creative, you could even have a go at making one yourself.
5. Quirky Badge
There are so many different gifts that you can buy for the game. When looking for a present, you will want to find something unique, funny and impractical. So, this next idea is perfect. Here we have a Christmas brooch or badge with a random festive design. It looks like a star with a cat on it and it is dressed as Santa too. Something like this would be amazing for white elephant. They have lots of quirky pieces like this on the page below.
6. Office Decor
If you work in an office and are playing white elephant with co-workers, then this is a great idea for you. Here we have a framed picture that reads "cubicle, sweet cubicle". It is like a funny home sweet home sign but for your office. This is an easy gift because it will make anyone laugh. You can buy these on the page below.
7. Santa Teapot
Tacky Christmas theme gifts are perfect for white elephant and you could choose something like this. This gift idea features a Santa teapot. It is so over the top and festive and it is a win-win gift. If the person finds it hideous and hilarious job done but if they love Christmas, then they can use it too. You can find lots of gifts like this online and this teapot can be found on the sourced Instagram page.
8. I Tried Candle
Candles are great gifts especially for people like co-workers where you don't have a clue what to buy them. Here we have a candle with a naughty or nice checklist. The one that is ticked on this list is the "I Tried" option. It is a hilarious and unique gift that will be perfect for anyone. If you want to buy this candle, then you can click the link below.
9. Hilarious Hand Sanitizer
This next gift is hilarious and it is another one of our favorites! Here we have hand sanitizer. This sounds like a practical and not funny gift. That is until you read the label. The label reads "Maybe you touched your genitals, hand sanitizer". This is so funny because two people are shaking hands and it has crossed all our minds of how clean someones hands actually are. A gift like this is perfect for white elephant at work or if you know someone in the group who is a bit of a germaphobe.
10. Jolly AF Mug
Next, we have another mug. This time the cup reads "Jolly AF". It is simple, funny and it is a gift that can be given to anyone. So, it is perfect for white elephant. You can buy these cups at Type League Press. Give it as a simple mug or you could even jazz up the gift by putting chocolate or something festive like candy canes inside.