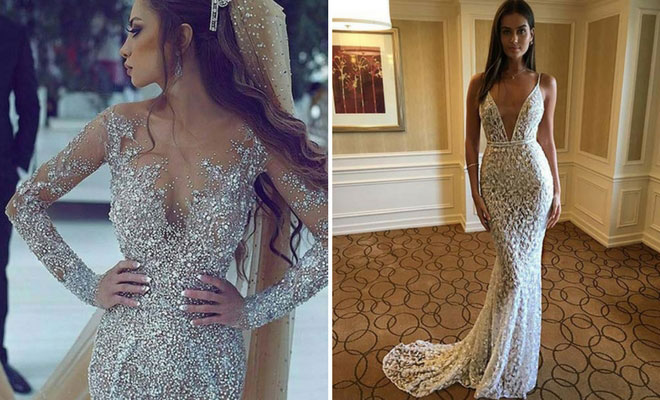 Instagram
Lifestyle
21 Stunning Wedding Dress Ideas for Beautiful Brides
By
|
Your wedding day is one of the most important days of your life. It is the day you and your soulmate begin a new life together. One of the biggest tasks of getting married is choosing the perfect wedding dress. Every girl has her dream dress that she has been thinking about since she was little. Now this special time has arrived it is time to make those dreams a reality. We have put together some stunning dresses to give all brides to be some inspiration.
1. Elegant Floral Dress
This dress would be perfect for a wedding with a bohemian theme. The beautiful floral pattern gives it a natural but very elegant look. With this fitted style you get the best of both worlds. Something comfortable you can wear all day and all night but formal enough to be a beautiful bride on your special day.
2. Chic Sleeves
When choosing a wedding dress most of the focus is on the skirt – big and full or close fitting. The sleeves aren't the main focus. This dress changes that! These sleeves are stunning and compliment the rest of the dress perfectly. This dress is one for the scrapbook.
3. Traditional Bride
If you're looking for something a little more traditional then this is for you. It's a simple dress with the low cut sleeveless top and beautiful flowing skirt. This design makes the dress look effortlessly stunning, it's a beautiful dress perfect for any bride.
4. Embellished Feature Dress
Embellishment on a wedding dress gives it an extra special touch. It will glam up a plain dress and give it a luxury, designer look. As you can see on this close-fitting dress, the beautiful embellishment makes the low cut neckline into gorgeous feature. This is a dress with class.
5. Bridal Bow
When choosing your wedding dress, you want a dress that is different and will be remembered. A dress like this is the perfect way to do it. The big bow on the back of the dress is beautiful and unique. As the rest of the dress is simple the bold feature works so well. It is a gorgeous gown that has a trendsetting designer look to it.
6. Trendy Wedding Dress
Next on our list is a modern dress that steps up the glam game. This dress is trendy take on the traditional dress because it is sparkly and see-through. Don't panic though it covers everything it should! It is a gorgeous dress that takes a risk but pays off beautifully.
7. Off the Shoulder
The next wedding dress on our list is delicate and lacy. It features beautiful lace fabric, a sweetheart neckline and gorgeous off shoulder sleeves. These are all the perfect elements to create a graceful and elegant dress. Would be perfect for a spring/summer wedding.
8. Something New
Who says you have to wear a dress? We know that traditionally you do but take a look at this crop top and skirt! We know we might sound mad but it works so well. This gorgeous lacy top with the flowing skirt is a stunning combination. This would be perfect for a beach wedding or if you want to break the mold and try something new.
9. Princess Wedding Dress
Most girls have dreamed about being a princess and their wedding day. With a dress like this you can combine the two! This stunning ruffled gown looks like it is straight out of a fairy tale. It's a beautiful dress for any bride beginning her happy ending.
10. Glam Long Sleeve Dress
Our next dress has a glamorous beach vibe to it. It has long sleeves and a plunging neckline. The fabric looks very light and flowing, perfect for a summers day. You could style this dress in a few ways. Try wearing wispy and wavy hair with wild flowers for a boho look. For a glam look try a high pony with crystals just like this one.