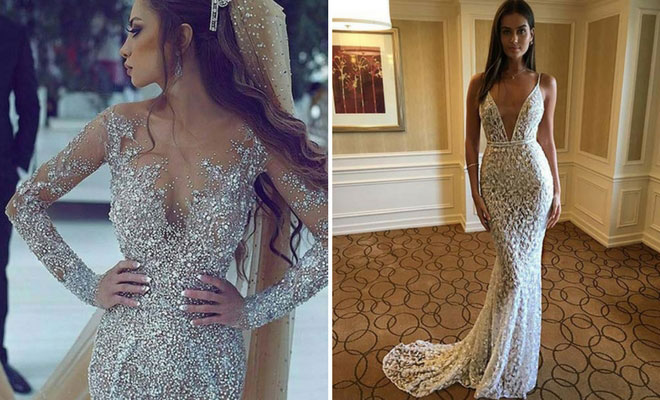 Instagram
Lifestyle
21 Stunning Wedding Dress Ideas for Beautiful Brides
By
|
11. Backless Beauty
Wow you husband to be and guests with a backless dress like this one. This is a stunning close-fitting dress with beautiful sleeves. It is a very chic and luxury looking dress. If choosing a backless dress wear your hair up like this because it will show the backless feature off at its best.
12. Spring / Summer  Wedding Dress
Planning a spring or summer wedding? Then you might want to take a look at this dress. It is a beautiful sleeveless dress with see-through straps and floral detailing on the bodice and skirt. The dress has a bohemian vibe and would be a stunning choice for an outdoor or beach wedding.
13. Intricate Dress with Beautiful Buttons
Dresses with a white button up back have an elegant, luxury look. As you can see on this dress the buttons just give it the extra special finishing touch. A dress like this has a vintage vibe and captures the glamour of times gone by. The buttons and the lace dress work together perfectly. This would be a beautiful dress for any bride.
14. Ruffle Dress
Ruffles are a huge trend this year so, if you're planning a 2017 wedding then take a look at this dress. This gorgeous dress features a stunning set of ruffles at the bottom. The ruffles work very well with the lace fabric and sleeveless top. It is a fun and elegant dress perfect for any wedding theme.
15. Bling Bride
Nothing says eyes on me like a wedding dress covered in bling. A wedding dress like this one will dazzle your husband to be and all your guests. This is stunning gown perfect for the very special occasion. The crystals will catch the light from the sunshine and indoor lights making you look like a sparkly princess.
16. Chic Close-Fitting Dress
The next dress has a simple design, it is a strappy dress that fits close to the body. What makes this dress stand out from all the rest is the stunning fabric. It is very detailed and intricate giving the dress and overall look of beauty and elegance.
17. Floral Embellished Wedding Dress
Looking for something pretty and floral? Then check out this beauty. This dress has very thin straps and a hits the floor in a close-fitting style. The best thing about it is the gorgeous floral embellishment. It has a magical look about it, which will be perfect for your magical day!
18. Thigh Split Dress
Thigh splits have been a must have feature on a dress over the last few seasons. The next dress shows how you can wear this trendy style on your wedding day with class. On this dress the split is softened and given a look of elegance because of the white color and lace top. These features take it from party dress to formal gown.
19. Flowery Wedding Dress
Buttons and flowers are popular features on a wedding dress. When you look at this dress you can see why. The see-through fabric with beautiful flowers and elegant buttons are a stunning combination. It is a gorgeous dress that will make any girl feel special on her big day.
20. Fairy tale Dress
A wedding is the fairy tale ending. It is the time when you and your true love officially begin life together. You need a dress that reflects this important event. This next dress is the way to do it. The long flowing skirt and lacy flowers give it an ethereal look perfect for a princess.
21. Floral Feature Dress
Our last dress has a stunning floral design on the bodice and arms. As the flowers sit on a see-through fabric it looks like the floral pattern is actually on your skin. This would be the perfect for dress for a spring and summer wedding as it captures the botanical beauty of these seasons.
We hope you have found some wedding dress inspiration. Whenever your big day is planned, we hope you have a wonderful day!