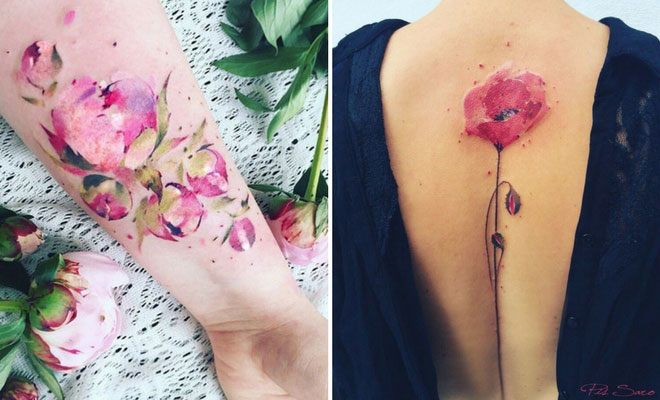 Instagram
Lifestyle
47 Breathtaking Watercolor Flower Tattoos
By
|
One of the hottest new trends in the tattoo world right now is watercolor flower tattoos. When you see how truly stunning they are, it's not very hard to see why. With beautiful shades and colors, and a wide range of designs and ideas to work with, they're a versatile idea that is as pretty as it is unique. We think we've found a few ideas that you might like to take a peek at …
1. Pink Peony Arm Tattoo
The humble peony is one of the oldest flowers to be used in the Eastern culture. You can understand why peony tattoos would be such a great hit. The style of the flower itself gives way to stunning watercolor flower tattoos, beautiful soft petals in marvelous shades of pink and peach. These days, peony tattoos are often seen with Japanese style koi carp tattoos. Also, for such a delicate and feminine flower, is often depicted as rather masculine, said to depict a total disregard for consequences.
2. Small Hand Tattoo
This cute and small hand tattoo is a perfect way of showing how subtle these watercolor delights could be, and in the humblest of places too. You may not even have considered having your watercolor flower tattoo quite so visibly on your hand, but as you can see, it doesn't need to stand out too much.
3. Pretty Wrist Tattoo
The arum lily really is a beautiful one (and it was also the flower for the writer of this post's wedding, we must add), and comes in a wide range of colors. This gives you plenty of opportunities to play around with your watercolor flower tattoos. The original meaning of the beautiful lily was said to have come from Ancient Greek times, at the time called the Madonna Lily, found in white. At the time it was considered to have come from the Queen of Gods, Hera, and was then said to symbolize the Divine Feminine.
4. Big, Watercolor Tulip
Primarily known as a feminine tattoo, tulips come in so many colors that there are endless ways to use them in watercolor flower tattoos. Those who appreciate the sun will also appreciate a tulip tattoo, as it is a flower which constantly bends and moves its head in order to get the best view of it, making brilliant use of those powerful and sunny rays. For many, the simple flower is a symbol of beauty. It holds many more meanings than that, particularly flexibility – the tulip bends to meet the sun.
5. Pink Poppy Flowers
Poppy tattoos are used all over the world these days, primarily to symbolize the remembrance of those we lost in war, but poppies, especially their use in mythology, has been around for many years. Roman and Greek traditions depict that the poppy is a symbol of death, but in a romantic light – more in the sense of eternal sleep. Of course, eternal sleep can have another beautiful and poignant meaning – a sense of peace, another beautiful meaning behind a truly wonderful flower.
6. Blooming A
nemones
The one thing you will need to remember when choosing your watercolor flower tattoos is the place in which you are going to have them. From far away, for example, a dark purple blush of ink could look very much like a bruise,and tattoos such as these ones will peek out from beneath top and bra straps, A tattoo is for life, and that's something it is wise to remember.
7. Orchid Arm Tattoo
The humble orchid means so many different things in so many different cultures, but we must remember it for the beautiful and delicate flower that it is. It requires very specific surroundings in order to thrive, which is quite different from the old Japanese meaning. They were often said to symbolize strength and warriors.
8. Foot Tattoo Idea
The one thing you should be aware of when it comes to foot tattoos is that they hurt … quite a bit. These watercolor flower tattoos are beautiful, you can't deny that, but the bonier areas of your body are always going to be the most painful places to have inked. You will also need to bear in mind that the shoes and socks you wear will rub on the skin. This can actually have an impact on how long the tattoo actually lasts. Constant rubbing will cause it to fade, and that will mean a touch-up every now and again. You know what that means – more pain. Just saying.
9. Small Flower with a Quote – 'Carpe Diem'
Carpe Diem means "seize the day" in Latin, but "seizing the day" isn't something you're really going to want to do when it comes to getting inked. This is something that will be on your body forever, unless you go to drastic measures to have it removed, such as having laser removal. For the record, that's a very painful process.
10. Flower Tattoo Idea for Friends
The same can be said for the tattoos you choose to have with your friends – these are beautiful, and we definitely aren't taking anything away from that. Jake sure your friends are your real friends before you go getting matching inks. That tattoo will be a constant painful reminder of a friendship gone by otherwise.