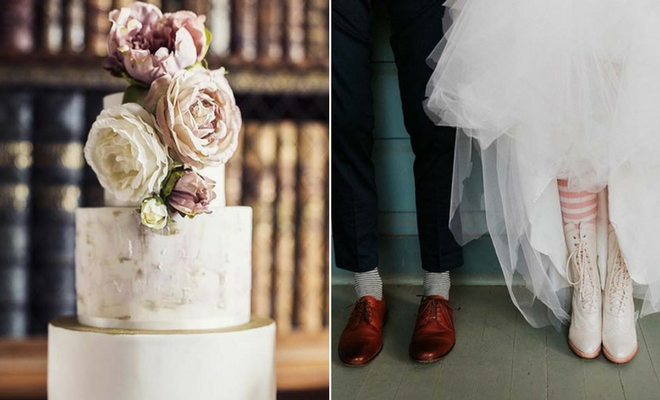 Instagram
Lifestyle
21 Unique and Inspirational Vintage Wedding Ideas
By
|
11. Creative Flowers In A Teacup Table Decor
Our next idea is this cute teacup decoration. A vintage teacup has been filled with beautiful flowers. You could put these on all the tables at the wedding reception. If you want a DIY project for your wedding, then this would be perfect. You could use any teacups and any flowers.
12. Wedding Reception Table Idea
Next, we have a rustic vintage wedding reception idea. The table is full of vibrant blooms and candles. We love the table and chairs because they are simple but elegant. A table like this would be a beautiful choice for any wedding, especially an outdoor one.
13. Photo Shoot With Vintage Bus
Vintage vehicles will give your wedding a stylish look of times gone by. This couple had a beautiful photograph taken in front an old-fashioned bus. You could recreate a similar photo on your special day. If the bus isn't your thing, you can choose other vehicles too, maybe a cool classic car.
14. Summer Pimm's Idea
After the wedding ceremony, when it's time for partying and celebrating, you could have cocktails available like this. Pimm's has been put into a big jar for the guests to serve themselves. This is perfect for a relaxed wedding reception that is taking place outside in the summer. You could fill up the jar with any drink/cocktail.
15. Vintage Bridal Embroidery
Embroidery is a popular style feature on vintage bridal gowns. This dress has stunning embroidery on the back. A dress like this would be a beautiful choice for any bride. Any brides-to-be can use this image as inspiration. Try an elegant updo with a dress like this to show of the embroidery.
16. Gorgeous Floral Table Centerpiece
Next, we have a floral decor idea. The tables have a huge vase of flowers in the center. Not only do the flowers look gorgeous but they also have a table number on them which shows guests where to sit to. You can recreate a similar look with any flower with a vintage vibe of your choice.
17. Vintage Wedding Invitations
Every guest you want to attend your wedding, needs an invitation. If you want to give your invites a vintage look, then choose a design like this. The invitations have beautiful flowers, an elegant font and a beautiful feature on the front that looks like lace. Anyone would love to receive one of these.
18. Creative Vintage Mirror Sign
Our next idea is this stunning mirror sign. The vintage style mirror has been used as a decoration and it reads "I love her and that's the beginning and the end of everything". You could recreate something similar with a mirror and message of your choice. Maybe you could have the bride and grooms name with the date of the wedding.
19. Vintage Bride and Groom Look
Next, we have a stylish vintage look for both the bride and groom. The groom is wearing a flat cap with braces and a white shirt while the bride is wearing a white dress and bridal hair accessory. You could use this idea as inspiration and create your own vintage looks for the big day.
20. Flowers and Candles Decor Idea
If you want simple but beautiful decor, then this idea could be for you. The surface has been decorated with candles and flowers. You could recreate a similar look with any candles and flowers. It is a look that is easy to create but is beautiful too.
21. Cute Vintage Drinks Idea
Last on our list is this cute drink idea. Small bottles have been placed on a drinks trolley with a straw. This is another simple idea. The small bottles give the trolley a vintage look. You can recreate a similar look on a table. Something like this would be great for an outdoor wedding.
We hope you have found inspiration from our vintage wedding ideas.