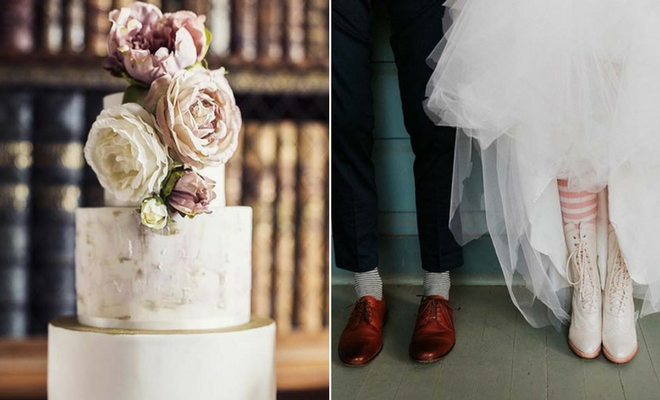 21 Unique and Inspirational Vintage Wedding Ideas
Planning a wedding and want to give your special day a vintage look? Then you need to check out our 21 unique and inspirational vintage wedding ideas. We have bridal gowns, decorations and more. Any one of our ideas will bring vintage glamour to any wedding. There are even some DIY projects that will make your wedding one of a kind.
1. Vintage Wedding Ice Cream Stand
Our first idea is this traditional ice cream stand. This would be perfect for an outdoor wedding in the spring and summer. Not only does it look vintage and unique, but it will also give guests a tasty treat. You can have other traditional stands like this too, maybe try a lemonade stand.
2. Vintage Wedding Shoes
This couple have chosen a vintage style wedding dress and suit. The bride has striped socks with Victorian style boots and the groom has striped socks with a suit. Not only would you both look stylish on the big day in outfits like these, but you can have a cute photo taken like this too.
3. Elegant Table and Chairs Idea for a Vintage Wedding
Bring some elegance to your wedding with a table and chair set like this. The large table has a beautiful floral arrangement and the chairs look stylishly vintage. You could have one table and chairs for the bride and groom to sit on or have similar seating for guests. You could take some gorgeous photos at a table like this too. For your wedding you could choose any flowers and chair color.
4. Rustic Confetti Stand
Confetti is a must have for any wedding. You can make confetti look vintage by having a rustic confetti stand like this one. To keep the look, try and choose a similar stand or a shabby chic wooden stand. This would be great decoration for any wedding and the guests will love it.
5. Floral Bridal Crown And Matching Bouquet
Our next idea is this beautiful bridal look. The bride has a vintage style dress with a floral crown and the flowers used in the crown match the bouquet. This is a simple but stunning look that would be amazing for any bride. You can make the crown and bouquet unique to you by choosing your own flowers. It would particularly suit an outdoor or beach wedding.
6. Vintage Wedding Cake
Another way you can give your wedding a vintage vibe is with the wedding cake. This three-tier cake uses white and gold colors with a floral decoration on the top. A cake like this would look amazing at the wedding reception. You can use this design and adapt it to suit your wedding. Maybe try different flowers and tiers. Try and keep a similar color scheme to give the cake an elegant vintage look.
7. Vintage Wedding Table Setting Idea
Next, we have a table setting idea for the wedding reception. The table is stunning with a luxurious vintage style. It is the crystal glasses and elegant menu that are the key items for this look. You can recreate a similar table with any plates and cutlery. Try and choose glasses like the ones featured and a menu with a beautiful font and simple design.
8. Floral Photo Booth Frame
Photos are a must-have for the special day. To create unique and fun photos you could have a photo booth at your wedding. Each guest can step inside the frame and take a photo. You can have a personalized frame too. For a vintage look choose a wooden floral frame like this one.
9. Stylish Wedding Decor Idea
A simple way to give any room a stylish vintage vibe is with hanging fan decorations. You can get these decorations in a variety of sizes, colors and shapes. Here is an example of how you can mix different colors together and how great they look when put together with the wedding cake. You could put these all around the wedding reception.
10. Short Vintage Wedding Dress
If the long white dress isn't for you then you could choose a cute shorter vintage dress like this one. This wedding dress has a 50's look with the circle skirt. We love this dress because it is a modernized version of a classic design. The flash of pink is beautiful too. A dress like this is perfect for any bride who wants a vintage look.