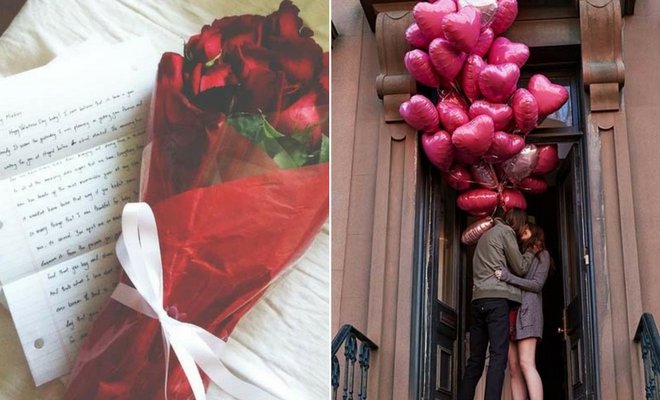 19 Best Valentine's Day Gifts for Her
Valentine's Day is just around the corner! So, you need to find the perfect gift. We know it can be no easy task finding the right present for your other half, so we have done some of the hard work for you. We have put together a list of the 19 best Valentine's Day gifts for her. There is something for every woman from makeup to flowers to sweet treats.
1. 52 Reasons Why I Love You Jar
First up we have a 52 reasons why I love you jar. The jar is full of small pieces of paper with a reason why you love her written on them. As there are 52 messages there is a note for each week in the year. This is a thoughtful DIY gift idea that she will love.
2. Love Heart Balloons
Surprise her on the day with heart shaped balloons like these! If you want to make a statement and show everyone you care, then have a bunch like this. If you want a subtler way to show your love, then just give her two or three. Either way she will love Valentine's balloons.
3. Heart Pizza and Treats
Does your Valentine like pizza? If so give her a heart shaped pizza like this one! Just by changing the shape you have turned her favourite food into a gift she will love. There are many other foods you can turn into hearts to like strawberries and cookies. Give her a Valentine's lunch to remember.
4. Cute Teddy Bears
Our next gift idea features these super cute teddy bears. You can get bears in all sizes but as a special gift, try and get a large one. Not only will she love it on the day, but she can keep it and remember the romantic day. You can get bears with Valentine's messages to.
5. Bunches of Flowers
Flowers are a gift she is guaranteed to love, as it is Valentine's Day consider buying roses. If you want to make a romantic gesture you could get a couple of bunches in different colors. You could choose the color based on the language of flowers as each color has a different meaning.
6. Handwritten Letter and Roses
Looking for a romantic gift that is meaningful? Then consider a handwritten letter like this. You could tell her how much you love her and how much she means to you. To make it extra special you could even give her some roses to. She will remember a letter for years to come.
7. Delicious Desserts
Does your Valentine like strawberries? If so, consider getting her chocolate covered ones like these. By adding chocolate to the strawberries, you can jazz them up and turn them into a gift she will love. You can add sprinkles to the strawberries to. If you like to make food you could even, make them yourself.
8. Valentine's Lingerie
Valentine's Day is a romantic holiday. So, why not consider buying her some special lingerie. There are so many different styles out there. You could buy her something fun like the pink heart lingerie featured or buy her something simpler that she can wear more often.
9. Perfume Gift Idea
Perfume is a gift that will keep on giving. When you buy her that special perfume she can wear it again and again. Every time she wears it she will think of Valentine's Day. There are so many perfumes available so make sure you buy her one she likes.
10. Valentine's Proposals
If you have been together a while and you have been thinking about proposing, then consider a Valentine's proposal. By proposing you will give her a Valentine's Day she will never forget. To make it extra special you could also give her some roses to!
Last modified on February 13, 2018