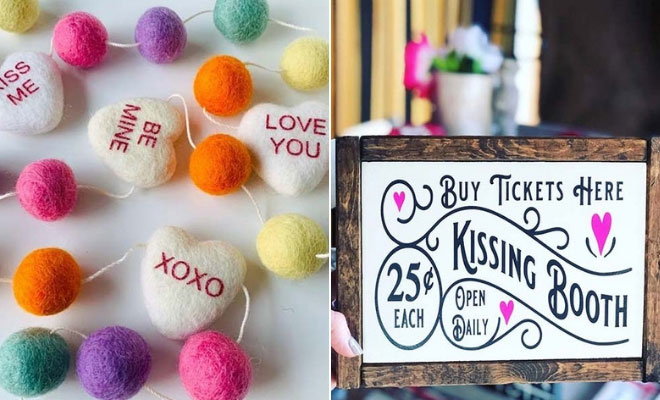 Instagram
Lifestyle
23 Super Cute Valentine's Day Decorations
By
|
11. Cute Hanging Heart with Tassels
The next Valentine's Day decoration idea is so pretty and you can keep this up all year round. Here we have a gold wire hanging heart. The heart is also decorated with vibrant tassels. As you can see, it looks so stylish and it has a boho vibe too. This cute little heart is available at Target. This would be a great decoration for bedrooms.
12. Easy DIY Decoration
Next, we have another cute idea for those who like crafts and DIY projects. This is a small hanging decoration with Happy Valentine's Day wrote on it and it has a little bow too. A decoration like this can be hung on walls, doors and more. You can recreate something similar by printing off a Valentine's Day message, stick it on wood or very strong cardboard and finish off with a ribbon for hanging and one for decoration.
13. Glam Decor Idea
If all the hearts and other classic Valentine's Day decorations are not really your thing, then you should take a look at this. Here we have a glam decor idea. This is an apothecary jar that has been filled with beautiful red and white flowers. It is such a stunning idea and something similar can be placed in any room. This jar was a thrift store find so make you sure you shop around for your decorations.
14. Valentine's Day Kitchen Decor
Is the kitchen the heart of your home? If so, you should consider adding some Valentine's Day decorations. You could create something like this. As you can see, a heart has been hung up and there are also other subtle decorations such as a love theme tea towel, red ribbons and candy. This is a chic, easy and low cost way to decorate. Low key decorations like these can be added to any kitchen. It will also be great for any Valentine's Day cooking and eating too.
15. Chic Valentine's Display
Next, we have another decor idea with a sweet kitchen theme. Here we have a cake stand that has been decorated with candy, flowers and more. We really love the tag and the adorable small rolling pins. It is a unique, fun and romantic decor idea. Something like this can be put in the kitchen or it can be used to decorate a side or it can be a center piece for a dining table. You can buy the tags and small rolling pins on the page below.
16. Pom Pom Heart Wreath
Love the idea of a Valentine's Day wreath? If so, you should take a look a this! This is a heart shaped wreath that is decorated with pom poms. It is such a cute idea. You can recreate a wreath like this yourself and you can view the tutorial for it by going to the Instagram page below and finding it on their stories. It is a pretty and unusual wreath and it can be created in any color.
17. DIY Valentine's Day Box
This next idea is personalized and it is so romantic and cute. For this, a box was covered with Valentine's Day theme decorations and it also features a photo of a couple too. You can create this box and give it to a loved one as a gift or you can recreate something similar just as a decor for your home. You could even just create the top section and have it as a wall decoration instead of a box. There are a few possibilities but we love the personalized photo idea. You can find a written tutorial for this box on the Instagram page below.
18. Bold Room Decor with Hearts
If you want more room decor inspiration, then this is for you. Here we have a bolder idea. This living room has been decorated with heart garlands, cushions and a red lantern. It is a vibrant and stylish way to decorate a living room or bedroom for Valentine's Day. You could even make the garland yourself with paper or felt hearts.
19. Valentine's Date Display
Another cute decoration idea is to have the date on display. You could choose something like this. Here we have a pink frame with February 14th wrote inside it. As you can see, it is simple but it looks so pretty with the teapot. You can recreate this or go for a bolder frame and date design. The frame can also be placed with other things such as a garland or maybe the DIY bottles that we shown earlier.
20. Sweets for My Sweet
Is your favorite part of Valentine's Day the candy? Or maybe your partner loves sweet treats? If so, this idea is perfect for you. Here we have beautiful jars that are filled with candy and there is a sign next to it that reads "sweets for my sweet". Not only is this a super cute decor idea, but you can recreate the display with your loved ones favorite treats so it can be a gift too.
21. Valentine's Day Fireplace Idea
If you want to go all out with your Valentine's Day decorations, then this is perfect for you! This fireplace has been decorated with garlands, wooden signs and more. All the decorations are in classic red and pink colors. Decor like this is great for those who love Valentine's Day. You can recreate something similar in your home or just been inspired and use one or two of the ideas.
22. Candy Heart Inspired Wreath
This next idea is another one of our favorites! Here we have a wreath inspired by candy hearts. It is such a fun and colorful idea! This will look amazing indoors or outdoors. If you want one of these, you will have to make it yourself as it is a DIY project. You can find a written tutorial for this on the link below. From what we have read, it seems like an easy and low cost way to decorate. So, anyone can give this a go.
23. Cute Valentine's Day Cushions
The last Valentine's Day decor idea that we have to show you features more super cute cushions. One has a red, pink and white gingham pattern while the other has a Valentine's Day theme. Cushions like these will look so pretty in your home, they could go in the living room or bedroom. You will be able to find similar cushions and other Valentine's Day cushions online.
We hope you have found some pretty ways to decorate for Valentine's Day!