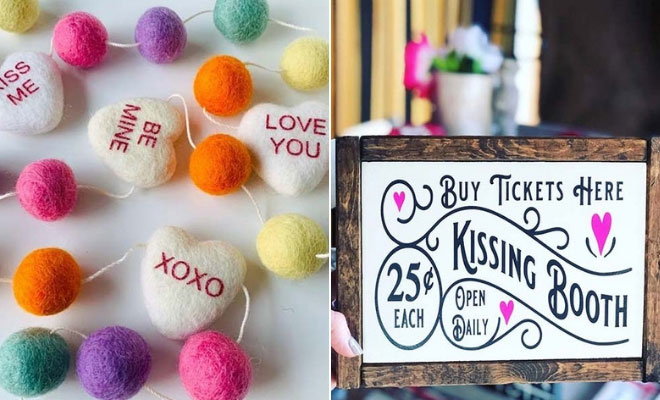 Instagram
Lifestyle
23 Super Cute Valentine's Day Decorations
By
|
The most romantic occasion of the year is almost here. That's right, we are talking about Valentine's Day. Now, we are sure you have been thinking about romance, candy and gifts but have you thought about decorations? There are so many pretty ways to decorate your home whether you just love the occasion or want to impress someone special. To show you how gorgeous and fun the decor can be, we have found 23 Valentine's Day decorations. There are DIY projects, subtle decor ideas or decorations for those who love to go all out. Take a look and your home will soon be full of hearts, romance and love.
1. Candy Inspired Garland
The first Valentine's Day decoration that we would like to show you is so cute and fun. Here we have a felt garland inspired by candy. The garland has vibrant balls and little hearts just like the candy ones you can buy. A garland like this can be hung anywhere around your home and it will be available to buy before the day arrives. Just go to the Instagram page below to find out more. We love this!
2. Cute Kissing Booth Sign
Signs are another easy way to decorate your home. You can hang them on the wall, put them on shelves, fireplaces and more. This next sign is perfect for Valentine's Day. It is a small sign that is based on one that you would see at a kissing booth. You could even keep this sign as part of your decor after the day is over too. This sign is available to buy on the page below.
3. Chic Home Decor Idea
Maybe you need some inspiration for how to actually decorate a room in your home. If so, you need to see this idea. Here we have a beautiful room that features subtle and romantic Valentine's Day decorations. There are hearts, pink candles, a Be Mine cushion and more. As you can see, just by adding small items in the associated colors you can really make the room look different. This type of decor would be great for a bedroom or living room.
4. Glitzy Heart Cushions
Another way to add some fun and romance to a room is with cushions! You can buy cushions with all different Valentine's Day themes. We love the ones below. This couch has been decorated with three heart cushions. All are glitzy and are either pink and fluffy or are sparkly red or gold. As you can see, they look so cute! You will be able to find cushions like these online and you can put similar ones in your bedroom too.
5. Hanging Paper Hearts
Next, we have a creative decoration idea. Here we have an image of paper hearts. These look like they are on a white 3D hanging picture. However, we think you can take some inspiration from this to create your own Valentine's Day decorations. You can use some red and pink card, cut out hearts like these and make a garland. Maybe even make lots to hang around your home. You could even make a heart mobile or even hang many hearts on a white background like this to create a photo booth background. The ideas for hanging paper hearts are endless!
6. Valentine's Day Wreath
A wreath is associated with Christmas but you can hang up wreaths for any occasion. Here is one inspired by Valentine's Day. The wreath itself is rattan so has a natural look and it has been decorated with a bold pink and red Be My Valentine Bow. This would look so cute indoors or outdoors. You can buy the bows by clicking the Instagram link below and by going to their Etsy store. Rattan wreaths can be bought online or in craft stores.
7. Love Wall Decoration
The next idea is so cute, fun and unique. Here we have a Love wall decoration. The word love is wrote in big and bold letters on a white piece of wood. Around one side of the sign there is a beautiful wreath style section. It is a stunning decoration and you could hang this on the wall, doors or even rest it on shelves and more. You can buy this by clicking the link below. Maybe even try creating just the wood section yourself for a subtler decoration that can be kept up all year round.
8. DIY Bottle Idea
If you like crafts and DIY decor, then you need to see this next idea. Here we have Valentine's Day bottles. Four bottles have been painted and decorated to suit the occasion. They all have letters on them that spell out love and the 'o' is a flower. These are fun and easy to create. Not only that, but you can also recycle old bottles too. Recreate these or try your own design. You could even use them as vases.
9. Pretty Living Room Decor
Next, we have another beautiful way that you could decorate your home for Valentine's Day. This is a living room. As you can see, small hearts have been hung up, there are flowers, pink candles and more. This is a very pretty and chic way to decorate. Something like this would even be great for a special Valentine's Day date too.
10. Valentine's Day Book Covers
If you have lots of books or just want an easy way to decorate for Valentine's Day, then this idea is for you. Here we have Valentine's Day book covers. As you can see, some of the covers are pink and some are white. Each one is also decorated with a love themed title. This is just a unique and pretty way to decorate. You can buy and print these by clicking on the link below. You can put these covers on existing books and just take them off once the day is over.