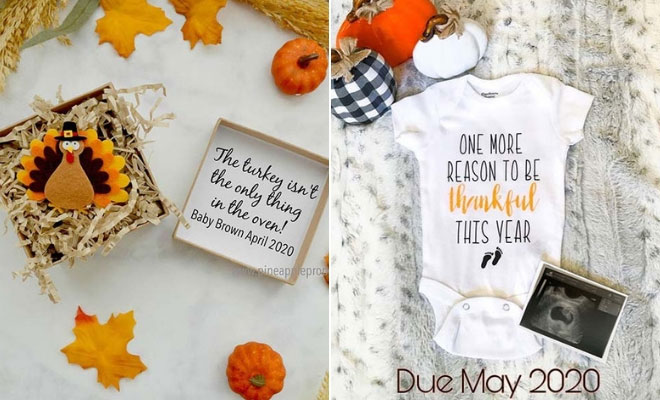 Instagram
Lifestyle
21 Thanksgiving Pregnancy Announcement Ideas
By
|
11. Photo Announcement with Pumpkins and Pets
When you're making your Thanksgiving announcement why not include your pet too?! You could create something like this! Here we have an amazing pregnancy announcement photo that includes the parents-to-be with their pet dog. The scene is also decorated with four pumpkins to represent their family, a personalized baby bodysuit and the scan photo too. We love this because family pets look so cute when included in the announcement.
12. Adorable Pregnancy Pumpkin Reveal
Next, we have a super cute pumpkin reveal! There is a sign that reads "We're excited to say a little pumpkin is on the way". At the side of the sign, there are two pumpkins to represent the parents-to-be and the mom pumpkin has a smaller pumpkin inside. It is such a unique reveal idea that is perfect for the fall and Thanksgiving. You can recreate this or add other decorations such as turkeys.
13.  Thanksgiving Announcement with Pumpkins and the Scan Photo
The next idea is another beautiful announcement photo. For this, the scan photo has been placed with the due date and both are surrounded by fall and Thanksgiving decorations such as pumpkins. It is a stunning idea and it is perfect for sharing on social media. This is another one that can be recreated or you can try adding other decorations.
14. Fall Theme Pregnancy Announcement
Thanksgiving is all about being grateful for things you have and this next idea is perfect for this. Here we have a sign that reads "One moore reason to be thankful" and it is personalized with a scan photo and more. Now for this, more is spelled differently but that is to reflect a name, so for your sign you would spell it the normal way. As you can see, the sign creates a beautiful announcement and it is perfect for Thanksgiving.
15. Our Little Turkey Idea
If you want to create an adorable photo announcement, then this is perfect for you! This next idea features a sign that is personalized with a thanksgiving theme. You can create the parent-to-be photos, create adorable photos with the scan or even have the sign on display at the Thanksgiving dinner.
16. Beautiful Photo Announcement with Thankful Pumpkin
Earlier in the post we shared an idea that featured the mom-to-be holding a small pumpkin. If you liked that, then you should check this out too. Here we have another version. This time the parents-to-be are holding a small pumpkin that is decorated with the word thankful. It is a beautiful image and it is perfect for Thanksgiving.
17. Thanksgiving Pregnancy Announcement with Pumpkins
Next, we have a beautiful announcement. The parents-to-be have created an adorable photo announcement that includes a sign that reads "Or little pumpkin coming, May 2020". There is also a scan photo, cute baby shoes and pumpkins. It is an awesome idea and you could add more Thanksgiving themes such as turkeys or maybe a sign that says thankful.
18. Thanksgiving Baby Bodysuit Photo Idea
Love the announcement ideas that include adorable baby bodysuits? If so, you need to check this out. Here we have a baby bodysuit that is decorated with a turkey and it reads "We are adding another turkey to our table". The suit is also surrounded with fall leaves. This could be used to create a beautiful photo announcement and you could include pumpkins and the due date. You can buy these suits on the Instagram page below.
19. Daddy, Mommy and Baby Pumpkins
This next idea is another one of our favorites! Here we have three pumpkins that have been decorated with mummy, daddy and baby. It is such a unique and cute way to announce your pregnancy at Thanksgiving. You can create a photo or maybe have these decorating the table or have them outside ready for family visiting.
20. Thanksgiving Pregnancy Announcement Photo with a Thankful Theme
A lot of moms-to-be decide to announce their pregnancy by finally showing off their baby bump to friends and more. If this is something that you want to do, then you could create a pregnancy reveal like this! This mom has revealed her bump and she is holding a banner that says thankful. It is a beautiful idea and you can recreate something like this or maybe wear a pregnancy reveal T-shirt with the banner.
21. Extra Grateful Baby Bodysuit
The last idea features another super cute body suit. This one reads "Extra grateful" and it is personalized with a pumpkin and the due date. The message is perfect for Thanksgiving and you can use this to create a stunning photo reveal. You could even have you and your partner stood holding the suit, that would be an awesome announcement too.
We hope you have found inspiration for your exciting Thanksgiving pregnancy announcement!