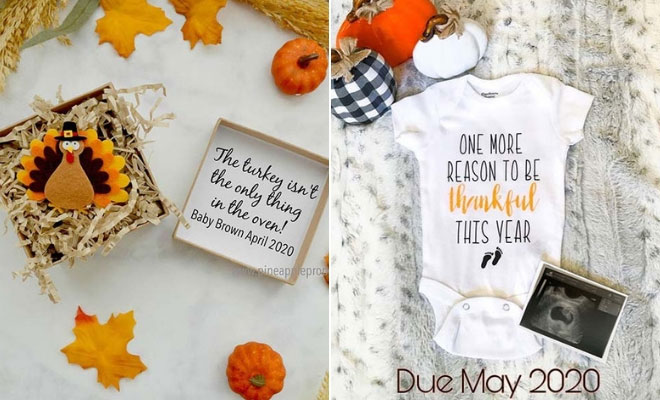 Instagram
Lifestyle
21 Thanksgiving Pregnancy Announcement Ideas
By
|
Thanksgiving is such a special occasion where we think about the things that we are grateful for. With that said, it would be perfect time to announce your pregnancy. The reveal of exciting news like this can be shared with family and friends when you are all together and it will make the occasion extra amazing. If this sounds like something you would like to do, then you need to check out these Thanksgiving pregnancy announcement ideas. We have photo reveals, turkey ideas, pumpkin decor and more.
1. Cute Thanksgiving Pregnancy Announcement
The first announcement that we have to show you features fun scratchcards! You will give these to family and friends and they will think that they have to find three turkey pictures to win just like any other card. However, the last image says "we're pregnant". It will be such a surprise for everyone and these are perfect for Thanksgiving dinner. You can buy these scratchcards on the page below.
2.  There's a Little Turkey in the Oven
If you want to announce your pregnancy with a photo, then you could create something like this. Here we have a baby bodysuit that reads "There is a little turkey in the oven" and it also has the due date. The bodysuit is surrounded by fall inspired decorations. It is a fun and beautiful way to announce you're expecting and a picture is great for sharing on social media too.
3. Personalized Pumpkin Idea
Pumpkins are a big part of Thanksgiving so why not announce your pregnancy with one?! You could choose a pumpkin like this. This couple have a white pumpkin that is personalized with the due date. As you can see, it creates a cute photo and you can recreate this or maybe have a pumpkin at the Thanksgiving dinner so family and friends are surprised. Also, you can carve the pumpkin yourself with your own design.
4. Pumpkin Pie for Two T-shirt
This next idea is so cute and stylish! Here we have a pregnancy announcement T-shirt. The T-shirt reads "Pie for 2 please" and there is a picture of pumpkin pie too. This is such a fun way to announce that you're expecting and whoever you are seeing on Thanksgiving will get a great surprise. You can wear a T-shirt like this for a photo announcement or just have the T-shirt in the photo like this image. You can buy this T-shirt on the link below.
5. Amazing Turkey Thanksgiving Announcement
Next, we have an awesome announcement and it is one of our favorites! Here we have a pregnancy reveal box and this one has a Thanksgiving theme. The box includes a fun turkey and a message that is personalized too. This would be an amazing way to tell everyone that you are having a baby. You could give these out as small gifts to family and friends for Thanksgiving or have some at the Thanksgiving dinner. A cute photo like this can be created for your social media accounts.
6. Fall Inspired Photo Announcement with Parents-to-Be
A popular way to announce your exciting news is to create a photo like this. This photo features the parents-to-be with a personalized fall sign. An announcement like this would be perfect for the fall season and Thanksgiving. You can recreate something similar or add more Thanksgiving themes such as turkeys and pumpkins. We love the sign though, so try to include a similar one.
7. Pregnancy Announcement with a Small Pumpkin
The next announcement is glam, cute and unique too! For this pregnancy reveal, the mom-to-be is wearing a beautiful dress and she is holding a tiny pumpkin. This is perfect for Thanksgiving because of the pumpkin and it is a beautiful photo that can be shared on social media and it will be great to look back on as a memory too. Recreate this or you could use a similar pumpkin but maybe wear a Thanksgiving T-shirt like the pie design that we shown earlier.
8. One More Reason to Be Thankful
Next, we have an idea that features another adorable baby bodysuit. This one reads "One more reason to be thankful this year". The image also features the scan photo, pumpkins and it is personalized with the due date too. This is an amazing way to announce your pregnancy and the bodysuit is perfect for Thanksgiving. You will be able to find similar suits online.
9. Funny Thanksgiving Pregnancy Announcement
If you want to have fun with your pregnancy announcement, then this is the perfect way to do it. Here we have a photo announcement that features the parents-to-be with a sign that reads "There is more than turkey in the oven this year" and the sign is also personalized. It is a funny sign and it is perfect for the occasion. You can recreate this or you can have a similar sign with fall decorations.
10. Beautiful Family Photo Idea
The next idea is beautiful and it will create a wonderful memory to look back on to. Here we have parents and a sibling to be with a personalized sign that reads "We are adding another pumpkin to our patch". There are also 4 four pumpkins at the side of it to represent the family and new arrival. It is a cute announcement and you can create something similar for a larger or smaller family.