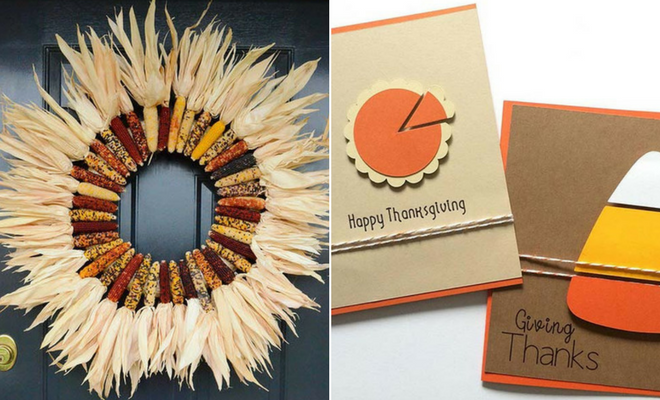 Instagram
Lifestyle
21 Fun and Creative Thanksgiving Crafts
By
|
Thanksgiving is a fun occasion where time spent with family and friends is important. So, this thanksgiving why not create some fun crafts. Not only will you get to spend time with the people you care about but you can also make some funky decorations or gifts to give out to. We love this idea and think you will so we have put together a list of 21 thanksgiving crafts. There is something for everyone from creative cards to stylish wreaths. Take a look to find a craft to try!
1. Thanksgiving Wreath
First up is this corn wreath. The wreath is made from colored corn that has been glued onto a straw wreath. This is a fun and easy craft that will make a great thanksgiving decoration. You could recreate this is any size and use any colors for the corn.
2. Hand Print Art
Next, we have a craft idea for the whole family. Each member of the family has created a hand print turkey on a board that reads "we are thankful". The turkeys are easy to create with some paint and you can use any colors you like. It is a fun decoration and it will make a nice keepsake to.
3. DIY Napkin Rings
Making a special dinner for thanksgiving? Then you need to check out this napkin ring placeholder craft. All you will need is paper and glitter tape. Just use the tape of your choice and you can even add an autumn leaf like this one. It is a cute idea that everyone will love.
4. Thanksgiving Cards
As thanksgiving is a time of being thankful and grateful, why not send the people you care about a card? You could create some cute cards like these ones. One features a pumpkin pie and the other one has a candy corn. Both could easily be recreated at home.
5. Paper Pumpkin Craft
It wouldn't be thanksgiving without pumpkins. Next, we have a creative paper pumpkin craft that you could use as a decoration. These are cute and quite simple to make. It would be a fun activity for all the family. There are plenty of tutorials available online to help you create the pumpkins.
6. Fall Inspired Candles
Candles will make a room look cozy and warm. You don't have to spend a lot of money on pretty candles you could just decorate some. These candles have a beautiful fall inspired design with seeds, corn kernels and more. All you need to do is heat a cheap candle a little then stick the pieces on. You could give these out as gifts to.
7. Paper Wreath
You can create awesome things out of paper. This next pick features a thanksgiving wreath made of paper. The paper was turned into a variety of warm flowers and plants. Something like this will take some time but the result is worth it. You could recreate this in any color with any flower. There are plenty of tutorials online to help you make the designs.
8. Fun Turkey Craft
Next, we have fun craft for all ages. It is a simple idea that will make a cute decoration. All you will need is something small like a plastic pumpkin or a real one. Then paint it, add some googly eyes and finish off with some feet and feathers. You could recreate these in any color.
9. Thanksgiving Vases
Our next craft is not only beautiful but can also help you recycle to. Glass jars have been painted and decorated. Then they have been used as vases for flowers. The vases have been decorated with a letter to spell out thanks. It is a great thanksgiving craft idea. You could recreate this with any jar and any flowers.
10. Leaf Art Mobile
Looking for unique thanksgiving crafts? Then this next pick is for you. It is a mobile that features fall leaf art. You could recreate these with any leaf design. It is a creative decoration that will jazz up any room for thanksgiving. There are mobile tutorials available online to help you recreate this at home.