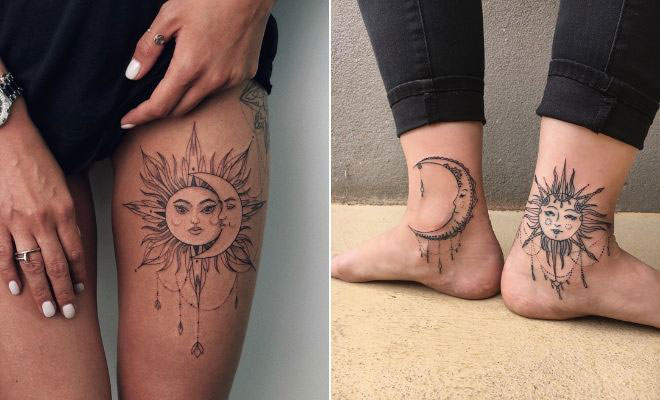 Instagram
Lifestyle
63 Most Beautiful Sun and Moon Tattoo Ideas
By
|
41.Watercolor Sun and Moon
We love the watercolor tattoo technique and this idea shows how to wear it beautifully. Here we have a unique sun and moon design. There is also a burst of watercolor in the background. The colors are amazing because one side is cool and starry so it looks like the night sky, while the other side is orange and fiery like the sun. So, the background colors represent the sun and moon. A tattoo like this will suit everyone.
42. Bold Sun and Crescent Moon
Next, we have another bold tattoo to show you! There is a large sunshine with a crescent moon in the center. The sun is shaded beautifully. This is a stylish and easy to wear design that will suit everyone. You can recreate a bigger or smaller version and place it anywhere on the body.
43. Elegant Sun and Moon Design with Dangling Charms
This next tattoo is just stunning! The design covers most of the top of the arm and features a large sun with a crescent moon. Both are patterned and there are dangling charms and feathers too. This is another dream catcher style tattoo and it looks amazing. Something like this is perfect for those who want to make a statement.
44. Bold and Beautiful Leg Tattoos
Next, we have bold leg tattoos. So, one leg features a large tattoo with a moon and dangling charms while the other leg has a sun with charms. Both are beautiful tattoos and they really make a statement because they cover the whole of the shin area. Tattoos like these are perfect for those who want larger tattoos but remember – body art like this is a big commitment.
45. Sun, Moon and Mandala Design
Earlier in the post we featured a sun and moon tattoo with mandala. If you liked that idea, then check this one out too! This time we have a different design that is placed on the rib. It is a stunning black ink tattoo with mandala, chains, stars, the sun and moon. It is a stunning design and it will look great on any part of the body.
46. Sun and Moon Shoulder Tattoos
The next tattoo idea features a clever design. For this, a sun has been tattooed on one shoulder and a moon has been tattooed on the other. As you can see, the two shoulder tattoos look so cool! This is a fun and statement making idea. Recreate this sun and moon or try the same placement with a different sun and moon design.
47. Matching Tattoos for Best Friends
These next tattoos have a more mystical vibe and can be used as matching tattoos for friends, family or even couples. Both the sun and moon have an interesting design with unique mandala patterns. We love these tattoos because the patterns, shading and charms create magical looking body art. Something like this will suit everyone, it can be placed anywhere on the body and you could even add a splash of color.
48. Floral Moon and Sun Foot Tattoo
Looking for a cute tattoo? If so, check out this design. Here we have a foot tattoo with a pretty sun and crescent moon. For this tattoo, the sun has petal like rays and the crescent moon has a floral pattern. The addition of flowers to the sun and moon look stunning. Recreate this or you can try different flower patterns.
49. Cute Tattoo Idea
Maybe you prefer big and cute designs? Then this could be for you. This tattoo features a black ink sun with petal-looking pieces for rays. There is also a crescent moon on the side, too. Something like this will suit everyone and it can be placed anywhere on the body. You can make this design more minimal if you leave out the charms and face details.
50. Out of this World Ankle Tattoo
The next tattoo is another one of our favorites. It is an out of this world design that features a tiny sun, moon, a star and a planet. This is a cute design and it is perfect for those who love space. You can recreate this or you can choose a different planet. This tattoo would look amazing with a splash of color on the planet. A larger version of this can also be placed on the arms or legs.