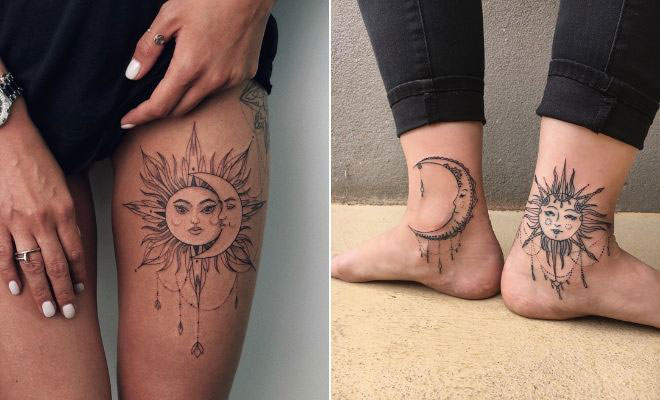 Instagram
Lifestyle
63 Most Beautiful Sun and Moon Tattoo Ideas
By
|
31. Unique Sun and Moon Tattoo
If you do like the more unique designs, then this is for you. Here we have two hands – one is holding the moon and the other the sun. We love this because it is like the tattoo is bringing the sun and moon together along with their energies. It can represent the balance between the masculine sun and the feminine moon.
32. Floral Sun and Moon Designs
This next tattoo idea is so cute. We have a moon tattooed on one leg and a sun tattooed on the other. Each tattoo also has flowers included in the design. You can try a similar version or you can add some color to the flowers. Watercolor on these tattoos would look amazing.
33. Sun and Crescent Moon with Faces
Looking for a more unusual and quirky design? If so, this is perfect for you! Here we have half a sun and a crescent moon. Both the sun and the moon have a face with dark eyes. You could put this sun and moon design with the tarot cards like the tattoo earlier, that would look so cool. We love this unusual design. A tattoo like this can be placed anywhere on the body.
34. Large Moon and Small Sun Design
Many of this type of tattoo feature a large sun and a small moon. This next design switches that up. This time we have a large crescent moon with a very small sun. It is such a stylish idea and it transforms the way the body art looks. Both the sun and moon are patterned which is so stylish and unique. Recreate this or you can try a simpler sun and moon.
35. Skull Moon
We love this next tattoo! Here we have an artistic sun with a crescent moon over the top. The moon also has a skull design! It is such a quirky and cool idea. It is perfect for someone who likes skeletons, skulls and darker tattoo themes. A design like this can be placed anywhere. Try and create something similar or you can use a different sun with the skull moon.
36. Patterned Sun and Moon with Faces
Like the sun and moon foot tattoos? If so, check out this idea! A sun is tattooed on one foot and a moon is on the other. Both have faces that are decorated with patterns. We love these because they have mandala patterns, so it hits two must-have tattoo trends in one. The sun also has a floral look. These are very pretty tattoos. Try the black ink version or add some color. The moon and sun can be placed together as well.
37. Large Sun with Slim Crescent Moon
Next, we have another unique tattoo. This one features a large sun with a face and there is a slim crescent moon circling the sun. It has a mystical vibe and reminds us of Medusa from Greek mythology. Body art like this is perfect for those who like to make a statement. This design is small and can be tattooed anywhere on the body.
38. Sun, Moon and Star Design
The next tattoo has another moon, sun and star design. This design is placed down the side of the arm. It is black ink and very small. This is a stylish and minimal tattoo. Something like this would be great for those who want subtler body art and it would be a brilliant choice for a first tattoo. Recreate this or you can try a bigger version.
39. Small Sun and Big Crescent Moon
Earlier in the post we featured a sun and moon with lots of details. If you liked that idea, then take a look at this one too. This unique design features a big crescent moon with a small sun to the side. The moon also has a very detailed face and is adorned with two mandala designs. This is a very unusual piece of body art. You can try this version or opt for a simpler one by opting just for the sun and moon design, without the mandala. Either way, your tattoo will look amazing.
40. Tribal Sun and Moon Tattoos
This next tattoo idea has a tribal vibe. The moon and sun are tattooed separately on the back of the legs. One leg has a simple crescent moon with stars and the other has a tribal style sun. The sun looks amazing with that swirl in the middle. You can try this tattoo or you can add patterns to the moon too. Both the sun and moon can also be placed together.