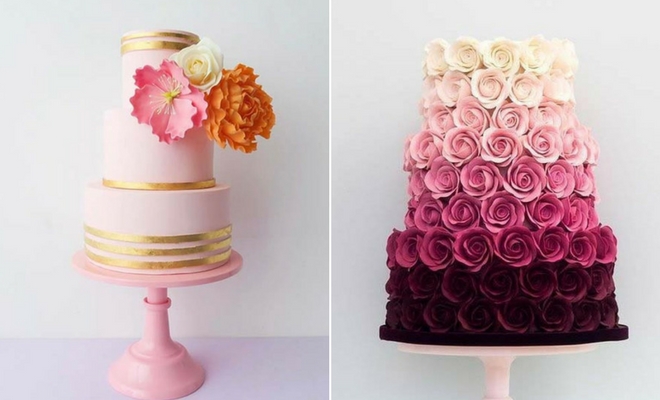 Instagram
Lifestyle
21 Sweet and Stunning Summer Wedding Cakes
By
|
Planning a summer wedding? Then you need to check out our 21 best picks of summer wedding cakes. We have something to suit every wedding. From classic and floral to bold and tropical and more. All these cakes look amazing and taste it to. Any of these would be the perfect center piece at your reception and will look amazing on your photos!
1. Tropical Blue Cake
First up we have this beautiful tropical blue cake. It features stunning red and white flowers that complement the blue perfectly. Something like this would be perfect for an outdoor or beach wedding. You could mix up the colors to suit your theme. The blue is great if you don't want the traditional white cake.
2. Summer Berry Cake
A great way to jazz up a traditional white multi-tier cake is with summer berries. Berries add a pop of color to the cake and make it look extra yummy! Not only that but this cake is on trend as a popular decoration for summer wedding cakes is cake that isn't completely frosted. There are flashes of sponge coming through giving it a rustic vibe.
3. White Floral Summer Wedding Cakes
Looking for more traditional summer wedding cakes? Then this white four tier cake could be for you. It is a simple but beautiful piece with the four cakes decorated with pink and red flowers. You could recreate this with or without the flowers. Maybe even match the flowers to your bouquet. A cake like this would be a gorgeous centerpiece.
4. Floral Cake
Our next pick looks too good to eat… almost. It only has two tiers and is smaller than some of the other cakes but the decoration gives it the wow factor. The beautiful flowers are in soft and romantic colors that would be perfect at any wedding. If you wanted a bigger cake you could add some tiers.
5. Multi Color Berry and Cherry Cake
Want unique summer wedding cakes? Then check out this multi color and multi-tier cake. Each tier features soft pink, white and pastel blue. This use of color gives it a creative look that is perfect for summer. It is finished off with berries and cherries. Fresh fruit is always a good choice for a summer cake.
6. Simple Ruffle Cake
If you want something a little simpler than try creating a ruffle cake like this one. It is one cake with a beautiful white ruffled detail. The cake is finished off with fresh flowers. This cake was created for a bridal shower but would beautiful at a wedding to. You could add more tiers to give it the wedding wow factor.
7. Tropical Flower Cake
Having a beach wedding in a tropical location? Then consider a cake like this. It has the classic wedding cake elements, the white frosting and tiers but has a tropical vibe with the vibrant flowers. With a cake like this you get the best of both worlds traditional and exotic to suit the location.
8. Painted Floral Cake
There are endless ways to decorate a cake. It's not just about embellishments and the color of frosting. You can also have the icing painted like it is on this stunning cake. Beautiful floral designs have been painted onto this tiered cake. You could have any flowers or design put on your cake. Maybe your favourite flowers or ones that match your bouquet.
9. Beach Wedding Shell Cake
Planning a beach wedding? Then this cake could be for you! This multi-tier cake is simple and has a gorgeous beach theme. The pearls, starfish and shells are crafted beautifully and the colors are subtle which gives the cake a look of elegance. Something like this is perfect for the brides who want both traditional and beach themed.
10. Unique Floral Split Cake
Our next pick is a statement cake that will wow all your guests. This cake has the classic white tiers with a beautiful twist. The cake is "split" to reveal stunning vibrant blooms. A cake like this is unique and won't be forgotten. You could recreate this with any colors and flowers.