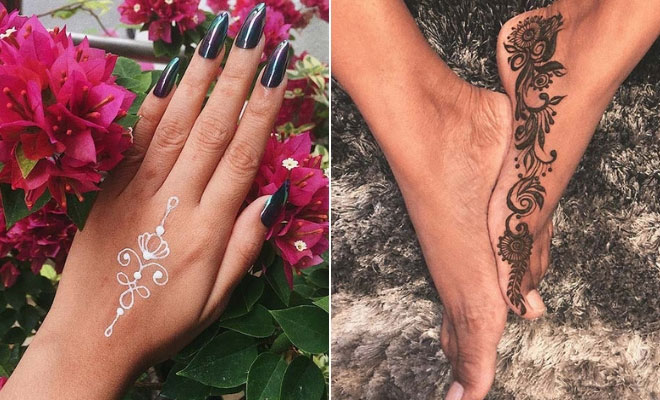 Instagram
Lifestyle
43 Simple Henna Designs That Are Easy to Draw
By
|
11. Leafy Henna Hand Design
Next, we have a simple and statement making idea. This henna design features a beautiful leafy pattern that starts at the wrist, goes across the back of the hand and onto the fingers. We love this henna because it is minimal but really makes an impact. You can make it even simpler by using less leaves if you wanted a subtler look.
12. Mandala Henna Design
Love the mandala ideas? Then you need to check out this mehndi design. A stunning mandala pattern has been placed on the back of the hand with a jewelry design added to one finger and the wrist. The henna looks like beads and it is a stunning piece of art. With henna like this, you get a temporary tattoo and a gorgeous accessory too. You can try any mandala pattern or recreate a similar one to this.
13. Henna Foot Design
If you have always wanted a foot tattoo but don't want the pain or permanent design, then this idea is for you. Here we have floral henna that goes across the inside of the foot. From the back of the foot to the toe, there is a beautiful pattern that features flowers, leaves and more. Henna like this will suit everyone and it would be amazing for the summer or if you are going to the beach.
14. Geometric White Henna Idea
Looking for trendy henna? Then check out this next design! Here we have chic white mehndi with dots, diamonds and more. Geometric patterns like this are used in Arabic henna but usually the design covers the hand. It is a new and creative version of the traditional henna and it will look beautiful on anyone.
15. Beautiful Flower Henna
Our next idea is so stylish and cute. This design features teardrop shapes which is common in Indian henna, a pretty flower and dangling charms too. It is a beautifully patterned design and the colors are gorgeous too. You can recreate this or you can try similar henna in different colors. Red for the flower would be stunning.
16. Pretty Wrist and Hand Mehndi
Next, we have another leafy design. This one starts at the wrist, goes onto the back of the hand and then it travels down the middle finger. It is another simple and elegant design that really makes an impact. Try this henna or you can take inspiration and use the pattern in a different way, maybe have the leaves all the way around the wrist instead of on the finger. Whatever you choose it will look stunning.
17. Simple Leaf Henna Design
If you don't want a large henna design and you want something subtler, then this is idea is for you. Here we have a small leaf pattern that is placed on the arm. This is perfect for anyone who wants to try henna for the first time and you can have a similar design placed anywhere. The foot or ankle will look cool.
18. Stylish Hand Henna Idea
Earlier in the post we featured henna that was just on the fingers. If you loved that idea then you may like this one too! This mehndi design is a little bolder than the one before. It has leaves, flowers, dots and more. We love the addition of the Unalome symbol which symbolizes the path to enlightenment. It is a stylish idea that will suit everyone.
19. Floral Arm Henna
Love the floral henna designs? Then you need to check out this beautiful mehndi idea. There is a flower with a mandala shape at the top, then a chevron pattern and finally a stunning half flower. This is the perfect henna design for someone who wants a bold piece of body art.
20. Stunning White Mehndi
Our next idea features another gorgeous white henna design. This one is placed on the back of the hand with three circular patterns and dots. It is a stylish and elegant mehndi look. This is another example of henna that would be amazing for a wedding, especially a summer or beach wedding.