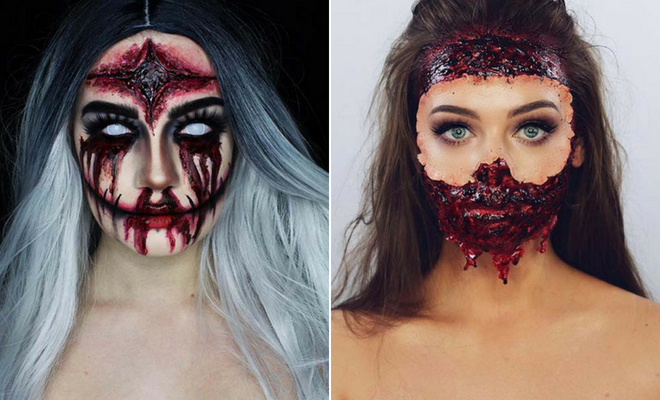 Instagram
Lifestyle
43 Scary Halloween Makeup Ideas for 2019
By
|
Want to give everyone who sees you a fright this Halloween? Then you are in the right place. We have put together 43 scary Halloween makeup ideas. We have gory makeup, unique ideas and makeup that looks straight from a nightmare. Take a look if you dare.
1. Gory & Scary Halloween Makeup
The first scary Halloween makeup idea we have to show you, is this gory masquerade mask. This is a very unique and horrifying makeup idea that will look amazing at a party. For the blood and gore Ben Nye Makeup Nose & Scar Wax, Liquid Latex, Scab Blood & Stage Blood was used.
You can check out the YouTube tutorial by Karolina Griciute here:
2. Scary Clown Makeup
Clowns are a Halloween classic and our next idea features a scary circus clown. The artist has used the fun and bright colors that clowns use with the addition of fake blood and contact lenses which gives her a sinister look. You can recreate similar clown makeup or choose your own colors.
Luckily, we have a YouTube tutorial for this look also! It's created by the talented Giulianna Maria.
3. Devilish Demon and Skeleton Makeup
Next, we have a unique Halloween makeup idea that combines two scary creatures together. This makeup features a skeleton and demon design. The look was created with Ben Nye Makeup Water Activated Paints with Urban Decay Total Spectrum Palette for the eye makeup. The horns were created by the artist. You can create both looks or just the red one for a devilish Halloween costume.
4. Mummy Makeup Idea
Our next idea is another Halloween classic. Here we have a mummy makeup idea. The artist has wrapped most of her face in bandages, leaving the eyes and mouth free. She has created stunning Ancient Egyptian style makeup with gold eyeshadow and black eyeliner. What makes this look really scary is the white contacts. We love this mummy idea!
5. Scary Voodoo Doll Makeup
Looking for a unique Halloween idea? Then this next pick is for you. Here we have a Voodoo doll inspired makeup. Voodoo dolls are small dolls that can be used for good and bad. This makeup features the classic stitches and heart. You can take inspiration from this or make it scarier by adding contact lenses and darker makeup.
Video tutorial for the look is here:
6. Scary Witch Halloween Makeup Idea
Next, we have an idea inspired by a doll the artist had seen called Hecate. Hecate is the Goddess of witchcraft, ghosts and more. The look features white eyes with blood around the nose, eyes and head. This is a very scary look that will frighten the whole Halloween party. To create the blood and wounds Mehron Makeup Paradise paints, coagulated blood, drip blood, nose and scar putty was used.
7. Illusion Pumpkin Makeup
We love illusion makeup because it can completely transform the face. Here is an amazing example of illusion pumpkin makeup. Black makeup has been used to create the classic carved pumpkin look. The artist has also used the black and orange on the eyes too. There are lots of tutorials online to help you achieve a similar look to this one.
8. Terrifying Horned Demon Makeup
Our next idea is perfect for whoever is looking to horrify at Halloween. The artist has created a look that features white eyes, blood, an upside down cross, horns and more. It looks like a nightmare straight out of movies. You can recreate this makeup or try a simpler version.
9. Creepy Clown Makeup
Next, we have another clown idea. This one uses darker makeup and white contacts to create a terrifying look. We love this idea because you can recreate a similar look from the image. It is scary and perfect for Halloween but not too difficult to create at home. You can use any colors for your clown.
To recreate the look, just follow the easy steps from Gaby's YouTube tutorial.
10. Scary Devil Halloween Makeup
You can use your hair to add to the scariness of your makeup. Here we have a devilish makeup idea that features dark eyes, an upside down cross and fake blood near the mouth. The hair has been styled into two red horns. You can see that the hair has become part of the makeup and overall look. This would be perfect for a party.