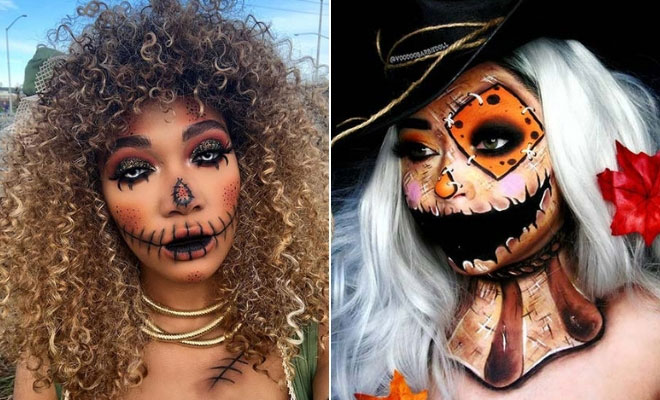 Instagram
Lifestyle
45 Scarecrow Makeup Ideas for Halloween
By
|
11. Spooky Makeup Idea
The next makeup look that we have to show you is a little more spooky. There is a patch on the nose and stitches on the mouth. The eye makeup is smudgy and messy which gives her a more scary Halloween look. We also love the hat and flowers, as these are perfect for a scarecrow.
12. Scary Illusion Makeup Idea
Earlier in the post we shared scarecrow illusion makeup. If you loved that idea, then you may like this one too. This makeup is a little more scary. The artist has created the sack look with big black eyes, a patched nose and a black and stitched mouth. This is one of our favorite makeup ideas because it is perfect for party. In a dark room you will look terrifying! You can check out the products used on the page below and there are illusion makeup tutorials available online to give you in-depth instructions.
13. Easy Scarecrow Makeup
Next, we have another pretty makeup idea. For this look, the makeup artist has used pink and orange colors and the makeup has the classic patches and stitches. The pink lips and cheeks create such a cute scarecrow look. This is perfect for those who want to look a little glam and join in the Halloween fun too.
14. Simple Scarecrow Makeup with Glam Eyes
Want to look glamorous but want to dress up for Halloween? Then this could be the perfect way to do it. The eyes have stunning dark makeup with gold glitter and an eyeliner flick. There is also a sparkly patch on her head and a glittery sunflower on her nose. The look is finished off red lips and stitches. We love this because it has everything – it is glam, sparkly and Halloween ready too.
15. Stylish Scarecrow Makeup
If scarecrows were stylish, then this is what they would look like! This makeup artist has created scarecrow makeup that looks beautiful and the whole look is kind of chic. We think the eye makeup has created this effect because it is so gorgeous! Makeup like this is perfect for the ladies who want to look stunning but join in the Halloween celebrations. You can view the products used on the page below.
16. Cool Makeup and Costume Idea
Need makeup and costume inspiration? Then check out this next idea. Here we have cool scarecrow makeup that has a skeleton vibe because of the shading on the cheeks. She is also wearing a blue scarf and straw hat. A hat and scarf like this is easy to find online and won't cost a lot, so this is a good costume and makeup idea. We would leave the adorable chick at home though!
17. Creepy Makeup Idea
The next makeup idea is colorful and creepy. One eye looks glam and the rest of the face looks like a scarecrow. She has the sack design with colorful patches, black stitches and a black button illusion on the other eye. We love the black button because it is giving us Coraline vibes which is a great movie for Halloween. So, it is like a combination of a Scarecrow and Coraline which gives the makeup a unique look.
18. Spooky Look
Next, we have another scarecrow look with creepy contacts. This makeup idea features stitches and patches. The eyes have glam eye makeup and the look is finished off with scary contact lenses. Makeup like this will be quite simple to recreate and it will look great for a party. The full list of products used is on the page below and contacts can be bought online.
19. Classic Scarecrow Look
If you want an outfit and makeup idea, then check this out. Here we have a classic scarecrow look. The makeup has patches and stitches while the outfit features a straw hat, flannel shirt and flowers. This is a cute costume that will suit everyone. It is great for anyone who doesn't want to look scary and it won't be too difficult to recreate either.
20. Cute Orange Makeup Idea
Our next idea is another cute and pretty one. The makeup artist has used a stylish orange shade on the eyes, cheeks, nose and lips. To create a scarecrow look, she has added stitches and freckles. Makeup like this is simple and it would be great for a more last minute look. Add some contact lenses to make it more scary.