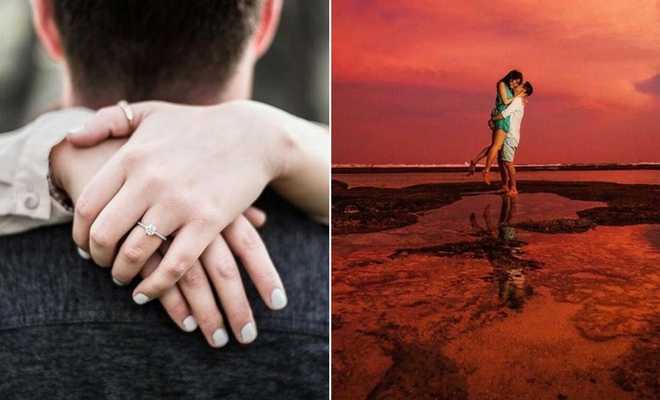 Instagram
Lifestyle
21 Romantic Engagement Photo Ideas
By
|
11. Romantic Picnic
If you're a couple that likes to be outdoors, then this could be the perfect idea for you. A picnic photo shoot is simple but very romantic. You could style this any way you wanted to, you could even have a little banner or plaque. It is a great source of inspiration for your own pictures.
12. Cute Initials
Make your engagement photos personal with your initials. Something like this would be great for wedding invites and programs. We love this idea because it will be unique to each couple. You could also have any initial design you wanted to suit your theme.
13. Happy Couple
Here is another example of how to show off that new engagement ring in a romantic way. These two love birds look very happy and she loves the ring. You could re-create a photo like this easily and you could even have a she said yes sign.
14. Sweet Balloon Photo Idea
Our next pick is very cute. It features the couple in stunning surroundings and sharing a little kiss. The balloon is a very nice touch as it shows they are celebrating the occasion. A balloon is a great prop for photos, you could even have one that says engagement on it or personalize it with your names.
15. Beautiful Beach Photo
Many couples choose a beach location for their engagement and wedding photos. This could be because it is their favourite place, where they first met or just because beaches are beautiful. The couple in this pic have created a super romantic lift. A picture like this looks straight out of a movie. It is a stunning.
16. Tree Photo Idea
If you want engagement photos that will wow, then consider something like this. It has everything a romantic picture needs, stunning nature, a sunset and a happy couple. You could create your images at any tree in any location. A picture like this is great if you want a subtle but beautiful way to share your engagement news.
17. Romantic Photo Idea
Holding hands shows love and romance. This is why you and your fiancé holding hands in your engagement photos would be a great idea. These two have very soft lighting with the focus on the ring. It has a fairy-tale look to it, which is the perfect way to start your happily ever after.
18. Adventure Awaits
Choosing to get married is an adventure as it is the start of a whole new chapter in life. So, why not express that with a cute globe like this. The globe features the date of the wedding with the words adventure awaits. It is a beautiful photo that embraces the new life you will start together. Also great for the couples who like to travel.
19. Cute Couple Photo
Our next engaged couple couldn't look any cuter. These two are wrapped in a blanket with the ring on show. Something like this is romantic and looks beautiful. You could be together like this in any location. If you're thinking of a summer or beach wedding or he proposed at the beach, try a seaside location with a chiffon wrap.
20. Engagement Photo Collage
A photo collage is a great way to put together your favourite pictures. Take inspiration from this couple and create a professional looking picture, a romantic image and a pic of the ring. Collages are great to share with family and friends. You could re-create this with more images and in a different design.
21. Sweet Photo Idea
A stunning location and a happy couple is all you need to create a beautiful photo. You could choose any location for something like this. Some ideas could be where you met, your first date, your favourite place you go together or where he proposed. This simple but personal idea will give you the perfect engagement photo.
We hope you have been inspired by these engagement photos. Congratulations if you are newly engaged!