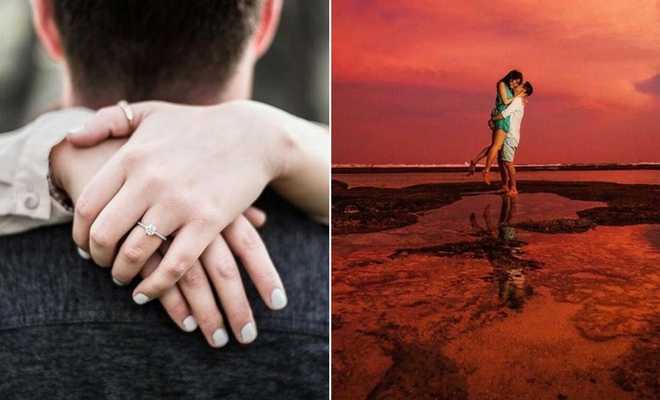 Instagram
Lifestyle
21 Romantic Engagement Photo Ideas
By
|
Getting engaged is such an exciting time! A great way to celebrate is with engagement photos. Having your photos taken allows you to have a special day together and gives you gorgeous pictures to share with family and friends. Not only that but you can use the same photographer for both the engagement and the wedding. This ensures you like the photographer's style so you get the perfect wedding pics. To get you inspired we have found 21 beautiful examples of romantic engagement photos. There is something for every couple.
1. She Said Yes
First up we have this cute couple with a "she said yes" sign. Something like this is romantic and fun. You could use any frame and font for your sign. The way the couple are stood also shows off that gorgeous engagement ring. A photo like this would be great to share.
2. Holding Hands
The simplest of pictures can have such a big impact. This photo only features them holding hands, however it is very sweet and gives a great view of the ring. It is a romantic picture that shows the closeness and affection between the happy couple.
3. Date Photo Idea
Date photos are such an awesome idea. You can have a photo like this with the date you got engaged. It is a lovely picture to keep as a memory of the special time. People have also used date plaques with their first date or for the upcoming wedding date. You could make it unique to you by having a different font and style.
4. Romantic Sunset
Nothing says romance like a stunning sunset. It is a simple picture with the shadowed couple but it creates a very romantic scene. A photo like this is a great way to show the love between the two of you. You could have a sunset picture anywhere from the beach to a forest.
5. Cute Carnival
Show your fun side with a cute carnival photo like this. Having your photo taken somewhere at the carnival could express the exciting time or it could even be where you had your first date. It is a unique location to shoot your engagement photos.
6. Engaged Banner
Our next pick has a couple sharing a kiss with an engagement banner. This is a romantic photo that really celebrates the occasion. You could have any banner you like for this, you could even have a banner with your initials or the date to make it personal to you.
7. By the Sea Photo Idea
Dogs are part of the family, so why not add your dogs to your engagement photos. This couple have a beautiful shot of them and their dogs at the beach. Something like this is cute, unique and makes you look like a happy little family. A forest photo shoot with the dogs would be a great idea to.
8. Photo On a Swing
Engagement photos can be used for wedding announcements, save the dates, wedding programs and more. So, if you want something special and romantic choose a photo style like this. The happy couple are sat on a swing which creates a beautiful scene. A picture like this would look great however you use it.
9. Show off the Ring
When someone announces their engagement, one of the first things people do is look at the ring. The ring is an important piece as it symbolizes the commitment. So, why not have a picture like this that shows the ring off at its best. An image like this will suit any couple with any ring.
10. The City of Love
A unique location can be the perfect place to take engagement photos. This couple's image taken outside the Eiffel Tower is stunning. It looks like it is from a romance movie. So, whether your fiancé proposed somewhere like Paris or you're there on vacation, take advantage of the beautiful surroundings and take some pictures.