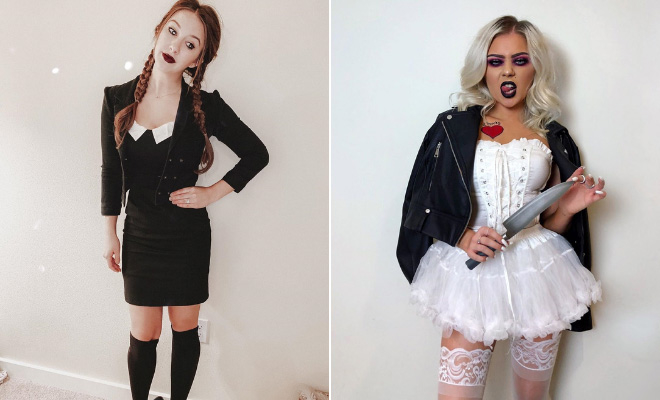 Instagram
Lifestyle
21 Quick Halloween Costumes for Women
By
|
11. Quick Halloween Costumes for BFFs
This next costume is cute and easy to wear. Here we have a boxer costume. They are wearing pink gloves with athletic wear. This is such a unique idea. You could even base your costume on a famous boxer. This is a great for those who love sports and who want to try something new this Halloween.
12. Pop Art Makeup
Want makeup that is bright and bold? If so, check out this next idea. Here we have Pop Art makeup. As you can see, she is wearing vibrant makeup that has a comic book vibe. With makeup like this, you can wear any costume so it is easy to wear. You can recreate the makeup in any colors.
13. Fun and Spooky Bat Costume
Bat costumes are another popular one and here is a cute way to wear the look. She is wearing purple eye makeup with dark lip color. The costume is complete with a bat headband. This is a fun and easy to wear look. You can just wear a black outfit with this. Bat headbands can be bought online so just shop around.
14. Werewolf
Next, we have a quick and easy werewolf look. So for this, she has created a furry texture on her face complete with scratch wounds on her neck. You can find makeup tutorials for the wounds and werewolf face online. Any outfit can be worn with this makeup. This is perfect for those who love the Halloween classics.
15. The Sims Burglar Costume
If you love the Sims, then you need to see this. For this look, she is wearing a well known burglar outfit complete with the green plumbob above. This is such an awesome idea that's actually quite easy to recreate. There are different ways to create the plumbob and you can find some DIY ideas online. As you can see, quick Halloween costumes can be easy, creative and actually cheap.
16. Witch and a Pumpkin
Love the witch ideas? If so, you need to check this out. Here we have another classic witch with a black dress and hat but she also has a little pumpkin! She has dressed up her adorable baby in a cute pumpkin costume. This is an awesome idea for moms. Both costumes are easy to find in stores and also wear.
17. Stylish Halloween Costume
The next idea is great for those who want to dress up but also look stylish. As you can see, she is wearing a black dress with black gloves and bunny ears. A costume like this can be used for cats, bunnies and more. It is just quick and easy to wear. Something like this perfect for parties and Halloween nights out on the town.
18. Quick Halloween Costumes for the Squad
Looking for quick and easy costumes for you and your squad? If so, this is for you. One has a two faced makeup illusion, the next is evil villain Cruella De Vil and the last costume is J-Lo! All the costumes can easily be created and they are all awesome and fun. Of course, you can just choose one as solo costume.
19. Tiffany From Movie Chucky
Chucky is another classic Horror film. Here we have a costume based on the character Tiffany from Bride of Chucky. Again, this another creepy costume that is quite easy to create. With the right makeup, a black jacket and white dress, you will have the look. This is unique and quite scary!
20. Plastic Surgery Makeup
Next, we have another unique, quick and easy to wear idea. Here we have plastic surgery makeup. So, she has the lines all over her face which surgeons draw. You can try this simpler version or try a gorier version with fake bruises and blood as it is Halloween. Any outfit can be worn but maybe go for a white bandage dress to complete the look.
21. Breakfast at Tiffany's Costume
The last idea will bring the glamour to Halloween. This costume is based on the iconic outfit worn by Holly Golightly. It is a fun idea and it doesn't require any specialist items. You can create a version of this with the dresses and accessories found in store. So, it is quick and very easy to recreate.
We hope you have found a perfect look from our list of quick Halloween costumes for women.