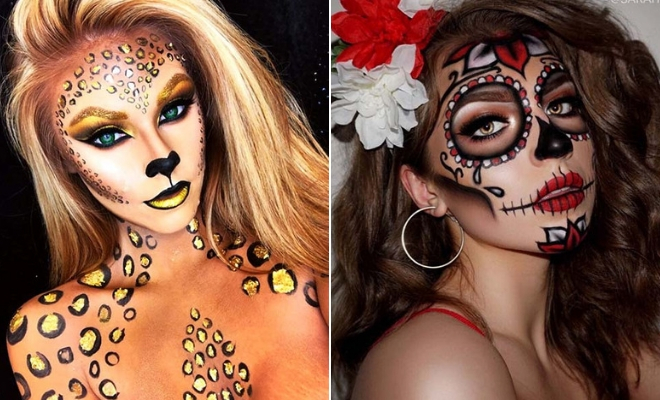 Instagram
Lifestyle
45 Pretty DIY Halloween Makeup Looks & Ideas
By
|
Halloween is almost here! So, if you haven't been looking already, now is the time to start thinking about your costume and makeup. Some love the scary ideas, however we know that many of you want to join in the fun but want to look gorgeous instead of gory. With that said, we have found 45 pretty DIY Halloween makeup looks. You will find Disney princesses, mermaids, sugar skulls and more.
1. Pretty DIY Scarecrow Halloween Makeup
The first makeup idea we have is this stunning scarecrow. Scarecrows are usually quite spooky but not this one. The artist has created a vibrant sunflower over the eye and the classic stitches on the mouth. She has also added sparkly glitter. This is a gorgeous take on a Halloween favorite.
2. Egyptian Queen
Feel like a Queen this Halloween with our next idea. Here we have Egyptian Queen makeup. The eyes have been created with the classic black eyeliner with vibrant colors. You can recreate this or take inspiration for your own ancient Egyptian look. Maybe add some gold or glitter. Also, the headdress is a must-have.
3. Glittery Cat Makeup Idea
One of the Halloween classics is a cat and our next idea is a pretty, glitter feline makeup look. The eyes have a beautiful cat-eye flick and the artist has also created whiskers and a nose. There is added glitter too. You can easily recreate a look like this, and you can use any glitter color of your choice.
4. Halloween Pumpkin Makeup
It wouldn't be Halloween without a pumpkin! Here we have a beautiful pumpkin inspired makeup look. The design features orange shading on the face with a classic black nose and mouth. This artist has made it look glamorous and pretty by adding beautiful eye makeup with sequins.
5. The Little Mermaid Makeup
Next, we have an idea inspired by a Disney favorite – Ariel from The Little Mermaid. As the character wears little makeup, it is an easy look to create. All you will really need is the wig and a similar outfit. Just try to include red lips like featured as the color is similar to the movie character.
6. Monochrome Halloween Makeup
Half and half makeup is a great technique to try. You can have one side suited to Halloween, and one side showing off your amazing skills. This next pick is a great example. One side is white and ghostly while the other features pretty purple makeup. You can recreate something similar to this or create your on hauntingly beautiful half makeup design.
7. Sugar Skull Inspired Makeup
We couldn't have a Halloween list without showing makeup inspired by sugar skulls. This look features beautiful eye makeup, simple sugar skull patterns and a floral headband. You can create something like this or you can take inspiration from it and create more complex patterns or use different colors.
Here is how you can achieve the look:
8. Minnie Mouse
Looking for a cute Halloween idea? Then out next pick could be perfect. Here we have a version of Minnie Mouse. The artist has created a black nose and pretty eye makeup. This look is complete with Minnie Mouse ears. It is a fun idea and could even be a couple's costume if you have a Mickey.
9. Spider Web Eye Makeup Idea
If you like Halloween and want a fun makeup look but don't want to go all out or too over the top, this makeup idea could be just what you need. The makeup features pumpkin orange eyeshadow with a cool black spider web design underneath the eye. It is a simple and easy look to recreate and is perfect for parties or if you need last-minute makeup.
10. Glitter Skeleton
Skeletons are very popular at Halloween. Our next idea is a glam version of the classic skeleton makeup. The artist has created a bone design but she has also added sparkling glitter. By adding glitter, you give the scary skeleton a prettier look. Makeup like this is perfect for a party.