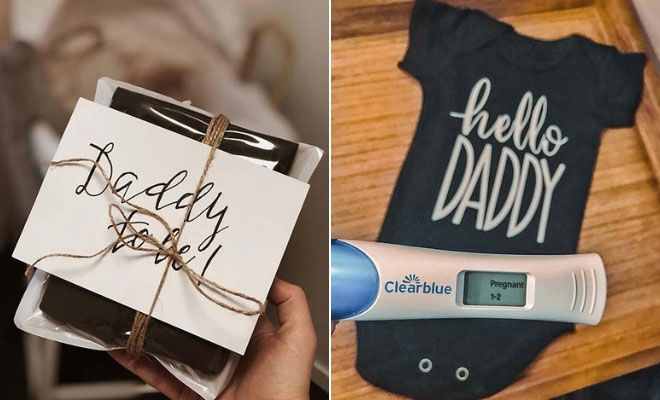 Instagram
Lifestyle
21 Unique Ways to Announce a Pregnancy to Your Husband
By
|
Finding out that you are pregnant is one of the most exciting and sometimes scary events that you will have in your life. Once you know, you then have to share the news with the Daddy-to-be. News like this needs to be shared in a special way but how can you make it the most memorable? Well, we are here to help you. We have found 21 amazing pregnancy announcements for your husband. You will find photo announcements, balloons, baby clothes and more. Any of these will surprise your husband with the best gift that he will ever receive!
1. Baby Vest and Pregnancy Test
The first pregnancy announcement to husband features an adorable baby vest and pregnancy test. For this reveal, the baby vest reads "Hello Daddy" and the test is held above it. You could create a photo like this or maybe leave the test and vest in a place where your husband will find it. Either way, it will be a huge surprise. You can buy vests like these online.
2. Surprise You're Going to Be a Daddy
Next, we have another way to announce your pregnancy with clothing. This is another baby vest and this one reads "surprise you're going to be a daddy". You could simply leave a vest like this for him to find or give it to your husband as a gift. Instead of using baby clothing, you could also have this printed on a t-shirt for him or maybe even for you. You could just casually wear it and wait for him to notice!
3. Cake Pregnancy Announcement to Husband
Announce your pregnancy in a sweet way with cakes like these! Here we have a box of cakes, some are decorated with classic baby colors and three have messages wrote on them. The messages include "Can't wait to meet you" and "Hello Daddy". These are a beautiful and delicious way to share the good news. You can buy cakes like these or you could even make some yourself if you like to bake.
4. Daddy Mug
If you wanted to tell your husband the good news and give him a gift too, then this idea could be perfect for you. This is a super cut mug with Daddy Est. 2018 wrote on it. You could have a mug like this in a color of your choice and you can personalize it with the year your baby will be born. It is a beautiful way to share the news and he can use the mug or keep it as a special memory.
5. Video Game Inspired Announcement
Is your husband a gamer? If so, you need to see this next idea. Here we have an announcement inspired by video games. This pregnancy reveal features a baby vest with "Player 3 has entered the game" wrote on it and there is also a controller on top of the vest too. It is an amazing and fun way to reveal the pregnancy and you can both share an image like this on social media.
6. Hello Daddy Baby Vest
This next idea is one of the cutest things that we have ever seen! You could share the exciting news with a baby vest like this one. The vest has a beautiful message on it that talks about how the baby can't wait to meet its amazing daddy. This is a meaningful way to reveal the pregnancy and we are sure he will love it. You can buy vests like these online or order one on the Instagram page below.
7. Hello Daddy Photo Announcement
If you wanted to reveal the pregnancy to your husband and have a beautiful image to share on social media too, then this idea is for you. This mom-to-be created a stunning scene which includes a noticeboard and baby clothes. Once you know the news, you could go shopping and buy baby clothes like these and put them with the notice board. You can recreate the message or write your own. It is just a gorgeous image to be inspired by. You could leave this scene somewhere for him to find.
8. Surprise Announcement Box
Next, we have an amazing surprise box to show you. The box includes a pregnancy test, Hello Daddy vest, cute toy and a message revealing the pregnancy. This is a unique and amazing announcement that your husband will love. You can recreate something similar or add your own items and messages to the box. Maybe you could even film his reaction when he opens the box. That will be such an awesome memory to look back on.
9. Hi Daddy Picture Idea
Using a pregnancy test to announce the news to the husband is very popular. If you wanted to make yours a little more unique, then you need to see this idea. Here we have a mom-to-be with a framed picture. Inside the frame, there is a 'Hi Daddy' image with a pregnancy test underneath. It is such a cute idea and you could create a beautiful image like this or give the frame to him as a gift.
10.  Halloween Inspired Pregnancy Announcement
Seasonal announcements are awesome too. If you're revealing your baby news in the fall, then this idea could be perfect for you. Here we have a cute sign that talks about trick or treat and adding two feet. You could give this to your husband, leave it for him to find or create a photo announcement with pumpkins and baby clothes. This is a creative and unique idea.