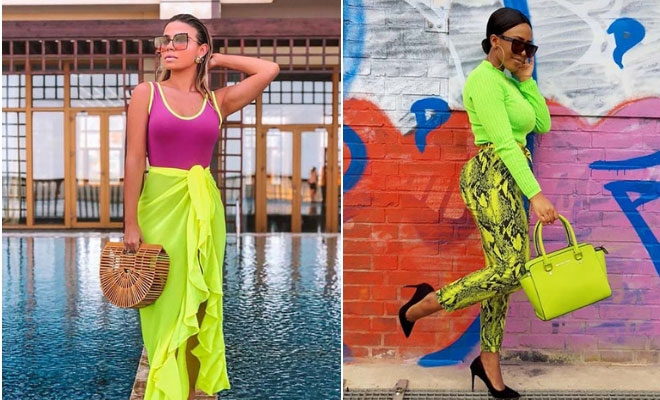 Instagram
Lifestyle
21 Best Neon Outfit Ideas for Summer 2019
By
|
11. Neon Yellow Shirt and Shorts
Shorts are a must-have for the summer and this next look shows how to wear them in style. The outfit features a neon top with neon shorts. Neon shorts are perfect for the summer and vacations. Try neon yellow or opt for a different color. You can also try neon shorts with a simpler top in any color too, a white top will look so stylish!
12. Summer Top and Jeans
Looking for an easy way to wear neon? Then this is for you. Here we have jeans that are paired with a light and summery neon top. The top is very bright but it is toned down by the jeans and the overall simplicity of the look. You can try any color for the neon top and you can wear a similar top with a skirt to if you want to feel more glam.
13. Chic Neon Outfit Idea
If you prefer more chic and tailored outfits then you need to see our next idea. This outfit features a matching blazer and trousers that are paired with a neon top. We love the black and white suit with the neon because it is like trendy office wear but with a flash of summery color. Wear a similar outfit with sneakers like featured or try heels, sandals or wedges, these would look awesome too.
14. Neon Pink Top and Trendy Trousers
Next, we have a neon pink outfit. Here we have a bright pink top that is worn with trendy patterned trousers. This is an easy to wear, comfortable and light summery outfit. By wearing neon and a bold pattern, it will really show off your unique sense of style. You can wear any neon color with any patterned trouser for a fun and stylish summer look.
15. Statement Neon Dress Outfit
Need a dress for a special occasion or maybe you just want to wow at a summer event you have coming up? If so this is for you. This look features a stunning, statement neon dress. We love the one shoulder design and longer length it allows you to wear vibrant neon with class. You can buy this dress at Fashion Nova.
16. Neon and White Denim
Earlier in the post we featured a cute skirt with a neon top. If you loved that outfit, then you may like this one too. Here we have a neon top that is worn with a white skirt and sneakers. This is a cute and stylish summery look. You can recreate the outfit with the jacket on chilly days, but just wear the top and skirt on hot days. Wear with sneakers for a casual look or with heels, sandals or wedges.
17. Neon Beach Outfit
Going on vacation or planning to spend a lot of time at the beach this summer? If so, this outfit idea is for you. Here we have a neon swimsuit that is paired with a cover up. This is such a trendy look for the summer! Recreate a similar outfit to this or choose any neon swimsuit and cover up.
18. Pink and Blue Summer Outfit
We have featured a couple of outfits where the neon colors match, but this next outfit shows how to wear contrasting neon shades! Here we have a bright blue top that is worn with a bold pink skirt. The two colors are very vibrant but they compliment each other perfectly. Try a neon top and skirt or try a top and trousers combo. Any neon colors will suit each other too.
19. All Neon Outfit Idea
Next, we have a stunning summer outfit to show you. This outfit is made up of a neon corset and neon pants but because the colors match, it looks like a trendy jumpsuit. With this look, you get the best of both worlds. The outfit looks like a jumpsuit but as it is two pieces, you can mix and match your outfits. Try something similar to this or choose a neon jumpsuit.
20. Trendy Neon Top and Jeans
Our next outfit idea is trendy, simple and easy to wear. Here we have ripped jeans with a neon green top and stylish high heel shoes. This is such a great way to wear neon. You can wear a top in any neon color and wear with any jeans shoes. An outfit like this will suit everyone.
21. Cute Sweater and Neon Skirt
The last outfit we have to show you features a skirt and cute sweater. The neon skirt is short with pleats and the look is finished off with a neutral sweater. A sweater is great to have in case the summer weather turns a little chilly. You can of course wear a skirt like this with a lighter top, but try and choose a similar color.
We hope you found a stylish neon outfit to try this summer!