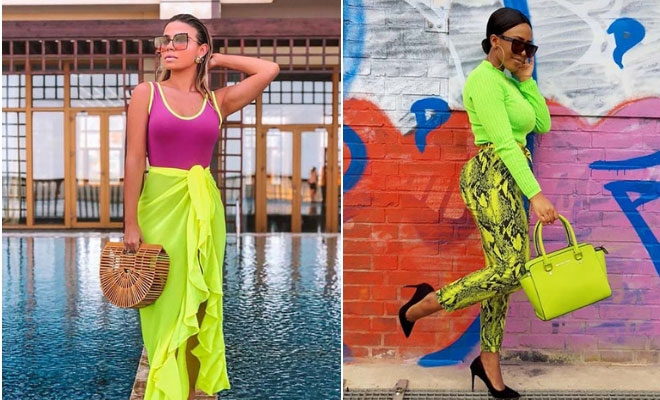 Instagram
Lifestyle
21 Best Neon Outfit Ideas for Summer 2019
By
|
The summer is coming so it is time to ditch the darker colors and swap them for lighter and brighter shades. One trend you should try for the summer is neon! Neon is vibrant, fun and is perfect for the sunny weather. To get you inspired for your summer wardrobe, we have found 21 super stylish neon outfit ideas. There are skirts, dresses, statement making looks and more. Any of these will make you look amazing through the summer season.
1. Neon and Snake Pattern
The first outfit we have to show you features a neon top with vibrant snake print trousers and a bold lime green bag. This look is so stylish and statement making! It is perfect for the ladies that want to stand out from the crowd this summer. You can find similar pieces to these online and you can mix and match them with other things you own. Snake print trousers will go with any top and you can wear the neon top with any skirt or trousers.
2. Yellow Neon Outfit
Looking for a light and bright outfit? Then this could be perfect for you. Here we have a neon skirt and sleeveless top. We love this idea because the top and skirt match in color which creates an easy to wear and stylish outfit. This is another look where you can buy similar pieces and wear them with other things too. Recreate the yellow look or choose any neon color.
3. Simple and Stylish Neon Pink Dress
Next, we have a simple and stylish outfit idea. The look features a beautiful pink neon dress. Dresses are perfect for the summer as they will keep you cool, are easy to wear as it is one piece, and you can wear a dress like this for any occasion. You can buy a neon dress in any shade, yellow or orange would look amazing!
4. Casual Neon Outfit
Neon colors will instantly make you look summery. You can wear simple jeans and sneakers and once they are paired with neon, they will look stylish and summer ready. Here is a great example. This outfit features rolled up jeans with white sneakers and it is finished off with a yellow neon top. An outfit like this is comfortable, casual and trendy.
5. Leopard and Neon Outfit Idea
Take a walk on the wild side this summer and pair neon colors with animal print! This next outfit features a neon yellow top with a leopard print skirt and snake skin boots. The bold prints and vibrant neon look so trendsetting and stylish when worn together. You can recreate this outfit or you can wear shorter boots and a sleeveless top to suit the warmer weather.
6. Relaxed Neon Pink Outfit
There will be days where you just want to be casual and comfortable and our next outfit is perfect for those times. Here we have a matching top and pants in a bright neon pink shade. This is perfect for the gym, days out running errands and more. You can recreate the look or try similar pants with a t-shirt or sleeveless top. It is a stylish and easy to wear idea.
7. Neon Orange and Purple Summer Outfit
Our next idea is bold and will make a statement. This outfit features a neon orange crop top with vibrant purple trousers. We love this outfit because it shows how awesome different neon shades look when worn together. Try an orange and purple look or you can use any two colors.
8. Long Neon Dress + Sneakers
Next, we have another dress to show you. This one is neon lime green and is midi length with long sleeves. It is such a vibrant dress and a similar design will be perfect for the summer days that are not as hot as well as for summer evenings. Pair a dress with sneakers like featured for a casual look or with heels if you want to glam up the dress.
9. Neon Top With Skirt and Cute White Boots
Love fashion with a vintage vibe? Then this is for you. Here we have a neon top that has been paired with a cute skirt and white boots. The skirt and boots give the outfit a 60's look and the neon adds a trendy and modern twist. You can wear any neon top and skirt in any color but try to keep the boots white for a summery vintage look.
10. Statement Trousers and Neon Jacket
The next outfit we have to show you features more animal print! Here we have chic snake print trousers that are paired with a white crop top and neon pink jacket. The pop of neon pink on the jacket compliments the other neutral colors in the outfit. Recreate this look or try a different neon colored jacket. You can also wear with jeans or plain trousers instead of snake print.