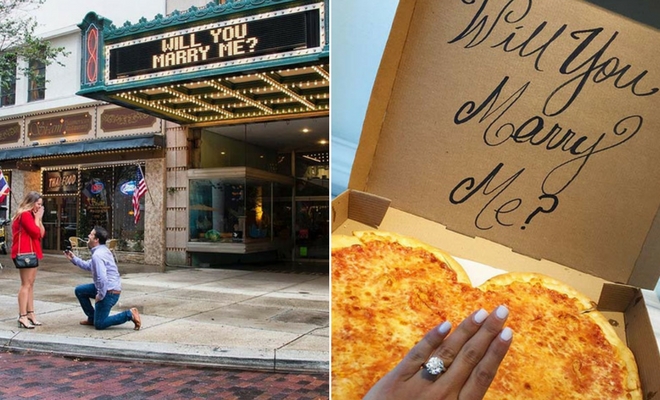 Instagram
Lifestyle
21 Most Unique Proposal Ideas
By
|
11. Romantic Outdoor Proposal
If you want to wow your other half, this would be a great way to do it. This proposal has everything beautiful scenery, romantic rose petals and beautiful lights. It is a lovely proposal idea that will create stunning photos to. If you don't have a platform like that you could put lights up in trees or if indoors around the room.
12. Super Cute Penguin
Is your other half an animal lover? If so, this could be the perfect proposal. Here we have an adorable little penguin with a bow tie that reads marry me. This is one of the cutest ideas we have seen. You could use her favourite animal and if it something like a tiger a toy animal would do the job!
13. Will You Marry Me Lights
You don't have to go over the top and have balloons, animals and a magic castle. Maybe try something subtler like rope lights. The lights have been arranged to say will you marry me. This is a simple but very romantic idea. As you can see this type of proposal works!
14. She Said Yes
Ocean waves and sunny beaches create the perfect romantic setting. If you are going on holiday, consider proposing while you are there. A proposal will make it a holiday that neither of you will ever forget. Try to have a chalkboard on hand to so you can take the iconic she said yes photo.
15. Romantic Boat Proposal
Next, we have an amazing proposal that took place on a Gondola in Venice. Now if you're are planning a trip to Venice then this proposal would be perfect. However, if not you could make a proposal on a boat ride. Any boat ride would be romantic for a marriage proposal.
16. Marry Me Roses
An example of another type of boat proposal is this one. The boat has champagne and a will you marry me sign made from roses. As you can see it isn't a Gondola, but it is still super romantic. You could also create a scene like this on dry land to.
17. Fun Marriage Proposal
If you are an outdoorsy couple, then this unique proposal is perfect. They are both in the mountains and he has a sweater that reads I'll love you to the mountains and back. This is a simple but super cute proposal idea. You could recreate this idea to suit your interests. If you both like space try I'll love you to the moon and back.
18. Will You Marry Me Pizza
We have another pizza proposal idea. Instead of the message being wrote on the pizza it has been wrote on the box. This fools the person into thinking it is a normal pizza. We love this idea because it is simple but romantic. You could also decorate the box however you like and get your other half's favourite pizza.
19. Holiday Proposal
Here is another holiday proposal idea. This one was done in stunning surroundings. It doesn't matter which destination you go to, but the sun and relaxation will create a romantic marriage proposal. Not only that but it creates awesome photos to.
20. Wonderland Proposal
Next, we have a beautiful winter wonderland proposal idea. This is perfect for anyone who is planning to pop the question during the winter season. If you don't want to wait for the snow you could also take your partner on a winter holiday. Snowy proposals make stunning photos.
21. Festive Merry Me
We know Christmas is a very long time away, but we like to plan ahead. If you are planning a Christmas proposal, then take inspiration from this. The couple are in a winter wonderland with a sign that reads merry me. This is a romantic and unique proposal that anyone would love!
We hope you have found inspiration from our unique proposal ideas!