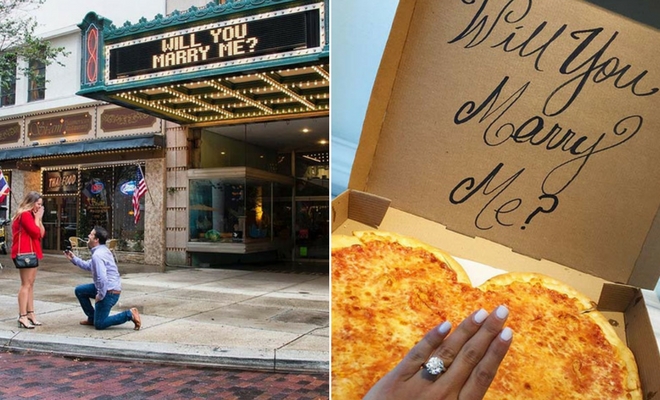 Instagram
Lifestyle
21 Most Unique Proposal Ideas
By
|
Have you got a special someone that you are thinking of proposing to? If the answer is yes, you need to check our 21 unique proposal ideas. Your other half will remember this day forever so it important to get it right. We have an idea for every couple from romantic holidays to proposals with pizza. Take a look to get inspired for your perfect proposal.
1. Proposal Pizza
First up we have this awesome pizza proposal. The lucky lady received two heart shaped pizzas with will you marry me wrote on them. This is unique proposal that will taste good to! If your other half loves food and pizza, then consider something like this.
2. Disney Proposal
Give your other half a proposal fit for a princess by asking at Disneyland. A Disneyland proposal will be magical, and it will be a day that will never be forgotten. Not only that but it will also make a great photo opportunity that can be shared with friends and family.
3. Unique Cinema Proposal
Do you both like movies? The consider a very unique proposal like this one. He asked her outside the movie theater with a sign that reads will you marry me. If you had your first date at the movies you could organize the proposal the same theater, it would be very romantic.
4. Beauty and the Beast Inspired Proposal
Beauty and the Beast is a very popular movie and is also a tale about true love, so it is the perfect theme for a marriage proposal. This proposal was made with the glass jar and enchanted rose. A proposal like this would be perfect for any Disney fan.
5. Celebration with Family and Friends
Next, we have a proposal that was made in front of family and friends. Having the people you both care about most there will make the day even more special. It may seem scary to have an audience, but it will be even more special when your partner says yes!
6. Creative Graffiti Proposal
Our next idea is one of a kind! The proposal involved graffiti on the wall. The lucky lady had a message created just for her. If you both like art or are creative this will be an awesome idea. Not only that but it makes a great photo opportunity to.
7. Fun Giant Diamond Ring Proposal
If you both like to have jokes and fun, this could be the proposal for you. This guy got down on one knee with a giant inflatable ring. A proposal like this is perfect for the couples who like to laugh together. It also makes a great memory and photo to look back on.
8. Romantic Balloon Proposal
Is romance more your thing? Then consider a proposal like this one. The room has been covered with balloons with a special will you marry me balloon. As you can see she was very happy with the proposal. If you want a romantic proposal take inspiration from this.
9. Marry Me Cupcakes
Our next proposal is perfect for anyone who loves cake. There is a total of six cakes with will you marry me and a yes and no. You could have cakes like these created with any design and in any flavor. Not only will your partner love this proposal, but they will also get a sweet treat to.
10. Origami Proposal
Many people have made a paper fortune teller. This fortune teller is a lot more special as inside there is a proposal and a ring. This is such simple but cute idea! You could make your fortune teller in any paper you like and get creative with the decoration.