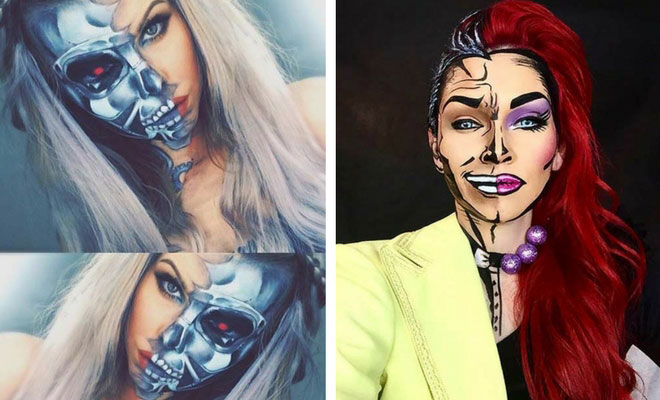 Instagram
Lifestyle
25 Mind-Blowing Makeup Ideas to Try for Halloween
By
|
It's that time of year when your experimental makeup comes out and your creative side shows! When guys and girls are trying to impress friends with their makeup techniques. Of course, it's Halloween!
Every year, many people make an effort and try to "shock" more than the previous year. I have to admit and say that Halloween competitions can sometimes be tough!  I've been to a few Halloween fancy dress parties and I'm amazed how fantastic and scary people look.
We are still in September so you still have time to practice and prepare.  Looking at the makeup ideas below, I think you will agree that practice does make perfect.
1. Terminator Makeup Look
For all the Terminator fans! Do you love the Terminator movies?  We sure do, so why not try this out for Halloween? The trick is to make sure you get the metal to look like metal by using different shades.
For the red eye, if you're not a fan of wearing contact lenses, use your makeup to draw on the red dot on your eyelid.  Just remember to wink whenever you want to show it off!
Check out the tutorial:
2. Gypsy Fortune Teller
Gypsy fortune tellers and Halloween are the perfect combination. There's something mysterious and scary about fortune tellers.  Maybe because they can see into the future! This makeup looks fabulous and especially with the heavy eyes and forehead. Finish the look by wearing brightly coloured eye contact lenses.
3. Unzipped Zipper
Oh no, she has been unzipped!  This is for all you girls that want to still wear your daily heavy makeup look but with a Halloween edge. This is what happens when someone unzips you!  This looks great (and scary)! Go for a dark purple lipstick that stands out.
Tutorial on this look is here:
4. Black Sugar Skull Makeup Look
Take a moment to appreciate this look! OK, so this does look a little detailed and intricate but quite easy to achieve. Start with your base colour, then add your pattern and start to shade.  It doesn't have to match this look exactly, but this does look amazing.
5. Cartoon Half Man, Half Woman
Everyone loves cartoons but you can turn them into a freaky Halloween look. This look is one of our favourites.  It's not scary but it's freaky in a different way. Halloween is all about shocking people and this certainly does that!
Full tutorial on this look is below. Enjoy!
6. Half Face Skeleton Makeup + Red Glitter
Go for the classic skeleton look. Add cheekbones and shading to create the effect.  You don't have to do your whole face, this half-face style looks just as good as a full makeup face. Add red glitter to your "makeup" teeth for the bloody effect and to add a bit of colour and glam!
7. White Rabbit Makeup (Alice in Wonderland)
Everyone who know Alice in Wonderland will appreciate this look. Be warned, you do need a lot of white powder so check your makeup bag before starting!  You might need to pop to the local store to buy more. Concentrate on your face but also add a few details to your forehead and neck. Oh and don't forget the props! For more pictures on this look, check out Jenna's Instagram page.
8. Green Pop Art Zombie
What can we say about this! It's amazing, fantastic and most of all, it's green! The other colours used make the green pop out even more so. Try to keep to the same colours purple, orange, blue and they need to be bold bright colours. We love how the makeup isn't just on her face, it's continues down on her body too. Perfect if you plan on wearing a low cut dress.
9. Pixelated Face
It looks like a computer game! This may send your eyes funny whilst looking at it but that's the idea! Practice this look a few times beforehand and if you do go wrong, I doubt anyone will even notice, so go with the pixels!
Similar tutorial on this look is here:
10. Butterfly Skeleton Look
Fancy something different this year? Maybe you had the skeleton last year and need to vamp it up a little, if so, take a look at this! It's a butterfly-skeleton design.  Heavy eye makeup with the butterfly effect.
Need a video tutorial? Check it out below!