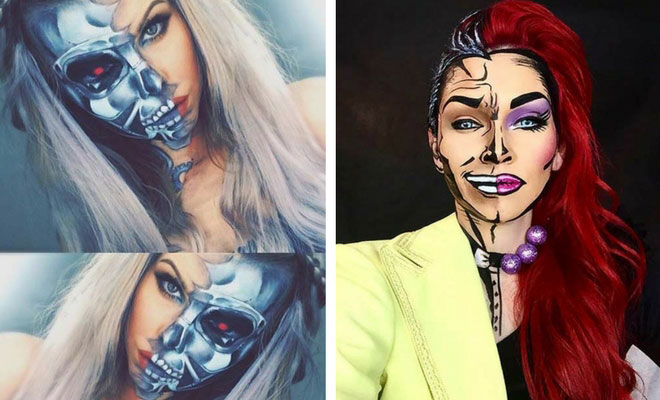 Instagram
Lifestyle
25 Mind-Blowing Makeup Ideas to Try for Halloween
By
|
11. Puzzle Makeup Look
Make your puzzle. This can be any type of puzzle you wish.  This is a classic jigsaw that screams Halloween. Keep your eyes and lips basic with your favourite makeup and go heavy with the white paint and the eyeliner to create the puzzle pieces. Products used: Snazzaro white paint, Inglot black liner, Mac liner is shade 'Redd'.
12. Galaxy Makeup
Feeling starry? This will definitely stand out. It sparkles, shines and most of all, looks fab! Make sure you have specific makeup for this.  It must be shimmery and sparkly. Having the blue lips, just adds that extra touch.
Tutorial for the look is below:
13. Scary Ripped Face Look
We are going to warn you now, if you are squeamish, look away now and don't look down! This is gore! This is a Halloween look that has been taken to another level. To be honest, not everyone will know how to create this.  You will need a face mask for the peeling effect. This could take a few hours so be prepared to sit for a long period of time… it will be worth it!
14. Pretty Cheetah Makeup Look
If animals are your thing, check this out. This is a pretty cheetah style that will show off your beauty and even look furry!
15. Black & White Marilyn Monroe
We love Marilyn Monroe and if you had the chance to go to a Halloween party as her, you would definitely do so! Keep the simplicity, class and elegance with you by making your face into a black and white Marilyn Monroe. The trick is to get the shading and contrast perfect. All you need is a wig and a sexy black dress.
Tutorial on this look is here:
16. Stained Glass Skull
This look is a cross between pretty and scary, which are two words you wouldn't usually use in the same sentence. You can see how much work and effect has gone into this. The colours make it stand out and the little detailing, looks amazing. The hollow eyes add to the skull look whilst the pattern shows off the stained glass style.
17. Bride of Frankenstein
Frankenstein is a classic character to portray for Halloween. Quite a simple and easy makeup look to achieve. Keep you face quite basic and concentrate on the next, chest and arms.
18. Black and Gold Glitter Skeleton
We love this look. It has everything you need for Halloween – glitter, skeleton and sexiness!
19. Wood Doll
Be a haunted wooden doll this Halloween. Looking like Pinocchio is a freaky and great look for Halloween. Make sure you add a touch of colour to your lips and cheeks.
20. Glittery Sugar Skull
Everyone loves a bit of glitter. If you're going to a Halloween party, the glitter will look incredible under the lighting. Focus on your fake teeth and chin for this look.
21. Broken Doll
Porcelain dolls are a popular choice for Halloween. We can see why!
22. Scary Can SFX Makeup
Do you still want to feel sexy on Halloween night?  Well as sexy as you can with a can sticking out of your eye, then this is for you. If you have a weak stomach, then maybe this isn't for you. The gore around the eye can be a little scary. Quite simple to create as all the Halloween makeup look is around one eye and the rest of your face is your daily/evening makeup.
Need a tutorial? Here it is!
23. Space Skull Makeup
Do you want that "wow" effect?  Take a look at this. To us, this is the wow" effect. It's bold, it shines and it still has the Halloween vibe.
Video tutorial on this look is here:
24. Purple & Gold Sugar Skull
If you have the time, we suggest this look. We know what you're thinking, I can't do this!  If you break the pattern down, it doesn't look as hard. If you want to impress your friends and family, then get practicing this now. This look has gorgeous colours and a very girly vibe.
25. Two Faced Look
This look will mess with people's minds. You will need to practice your nose, lips and eyebrow drawing to pull this one off. You'll need to apply your makeup to one of your eyes upside down.  We don't mean literally, but think of your eyelid as the bottom of your eye, your waterline.  Then you"ll be able to figure it out! Make sure you choose a different colour lipstick as to the one you're actually wearing, for your "fake" lips.
Two faced tutorial by Giulianna Maria on YouTube: