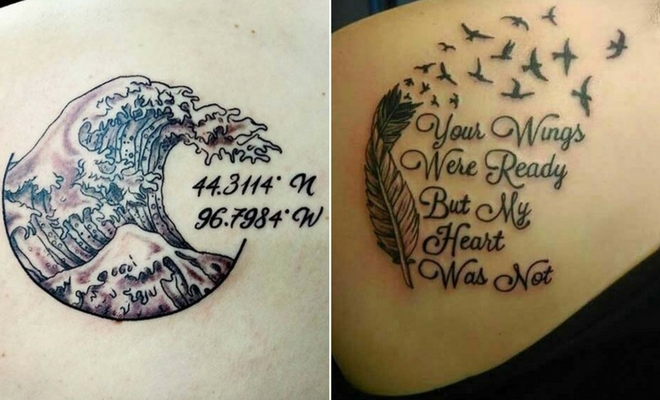 Instagram
Lifestyle
43 Emotional Memorial Tattoos to Honor Loved Ones
By
|
31. Small Memorial Tattoo for Dad
Next, we have a simple and stunning design. This tattoo features the word Dad in an elegant font. At the end of the last letter, there is also a beautiful flying bird. This is a gorgeous memorial tattoo and it can be recreated with any name. A tattoo like this can also be placed anywhere on the body because the design can be created bigger or smaller to suit the area.
32. Family Photo Tattoo
Photos are one of the best ways to remember someone. You can be reminded of special days and memories that you shared together. This next design has been created using a photo. As you can see, the tattoo is like an artistic version of the photograph. This is a very unique and personal way to remember someone special. You can use any photo for a tattoo like this.
33. Personalized Angel Wings
If you want a larger piece of body art, then you need to see this next design. Here we have a back tattoo that features beautiful angel wings and a halo. The wings also have been personalized and the halo has dates on it. This is a stunning tattoo and is a such an amazing tribute to someone special. You can, of course, have a smaller version of the design created if you want to.
34. Elegant Memorial Tattoo
Next, we have a very elegant and simple design. The tattoo features a name and date that is written in a stunning font. You can have any name for this. Keep it simple or you can add other designs such as birds and butterflies. Either way, it is a gorgeous way to remember a friend or loved one.
35. Grandad Tattoo with Birds and a Quote
The next tattoo is just beautiful. This design features a quote that reads "If love could have saved you, you'd of lived forever". There are also birds, a box and the name grandad with two dates. This is a very personal and meaningful design. You can have tattoo like this created that represents someone you love by maybe adding different animals that they loved in life.
36. Personalized Floral Butterfly
If you love the butterfly tattoos, then you need to see this next idea. Here we have a memorial butterfly. The butterfly is normal on one side and the other wing has a beautiful flower design. There is also a name below the butterfly and it has stunning jewelry charms dangling from it too. This is a very pretty and elegant idea. You can recreate this with any name and you can also use any flowers for the butterfly wing.
37. Cowboy Boots and Hat
This next memorial tattoo is unique. The design features cowboy boots and a hat. This could be perfect if someone wore these items while they were alive. You can also be inspired by this and use different items to represent the person. So, if the person wore high heels every day or sneakers, then you could use those instead.
38. Memorial Angel Tattoo Design
Next, we have more of a traditional memorial tattoo. This one features a stunning angel with the date underneath. A tattoo like this is a beautiful way to pay tribute to someone because it can show that the person is now at peace. Recreate this or you can add the name as well as the date.
39. Pretty Rose and Dates
Earlier in the post we featured a rose and date design. If you loved that idea, then you may like this one too. Here we have another single black ink rose but this one has the date the person was born and the date they passed. It is a very pretty tattoo. You can create similar tattoo to this or you can add some color and maybe the name.
40. Traditional Anchor Tattoo
Tattoo designs have changed so much over the years but you can still get that traditional look too. Here is an example. This tattoo features an anchor with Mom and Dad wrote on it. A design like this is perfect for someone who wants a unique way to remember those who have passed. An anchor like this can be designed with any name.
41. Beautiful Angel Wings
Next, we have another angel wing tattoo. This time the design features two large wings with a name in the center. It is a stunning piece of body art and is perfect for those who want a comforting tattoo that shows someone is at peace. You can have a design like this placed anywhere on the body.
42. Stunning Lake Inspired Tattoo
This next tattoo is one of our favorites because it features all the things that the people loved in life. The tattoo was created in memory of grandparents who loved nature, the lake, gardening and cats. All of these things have been used to create a stunning lake scene. You could create such a unique and personal tattoo by using this as inspiration. Think about their favorite places, animals and more.
43. Memorial Bird
Maybe you would like a less obvious memorial tattoo without the dates and names. If so, this could be perfect for you. Here we have a back tattoo that features a beautiful bird. Just by looking at this you would not know that it was a memorial tattoo, so it is perfect for those want to remember someone quietly without the whole word knowing. You can recreate this or choose a bird that the person loved in life.
We hope you have found a beautiful design for a memorial tattoo.