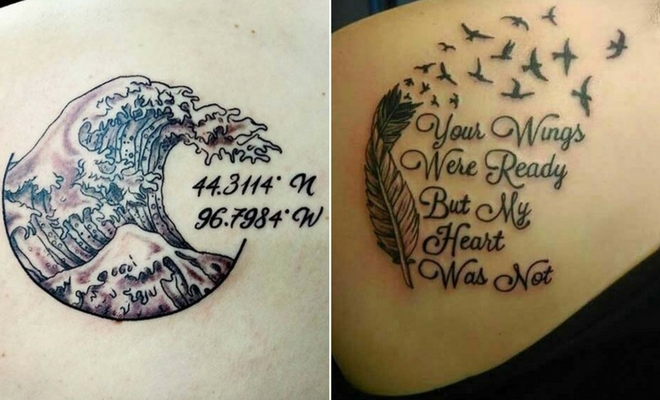 Instagram
Lifestyle
43 Emotional Memorial Tattoos to Honor Loved Ones
By
|
11. Memorial Tattoo for Mom
If you liked the handwriting idea, this next design is for you. This tattoo is a different style and in a different place. It features a replica of her loved one's signature that writes "Love Mom". It is a simple, emotional and powerful piece. You could have a signature tattooed anywhere on the body.
12. Memorial Tattoo for Grandma
Like big and bold tattoos? Then this memorial tattoo is for you. This stunning thigh ink features a heart, an angel wing and a quote. The whole design ties in together perfectly because the quote reads "half of my heart is in heaven with my angel". It is beautiful tribute. You could personalize it with a name and date.
13. Memorial Tattoo for Son
If you are looking for a tribute for a son, then consider an elephant design like this. Losing a child is the worst a parent could go through but with a tattoo like this you can have a beautiful reminder of them. The balloon could have a different color too, you can always personalize it.
14. Memorial Thigh Tattoo
Memories are precious, and this next tattoo expresses that perfectly. It features a stunning tree with the quote "When a loved one becomes a memory, the memory becomes a treasure". This is a beautiful quote and will be a reminder of all the good times you and your loved one have shared.
15. Memorial Rose Tattoo
Prefer traditional tattoos? Then this could be for you. This beautiful old-school rose, bird and scroll features the words "fly on home". It is a gorgeous ink that could be customized to suit your memorial. You could have any quote put on the scroll. A design like this would look great on anyone.
16. 'Too Beautiful For Earth' Tattoo
Our next tattoo has an emotional phrase. It is a wrist tattoo with a date, feather and the quote "Too beautiful for earth". Something like this would be a stunning tribute to any special person. It expresses how loved the person was. Personalize it with your own date and feather design.
17. Memorial Design for a Child
Here is a stunning piece of art for a child's memorial. This arm design features a child in shaded black and white ink with watercolors and butterflies. It is a very emotional design that would make an amazing tribute for your loved one. You could customize the colors and design to make it personal to you.
18. My Father, My Hero
A simple memorial tattoo like this one would make a beautiful tribute. It features just "My Father, My Hero" along with the dates. The font used is gorgeous and the design is a reminder of the great man he was. This one celebrates the person's life from beginning to end.
19. In Loving Memory Tattoo for Mom
This next tattoo idea would suit anyone. It is a stunning design that was inspired by their family's holiday spot. A tattoo like this celebrates the good times and will make you think of the happy memories of that place. It is a personal tribute with endless design possibilities as everyone's favourite place would look different.
20. Memorial Quote
The idea of a loved one watching over you can bring great comfort in times of loss. If this is something you like the idea of, consider a tattoo like this one. It reads "As long as you're in the sky to protect me, there is no one on earth that can break me". This is a very emotional set of words. You could personalize it with the name too.