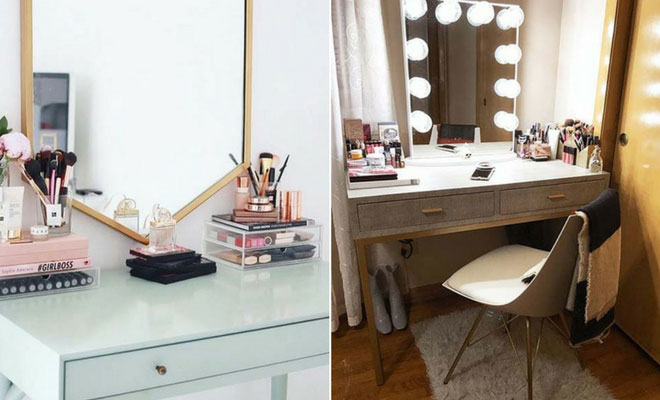 Instagram
Lifestyle
43 Must-Have Makeup Vanity Ideas
By
|
21. Simple Vanity Table with Lights
Next, we have a vanity that is simple to recreate and that will suit any room. This makeup area features a simple white table with drawers and a mirror with fairy lights wrapped around the frame. The stool is also super cute and fits under the table very well. Something like this is a great for space saving and looks great too.
22. Small Mirror and Wall Decor Vanity Idea
This next vanity shows how you can jazz up a desk to create your perfect makeup area. In this room, a white desk with drawers has been used. Two long bookcase style shelves have been placed next to it for extra storage. The table is full of all the beauty essentials needed and the walls have been decorated with cute artwork. Something like this would work in a small or big room.
23. Vanity With Everything You Need
Next on our list is a close up view of a vanity table. It shows how you can organize the table top to create the most space and to have everything you need on display. Try to get little pots like those for your brushes and pull out drawers for your makeup and other beauty products. You could stack up any palettes you have too.
24. Compact Vanity Table
If you only have a small amount of space, then a compact vanity table like this would be great for you. Here we have a small white table and when you open the lid, it turns into the perfect makeup area. The lid has a mirror and there is lots of storage space inside for all your beauty products. It is multi functional too because when the lid is closed, it could be used as a desk or table.
25. Hair and Makeup Table Idea
Next, we have a vanity table for anyone who needs a lot of storage space. There is a desk style table with lots of drawers, a large mirror and there are shelves going all the way up the wall. You can store all your makeup, hair products and more on a vanity table with shelves like this. If you don't have this much space, then you can just create a smaller version.
26. Glam Vintage Vanity Table
Add a touch of vintage glamour to your room with a vanity table like this one. This vanity table is from the 1930's and it is just stunning. A table like this could be hard to find but you could transform a newer table with some fabric and fringe to create a similar look. A beautiful mirror like this could be found online too.
27. Black Vanity Table
Looking for something a little edgier? Then this could be perfect. Here we have an ornate black vanity table with matching black chair. It is just a stunning piece that will give your room a stylish, Victorian and Gothic vibe. There is plenty of storage space too, so a similar table would be perfect if you have lots of hair and beauty products.
28. Stylish Vanity Table with Suitcase Stool
The next idea we have to show you is chic and unique. Here we have a white table with a silver Moroccan design. There is also a super stylish suitcase stool too. Suitcase stools just like this can be bought online. We love it because it is unusual, yet cute idea. A vanity table like this is pretty and practical.
29. Vanity Table with Cute Cat Decor
Next, we have a cute vanity table to show you. Here we have a white table with a small makeup mirror. There is the prettiest cat light in the background, too. This is one of favorites because it is so stylish and as you can see, it is very practical too. You could recreate this or try and choose a light in the shape of your favorite animal.
30. Trendy Vanity Table Idea
If you love bohemian style furniture but want your vanity table to look glam too, then this could be perfect for you. Here we have a simple white table. There is the most amazing, ornate gold mirror above the table and there is a trendy rattan chair too. It is a very stylish set up and it is perfect for the chic, modern woman.