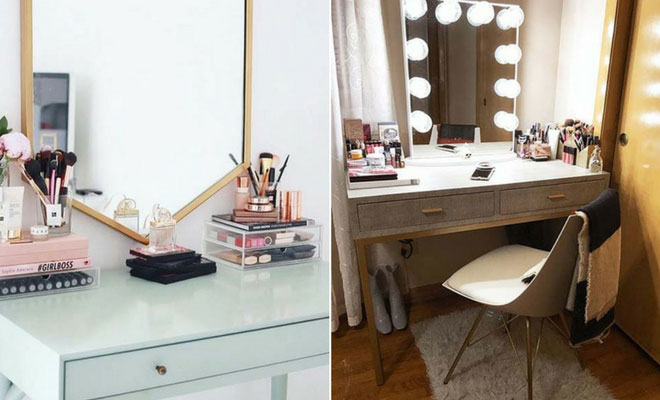 Instagram
Lifestyle
43 Must-Have Makeup Vanity Ideas
By
|
If you love makeup, then you need a makeup vanity table. A vanity table will keep all your makeup organized and will give you a comfortable place to apply it. You can create a makeup area that suits your style. If you're thinking of buying a vanity table or want to spruce up your used one, then you need to check out our 43 best makeup vanity ideas. Whether you have a big area to work with or need a compact storage solution, there is something for you.
1. Ultimate Glamour Makeup Vanity Table
First up we have this ultimate glamour vanity table. It features a stunning white table with a glass top and through the glass, you can see silver glitter too. This vanity table is complete with a light up mirror and a luxury looking chair. A vanity like this is functional and is a must have for any glam makeup lover.
2. Simple and Stylish Vanity
You don't have to buy the table and mirror attached, you could buy them separate. This vanity was created with a table with a draw and a funky gold mirror. A setup like this could be created with any table and mirror. This way you can have a vanity that fits your unique style. We love the gold mirror!
3. Designer Makeup Vanity
If you like your designers and luxury items, then this vanity is for you. This is a large vanity idea that uses a table and two sets of shelves. There is also a chair with a designer cushion. You could recreate a glam setup like this with or without the shelves and you can add in your favourite designer cushion. We love the pictures on the walls too as they make the area unique.
4. A Place for Everything Vanity Table
Our next vanity idea is for someone who has tons of makeup and beauty products. This vanity is made up of two tables and creates an L shape. The tables have a lot of space on the tops and have drawers. You can be very organized with a vanity like this but it will take up a lot of space, so you will need a big room.
5. Big Light Vanity Mirror
Mirrors with lights around are very popular for makeup vanities. Usually we see large mirrors with smaller lights however, here we have a smaller mirror with large lights. This is a great way to get the glamorous celebrity dressing room look in a small area. This vanity is beautiful, practical and you will have somewhere to put all your makeup.
6. Vintage Style Makeup Vanity Idea
If the modern furniture isn't for you, then you could go for a vanity that looks vintage like this one. It is a stunning wooden table and stool with a beautiful mirror. You could have a table like this painted in any color to suit your room.
7. Stylish White Makeup Vanity
Vanities can provide a lot of storage for all your makeup, brushes, perfumes and other beauty products. If you do require a lot of storage, then a vanity like this could be perfect for you. It has a large table top with drawers. It also has little pots next to the table that could be filled with things you need. We love this clever, chic and stylish vanity idea.
8. Funky Makeup Vanity with Purple Lights
Add some color to your makeup vanity with funky lights like these! This table has been decorated with purple lights. The lights just give the vanity a vibrant and glamorous finishing touch. You could recreate your vanity with any color lights you like. A table like this is also perfect for anyone who needs a lot of storage.
9. Chic, Simple and Small Vanity Table
If you do not have a lot of space to work with or you just want a small makeup vanity, then our next idea could be for you. The vanity is a small dressing table with two small drawers. You can fit quite a lot of makeup on the top of this, so it is a practical and functional vanity that also looks beautiful.
10. Cute and Compact Makeup Vanity
Here is another small vanity idea. This table has been put into the corner so the wall next to it can be used for two small shelves. The shelves are part of the vanity set up and are full of beauty must-haves. If you do have a smaller room, then make your vanity area bigger with shelves.