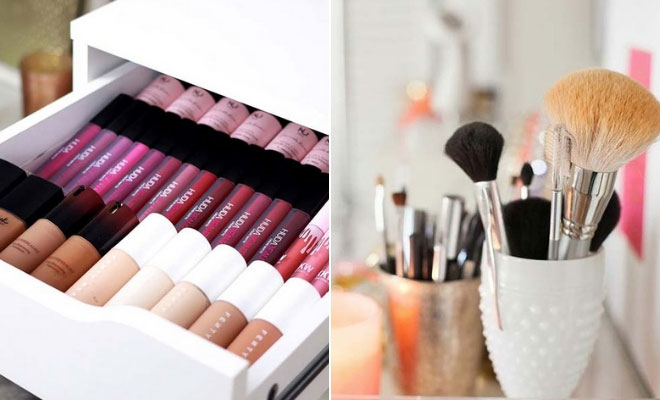 Instagram
Lifestyle
23 Best Makeup Organizer Ideas and Tips
By
|
If you wear makeup then you will know how messy and unorganized it can get. You may have a large makeup bag so you can't find anything easily or maybe your bathroom sink and mirror has makeup strewn all over the place. There can even be a battle for the mirror sometimes too. If you are struggling with any of these, this is the place to be. We have 23 makeup organizer ideas that are a must-have for anyone who wears  and hoards makeup. You will find ideas for small spaces, vanity tables and unique makeup storage solutions. After this, you will have a stress free and organized makeup routine. We will be trying a few of these ourselves!
1. Simple And Stylish Basket
The first idea is simple but will look stylish in your home. Here we have a makeup basket. For this, all the makeup has been stored in a chic rose gold basket. This is a great way to organize if you have a small space or lower budget. You can have a small or large basket. Maybe even split your makeup and only put your essential every day makeup in the basket.
2. Beauty Palette Holder
Beauty palettes for eyeshadow, bronzer, highlighters and more have become a must-have in the makeup collection. But some are long or awkward shapes that don't fit in some shelf spaces. So, how do you organize them? Well, you could get one of these holders. It has long shelves and is clear plastic so you can see what palettes you have. You can buy these online and desk organizers can work as well.
3. Large Vanity Table And Makeup Organizers
If you have a large space to use as a makeup area and you want to go all out, then choose something like this. Here we have a large and super glam vanity table. The actual table has lots of drawers, pots and there are even shelves on either side. By using a vanity table, you keep all makeup together and you can even keep your hair products here too. So, all your beauty regime can be done in one place.
4. Labelled Makeup Shelves
The next idea shows a neat and organized way to store your makeup. Here we have wooden shelves with clear plastic inserts. The inserts are different shapes so you can fit different products in from brushes to lipsticks. Each insert is also labelled. By labelling, you can easily see what products you have and it encourages you to keep the area neat as you won't want to mix things up. You can use a label maker to recreate this or just write on the inserts with permanent marker.
5. Clear Organizers For Your Makeup
You can buy clear organizers in all different shapes and sizes. We really like these ones. As you can see, two different sizes have been used. One has compartments with a lid and the other has the same compartments but there is also a shelf underneath and a space for foundation, too. Each one also has a unique handle to open the lid. These are cute, functional and will work for any makeup space large or small.
6. Neat and Compact Makeup Drawers
If you like the minimal look or want to keep a small space organized, then drawers are the perfect way to go. With drawers, all your makeup will be neat, put away and you can buy drawers in different sizes. However, don't just throw all your makeup in the drawer! You can buy display trays like this. So, all your makeup is compact, neat and you can see what you have. Display trays can be bought on the Instagram page below and they have many other makeup organization solutions.
7. Pretty and Pink Makeup Organizer Ideas
Love pink? If so, this idea is for you. Here we have cute and pink makeup organizer ideas. As you can see, this is a vanity table with different pink pots for brushes and more. There is also a clear plastic organizer with drawers. This is a beautiful way to organize your makeup and beauty area. Recreate something similar or you can have just pink pots with all your beauty products in and place them anywhere from shelves to drawers.
8. Brushes In A Teacup
Next, we have a simple and super cute idea. These makeup brushes have been stored in a pretty teacup with a saucer underneath. There is also a pearl necklace inside the cup which can be for decoration or to stop the brushes from tipping out. It is an easy way to organize your brushes and you can buy teacups with any pattern or in any color.
9. Compact Makeup Organizers
If you have a small makeup area but lots of makeup, then you need compact storage like this. Here we have clear plastic shelves and compartments. They are stacked on top of each other to create a stair look. With this you can see all the makeup you have, it is all neat and tidy and you can fit a lot in a smaller space. You could even have two of these on a vanity table too. Other beauty products such as perfumes and nail polishes can also be stored in these.
10. Shelves for Makeup and Shoes
Like the idea of shelves? Then check this out. Here we have a large shelving unit that is on the wall. As you can see, one side is full of makeup and beauty products while the other side is full of shoes! We love this idea because it keeps all of your favorite things in one place. You can recreate this or try a smaller version.