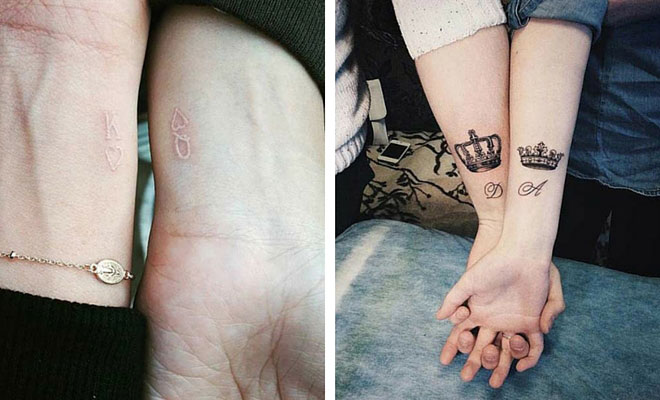 Instagram
Lifestyle
51 King and Queen Tattoos for Couples
By
|
41. Wrist Crowns
These wrist crowns are so pretty and intricate. Look at how much attention to detail the tattoo artist has paid to each area of the tattoos. The jewels on both crowns are so beautifully drawn.
There's quite an artistic feel to both of these tattoos. They've even include shadow detailing and light specks too. No colour at all is needed with either of these masterpieces. We're in awe.
42. Another Side Palm Design
Side palm tattoo designs are quite popular nowadays. These tattoos are both incredible. The scripts appear almost 3D. Shading and light specks have been used to create an amazing font.
The crowns in both tattoos are awesome. More specifically, the way in which they've been positioned. They both float effortlessly above the capital 'K' and 'Q' on the tattoos. Such a great scheme. As we've said before, size can always be changed.
43. Black and Red Thumb Tattoos
If you want a small tattoo, but still want it to have a few components, this is the one for you. These tattoos are simply wonderful. You can chose any colour for the entire piece like what's been done below.
Or pick different colours for each part. The crown, the letter, the spade or heart. We love the simplicity of this design. It's small but holds a lot of meaning.
44. Doodle Wrist Crowns
Love to doodle? Why not design your own tattoo and your loved one's too. It doesn't have to be a big piece. Why not go small like the ones below. Small and meaningful.
Keep it plain black, or introduce a bit of colour. The man's crown looks more like a pattern than a crown. It's awesome. A double meaning if you think about it. The best kind of tattoo.
45. Simple King and Queen of Hearts
Tattoos don't have to be complex and intricate. They can be simple too. It doesn't make them any less meaningful. A simple 'Q' and 'K' with a couple hearts – nothing's wrong with that. As long as you and your loved one know the meaning behind the tattoos that's all that matters.
Black, red, even white. There are so many colours to chose from when picking out the right one for your tattoo.
46. Crowns + Quotes
Quote tattoos are great. Finding that perfect quote that you believe sums up your life. There's nothing better. You'll never have something more meaningful tattooed on your body. Well that's our opinion anyway.
"One life, one love" is a really romantic quote. It's not mushy so you women out there won't have to worry about your partner not wanting to get it tattooed on themselves. It perfectly sums up your dedication to each other.
47. You're My King, I'm Your Queen
Being called someone's king or queen must be such a wonderful feeling. Getting it tattooed, now that's dedication. Wedding rings can be removed, but tattoos are forever. Well they can be removed, but it's a major hassle.
Not to mention the pain you have to endure is way worse than actually getting the tattoo done in the first place. Having the actual words 'king' or 'queen' and seeing them everyday has to be a rush.
48. Outlined Hearts
Can you tell we like finger tattoos. Well we do. Their representation of kings and queens are perfect. It has to be said. The outlined hearts gives it an extra level. We really do like this technique. Don't you?
Matching tattoos on the exact same location on your body is a great touch. When you look at your tattoo you'll know your partner has the same tattoo in the exact same place. We bet that's a really great feeling.
49. Matching Crowns
These crowns are so similar. They definitely match. The bauble-like ends on both crowns are exactly the same. We like how they've made the rest slightly different. Just to make it easier to differentiate between the king's crown and the queen's.
With the epic shading and light specks added to both tattoos, colour isn't need. There's always the option to add colour later on as well. Smart thinking for the future, really.
50. Cartoon Crowns
What a great pair of cartoon crowns. Why look real when you can look surreal instead. These two crowns match mainly with their bases. The rest is different but they still retain a similarity throughout, though.
Black and white for the win. Well with the image being in black and white we can't tell whether the tattoos have coloured in them. They'd look great either way though.
51. Calligraphy King and Queen
The script used for the 'king' and 'queen' text in these tattoos is truly amazing and pretty unique too. We especially like the dot above the 'i' on the man's tattoo. What a great design idea.
The crowns in these tattoos have such an awesome design too. Each section of the crowns don't touch. It's very artsy. The plain black colouring really makes the overall piece stand out on both models.