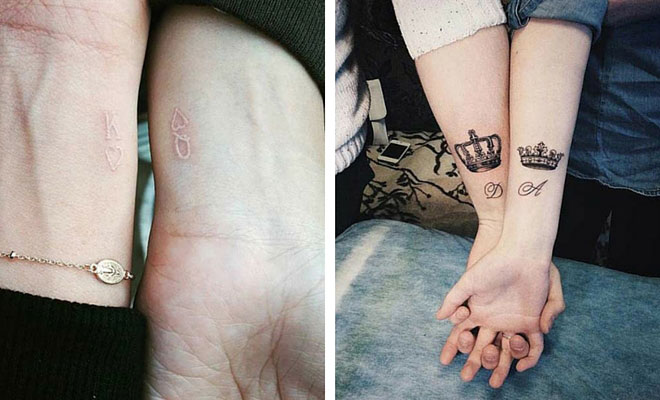 Instagram
Lifestyle
51 King and Queen Tattoos for Couples
By
|
31. Red King and Queen of Hearts Tattoos
The scripts for these tattoos are so elegant. Simple and sophisticated. The tattoo artist must've had such a steady hand to create ensure the lines of the 'K' were so straight. Impressive.
The king and queen of hearts are definitely the most popular cards in the deck, that's for sure. Having these tattoos completely in red is a great touch. You could always mix it up and choose a different colour for the either the hearts or letters to be.
32. Kindness + Strength
The drawn on effect of both of the crowns is awesome. It adds a personal touch to the entire collection of ink.
These matching tattoos are simply divine. Agree?
33. Chess Pieces
Here are some more chess pieces to get you inspired. These look like sketches from an art book. They are brilliant. The shading technique of both pieces is really quite good. As couple tattoos go, these are awesome.
The chess pieces are huge, taking up a lot of the real estate on the couple's arms. Does it seem like to big of a commitment? Don't worry you can always have these smaller. Much smaller if you'd prefer.
34. Side Palm Tattoos
Ooh, side palm tattoos. Nice. The positioning of the crowns in both these tattoos is really cool. They are both slanted slightly, so they look as though they are resting on the words on imaginary heads.
Being someone's king or queen is a wonderful feeling. So advertising that on your body is a great honour to them. You should feel proud, knowing you are valued by someone so highly.
35. Tiny Hand Tattoos
Small and detailed. These intricate designs of crowns are so delicate and beautiful. With crowns you can have whatever you like. There are so many types to choose from.
Look at these two below. They aren't the same, but they definitely match. And the woman's one definitely looks more feminine than the man's masculine looking one. If he is your king, and you are his queen, these matching tattoos are definitely for you!
36. Black and Red Finger Tattoos
These tattoos look just like they've been swiped from a deck of cards. They are awesome. The font is smooth and elegant. It basically looks like they've grabbed a sharpie and gone to town on decorating their fingers.
We're sure it must've felt really weird having these tattoos done. Considering they're in a weird place. The choice of colours are classic and traditionally inspired. If you love simplicity, this nice design is for you.
37. Little Thumb Tattoos
We've given you finger tattoos, so here are some thumb ones. These definitely deserve a thumbs up. See what we did there?
These tattoos have a lovely intricate pattern, and they are entirely in black which is a really nice touch. The extra detail each one has is flawless. We're actually quite jealous. Aren't you? If black isn't your colour you could always choose a different one. Or two if you're feeling brave.
38. Large Wrist Crowns
These crowns are large, that's for sure. The bigger the better, right? Well that's if you like that sort of thing. You can always go smaller. Just not after you've had the big tattoo done. That's too much hassle.
The U2 lyrics below are a lovely touch. Wonder if this couple chose these meaningful words because of the song 'One'. Or it could've been for a completely different reason.
39. Matching Chess Tattoos
Check mate. These matching pieces from a chess set are a brilliant idea. The intricate shading is on point. And just look at how detailed it looks overall. Some really impressive work.
Some tattoos really don't need colour. They look amazing just the way they are and these definitely fit into that category. Words aren't needed when you have something as symbolic as these chess pieces. They speak for themselves.
40. Skulls with Crowns
Look at how realistic these skulls look, well minus the heart shaped eyes that is. They do look incredible though. You have to agree. The crowns are both flawless, so detailed and intricate. There's shading in all the right places.
They symbolize you'll be with that person even after you've died. So romantic, right? That's commitment to a whole other level. Such a lovely level of dedication.