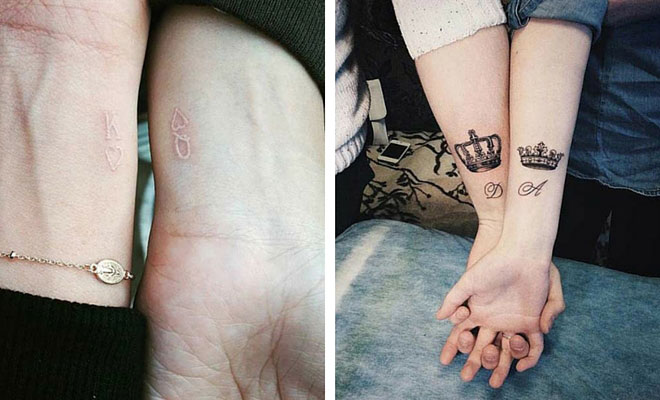 Instagram
Lifestyle
51 King and Queen Tattoos for Couples
By
|
21. Life, Love, Forever
Yes we know we've had a "one life, one love" tattoo pairing previously but we had to include this one. The flower detailing on the queen's crown is lovely. It almost looks like plants growing out of the base of the crown. Which is a really nice effect.
The matching fonts used help to set in stone the commitment made between the two people. There is so much detail in both tattoos that we're awestruck.
22. Amazing Hand Tattoos
Hand tattoos are a big commitment. Not kinky will you see them everyday but everyone else will as well. The script used for writing on both of these tattoos is elegant and quirky too.
The positioning of the crowns is absolutely perfect. Almost as if it's slanted on the king's head and flat on top of the queen's head. Such a great effect. These tattoos are a big statement and we love them.
23. Colourful Wrist Tattoos
Back in the day you could only get tattoos on black ink. Nowadays you can pick any colour you want. Literally any colour. These tattoos are great example of how good colourful tattoos can look. The cartoon effect of the crowns makes them look playful. There's some really nice shading too.
The font chosen for the words 'king' and 'queen' is elegant and almost looks handwritten too. Such a personal touch.
24. Small but Meaningful Wrist Tattoos
Meaningful tattoos are the best. The script used for both these tattoos is epic. We love the white spacing. You can really tell that these two are a pair. The king and queen of hearts for sure.
The hearts below the 'K' and 'Q' are adorable and such a sweet addition. These tattoos are a good idea as you can always add to them later on. Add colouring to the white spacing to the 'Q' and 'K' or add more detail to the existing design. It's entirely up to you.
25. Unique Design
It's great how they both don't have hearts tattooed onto them. Nice to see a matching set that doesn't quite match. Well they do say that opposites attract. And isn't a spade just an upside down heart – with a handle?
These matching tattoos are simply stunning. We love everything about them!
26. Finger Tattoos
The simplicity of the crowns in these tattoos is really lovely. More symbolic representations than actual crowns. As for the script it's epic and it looks handwritten. Yes, we do know that technically it was. But what we mean is that it looks less like a print and more like a personal statement.
Colour isn't everything. Sometimes simplicity wins out over everything else. We really like how the dedication is spread over two fingers too.
27. Shaded Crowns
These cool crowns have some epic shading. Who needs colour when you can get tattoos that look this awesome, right? There's even some white in there. It looks like these were painted, not tattooed onto the couple's skin.
It must have taken ages to get the details added into both tattoos. The tattoo artist did such an amazing job though. Look at how intricate each circle on the female's tattoo is. There's shading on every ball. Brilliant!
28. Branded King & Queen
Now these tattoos definitely look like brands. The red one especially. Check out that red – it's awesome. When choosing the right king and queen tattoos you don't have to completely match.
Keep that in mind. Like this couple. The font matches and they both have hearts, but the colours are completely different. What looks good for someone may not look good for another.
29. His Queen, Her King
The calligraphy for the "His Queen, Her King" tattoos is pretty damn unique. It's quite masculine. Unlike the usual script you've seen previously on this list. You can choose whatever font you like. Remember that.
The matching crowns are amazingly done. White, green and purple jewels match on both crowns. Even the order is the same. We love how the bottom of the crowns are faded away like they were rubbed away with an eraser.
30. Cute Wrist Tattoos
It doesn't get more matching than these two tattoos. Not only are the fonts the same, but the crowns themselves are exactly the same. They are such cute tattoos though.
Actually hold that thought. The fonts aren't the same. They are pretty damn similar though. At a quick glance they look identical. The crowns are definitely the same though and that is really sweet. Almost like saying that they are both the same. Equals in every way.