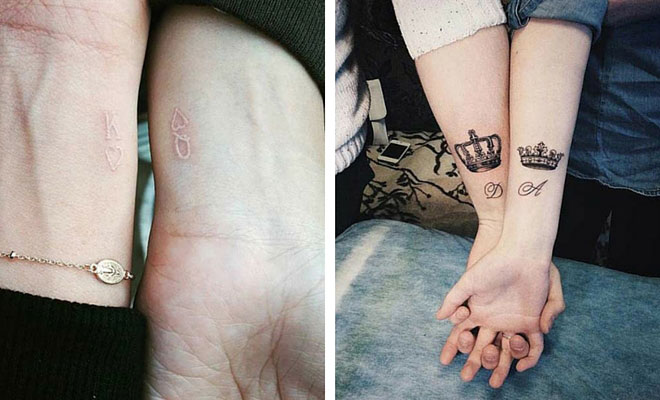 Instagram
Lifestyle
51 King and Queen Tattoos for Couples
By
|
11. Lion and Lioness Tattoos
Speaking of art. How realistic do these animals look? They are incredible. Hats off to the tattoo artist that's all we have to say. Just look at those eyes.
Lions symbolise royalty and strength. So to have a lion and lioness tattooed is pretty much saying you are at the head of the pack. Well pride in this case. There is so much detail in both of these tattoos that we are in awe.
12. King & Queen Tattoos + Initials
The calligraphy of the letters as beautiful. Such a lovely way to show the world how much that loved one means without having their full name scrawled across your skin. We approve, don't you?
Remember, tattoos never fade, just like true love.
13. Cool Wrist Tattoos
The shading and level of detail on both of these tattoos is remarkable. You pay for quality with tattoos. It really shows how devoted you are to a person if you pick such a detailed design over a simple one.
Simple doesn't necessarily mean you don't love that person whole heartedly. It's all about perception. How your loved one perceives your dedication to them and your future with them.
14. Matching Ankle Tattoos
These are really quite sweet. You have to agree it's a weird location for a tattoo, but we're definitely into it. Aren't you? The solid black of these tattoos makes them look like brands more than actual tattoos.
Like they've branded each other their king and queen. Seems way more permanent and personal than a simple now, doesn't it? Hearts universally symbolise love so of course you should choose them.
15. Arm Tattoos
Wow. Look at that vibrant red colouring on the male model's tattoo. We really want to touch it as it looks so realistic.
These king and queen tattoos are as artistic as them come. And they scream royalty that's for sure. Just from the shape of the crowns they look like they match. A matching pair. Whilst we do appreciate a plain black tattoo, you could always introduce some colour.
16. Colourful Tattoos
If there's a flower that truly represents love it's the rose. Red roses in particular. These roses are gorgeous though. The contrasting colours of them are amazing.
The cartoon king and queen are pretty epic too. We are jealous of the artistic mind behind both of these great tattoos. The king and queen of hearts are iconic and this is such a lovely rendition of them. A nice tattoo to have forever.
17. Small & Cute
Size isn't everything. These small tattoos are wonderful. They look like the kind of doodles you'd make in class at school. We like how the woman's one is mainly white and the man's is mainly black. Such a great contrast.
Kind of like ying and yang. Opposites attract and what not. The dark king and the light queen together forever. Has a nice ring to it doesn't it? It's such a light and playful tattoo so it's great if that's the side of you and your partner you want to represent.
18. King and Queen of Hearts Tattoos
Red in a tattoo is so noticeable. It's so bright and out there. We love it. The symbolisation of the king and queen of hearts in a deck of cards is a lovely choice for a set of tattoos.
Simple, sweet and effective. You don't have to create an outrageous tattoo to demonstration your dedication. Sometimes the best things in life are simple.
19. Badass Skull Tattoos
These are awesome. The skulls are definitely badass, and quite scary looking too, we have to admit. Even the crowns look quite dark and scary.
The realistic skulls take these to a whole other level. Sort of demonstrating you'll be with your loved not only until you die, but after that as well. Forever. Romance to the extreme. It doesn't get more loving than that.
20. King & Queen Calligraphy
The calligraphy on both of these tattoos is awesome. Really quite gorgeous. Simple black tattoos are classic and so traditional.
The crowns themselves look like stamps. Kind of like the one the queen of England would have had to stamp her post back in the day. Everyone loves a throwback, right? Well, we do anyway. Together the writing and crowns look really pretty overall. The position on the skin is top notch too.