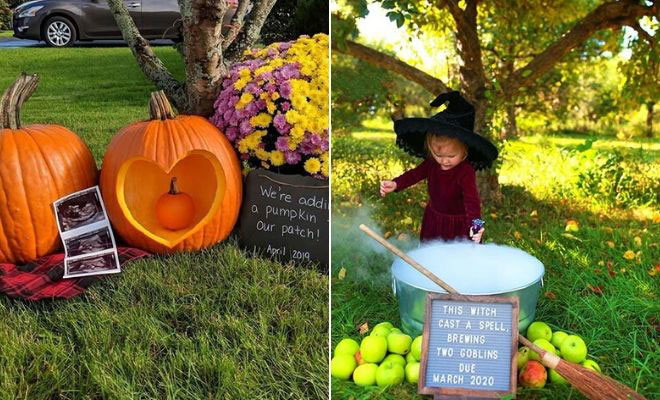 Instagram
Lifestyle
21 Halloween Pregnancy Announcement Ideas
By
|
11. Skeleton Family with a Pumpkin
If you and your family love dressing up for Halloween, then this idea is perfect! This announcement features mom, dad and the sibling-to-be, too. All are dressed up as skeletons and are walking towards a pumpkin that reads "Baby arriving spring". It is a spooky and cute idea. Recreate this or choose any costumes if recreating. You can be anything from vampires to witches so have fun.
12. Easy Pumpkin Pregnancy Announcement
Looking for a cute and unique idea? If so, you need to see this. Here we have steps and each one is decorated with a classic pumpkin. Each pumpkin has the year that each family member was born though instead of a scary face. We love this because the last pumpkin says "Due May 2017", so it lets everyone know that there is a new arrival. This idea is perfect for a reveal at a Halloween party or as a photo announcement.
13. Pumpkin Smuggler T-Shirt
This next idea is so funny and we love it. Here we have a Halloween themed t-shirt with "Pumpkin smuggler" wrote on it. So, it implies that you have stolen a pumpkin rather than that you are expecting. It is a fun idea and it is a great way to reveal because it will confuse people at first and then they will realize what this actually means. You can buy these t-shirts on the Instagram page below.
14. Something Sweet Is Arriving
The next Halloween theme pregnancy announcement is so cute! This is a reveal photo that can be shared online with family and friends. It features a sign with "something sweet is arriving" wrote on it with the due date underneath. The sign is surrounded by Halloween theme decorations and a scan photo too. It is a cute idea that can easily be recreated. You can keep a photo like this as a memory.
15. We're Adding A Pumpkin To Our Patch
Love the pumpkin announcements? If so, check this out. Here we have two pumpkins. One is carved with a smaller pumpkin inside. The pumpkins are surrounded by flowers, a scan photo and a sign that talks about adding a pumpkin to the patch. It is adorable and perfect for the Fall and Halloween. You can use this as a photo reveal or as home decor if you are having a Halloween party.
16. Funny Family Halloween Announcement
Next, we have another funny announcement to show you. For this we have the parents-to-be and their dogs too. They are both wearing fun reveal t-shirts. We like the dad's shirt because it reads "nothing scares me, my wife is pregnant". Not only that, but the dogs are dressed up as well. It is a spooky and unique idea and it will be great to look back on.
17. Little Witch Theme Pregnancy Announcement
We love this next announcement and it is another one of our favorites. Here we have the sister-to-be wearing a cute witch outfit. She is standing behind a cauldron and there is a sign in front of the cauldron too. The sign reads "This witch cast a spell. Brewing two goblins". So, it is like the sister used a spell to get a new sibling. This reveal can be created with the brother-to-be as well.
18. Zombie Parents-To-Be
The next announcement features more Halloween costumes. This time the parents-to-be are dressed as zombies and mom has baby arms and legs on her shirt. The dog is also involved and is wearing a sign about getting a new human. It is a scary and fun idea and it is perfect those who love Halloween!
19. Pumpkin Family Photo Idea
This next idea is adorable. For this reveal there are three large pumpkins and one has a pacifier. There are also three small pumpkins with a scan photo and the due date is on a sign as well. This is a spooky and classic way to announce your news at Halloween. Recreate the whole thing or just the three main pumpkins.
20. Halloween Pregnancy Announcement for Grandma-to-Be
We love this next idea. Here we have a unique announcement that features a Halloween themed egg. The recipient has to crack the egg to reveal the message inside. As you can see, this one reads "no tricks… only a treat. You are going to be a grandmother". It is a super cute and quirky idea and it will really make Halloween special. You can buy these eggs on the Instagram page below.
21. Easy Halloween Pregnancy Announcement
The last idea features another pregnancy reveal t-shirt. This one has a message on it that says "candy for two". There are also little feet on the design too. You can wear a shirt like this for a photo reveal or for a Halloween party. You can buy these t-shirts on the page below. We love this one!
We hope you have found the perfect way to announce your pregnancy this Halloween!